Enjoy digital processes. Anywhere. Anytime.
JobRouter® Digital Conference EN | 18 & 19.11.2021
Join our conference on digitalisation, best practices and future trends to keep up with your business potential!
Ticket sales for the JobRouter® Digital Conference EN on 18 & 19 November 2021 start now!
Enjoy digital business processes and everything that goes with them and learn from best practices. In addition, you can look forward to an interactive impulse lecture that will introduce you to the topic of mental wellbeing for your everyday work and exciting workshops on digital signatures, gaining knowledge on JobRouter and data extraction from the invoices. Of course, we will also present new features of the JobRouter® digitalisation platform.
It's worth registering: take a look at our agenda to see for yourself.
Agenda - Thursday, 18.11.2021
Implementing digitalisation strategy with JobRouter®
JobRouter 5.2 - what's new, and what does the future bring?
Building resilience and mental wellbeing at work
Automatization of HR process in PGNiG
JobRouter at Politechnical University of Timisoara
Digitalisation award results and closing
Agenda - Friday, 19.11.2021
Expand your JobRouter knowledge using the JobRouter Academy
Automated capturing of invoice data using JobMind Cloud
Digital Signatures seamlessly integrated into your workflow
Ask our JobRouter experts
Workshop for Polish customers
JobRouter Event App
The JobRouter Event App is your reliable companion on the event days and turns the digital conference into a virtual highlight.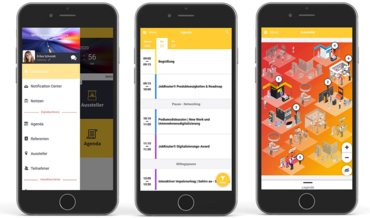 On the desktop or mobile via smartphone or tablet, you can:
Stream presentations live,
participate in workshops,
chat with us,
and have lots of fun!
Ticket sales
To attend the Digital Conference EN 2021, you need an account in our Event App and a ticket. A ticket costs 50 euros per person. Invite colleagues and get a 20 percent discount on all other tickets.
You already have an Event App account?
Great! Then please go to "Login" and log in directly to the Event App with your access data. You will then be taken directly to the registration process and ticket sales for the event.
You don't have an Event App account yet?
No problem! If you are attending one of our events for the first time, you can get there in three steps.
In three steps to the JobRouter® Digital Conference:
Speakers at the Digital Conference EN 2021
Marcus Nagel

Co-CEO

JobRouter AG

Axel Ensinger

Co-CEO

JobRouter AG

Jasper Velders

UK & International Partner Manager

Antonina Markysh

International Partner Manager

JobRouter AG

Romy Opitz

Product Manager

JobRouter AG

Stefan Weimann

Product Manager

JobRouter AG

Silke Etter

Head of JobRouter Academy

JobRouter AG

Patrick Meyhöfer

Senior Trainer / Content Analyst

JobRouter AG

Bernhard Bachinger

Partner Manager

JobRouter AG

Johannes Leser

Managing Director

Namirial Deutschland GmbH

Jörg Lenz

Director Marketing & Communication

Namirial Deutschland GmbH

Leyla Okhai

CEO

Diverse Minds UK