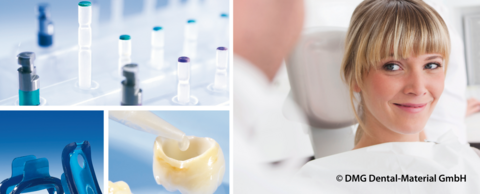 Keep Smiling
Job Application management using JobRouter®
Employer branding is on everyone's lips. At least with companies who prefer to run appealing personnel recruiting campaigns instead of moaning about the skills shortage. The expanding dental material company DMG presents itself as a modern employer brand using YouTube videos and a professional job application portal via JobRouter®.
An attractive appearance is an advantage for both sides in the hiring process.
For job candidates beautiful teeth are not only healthier, but according to studies they also help make love - and the job - more attractive. Dentists are our partners for a bright smile, but many people are as queasy before their dental check-ups as they are before an interview.
To take fear out of visiting the dentist, DMG has been researching innovative products for gentle treatment methods for more than 50 years now. One DMG product that can decisively improve dental health from infancy is called Icon®. It is the world's first treatment for cavities without drilling. For top achievements like this you need the best people in research and development but also in sales and marketing. Skilled professionals who are highly coveted on the employment market.
Advantages
Benefits of job applicant management process using JobRouter®
Provides visbility and overview of selection processes and their status
Suitable as an interface for electronic personnel files
Allows for an infinite number of job profiles to be created, simple assignment
Allows the requirements profile to be automatically compared with applicant data
Sends electronic rejections with two clicks, addresses invitations to interview at the press of a button
Enables the archiving and resubmitting of interested candidate profiles
Supports the human resources work with statistics and extracts, helps compliance with data privacy regulations
Project details
Client

DMG Dental-Material

Industry

Medical products

Employees

More than 300

Instances

1500 processes / day (incl. email archiving)
Database

MS SQL-Server

Ongoing processes

Auditing, email processing and archiving, QM: audit monitoring, phasing out products (in development), IT authorizations

Planned processes

IT change management processes • Special features: Connection to SAP, d.3 document management, Active Directory • Transactions: 1500 / day (incl. email archiving) • Database: MS SQL server • Project Duration: 1 week for technical implementation, 3 months in total • Current modules: JobStart, JobSelect, JobTimer, JobTable, JobSub, JobPDF
Slow enough to make you grit your teeth: printed out emails
"Processing times were too long. We could no longer get away with that," says IT manager Martin Hüsgen, recalling the old practice of handling job applications manually and by email. Before the job application process was digitized, resumes and other application documents received by email were printed and sent around the company in folders. Circulation of application documents received by mail was similarly manual and unsystematic. Personnel and specialist departments wanted more clarity, transparent decision paths and simpler processing. JobRouter was the answer. The company had successfully introduced an electronic invoice process using JobRouter. As a result, the DGM staff already knew how to build workflows with JobRouter's graphical workflow designer.
"Workflows of wonderful simplicity"
The new process was planned so applicants don't slip through the cracks and they don't have to laboriously type in all their resume qualifications and work experience. Human Resources and Hüsgen's team agreed on a simple portal solution with very few input boxes and a file upload. Confirmation of receipt would be automatically triggered.
The new process was up and running two days later. All job candidate emails received through the applicant portal on the DMG website end up in an inbox monitored by JobRouter®. The system transforms each e-mail into a process instance and stores it in an HR department electronic JobRouter inbox. The first time the submission is viewed, inappropriate candidates are immediately sorted out; one click and the rejection goes out. The good guys receive a link to the job posting created in the system and end up in the inbox of the appropriate department manager via JobRouter®. The department manager checks a box and return it to the personnel manager. The check mark and a possible comment in a free text field enable the HR staff to recognize what is desired; invitation, postponement or no interest. HR chooses a pre-written letter and personalize it with a selection of suitable statements. In the best case scenario the next hopeful 'colleague in the making' is soon sitting and smiling in their interview.
Fine-tuning
"We listen very carefully to our user's ideas and suggestions and then implement their requirements as comprehensively as possible. We fine tune the project a bit, which the company is always really delighted with," relates Hüsgen with a laugh. The fine-tuning includes new options, for example the resubmission date, which was added while it was running. Since then the workflow for application management has been running continuously well and according to Hüsgen the system has "yielded great speed and security".

Quality assurance: re-drilling desired
Outlook: Process development to phase out products
The dental specialists are currently optimizing their quality assurance process, specifically the phasing out of a product. The process at the end of a product life cycle is very complex, many departments are involved. The complexity of the process begins with the decision about whether a product should be phased out and ends with the challenge of enabling a smooth flow of information within the company. Until now, the analog process was equipped with many "security measures" that made it possible to stop the phasing out at any time. This led to an unreliable transfer of information to involved departments and resulted in processing times of weeks or even months. It was not possible to run the process through in a standardized way. With JobRouter®, however, the process could be more transparent and standardized.
The company can now say goodbye to lots of the complex "safety measures". They set the new process in motion in 2015 and began a three-month test phase, during which the proverbial re-drilling (refining) was done. They were certain the implementation would end – as have past experiences with JobRouter® have - with a thumbs up and a smiley.

Short profile DMG Dental-Material
DMG develops and produces dental material for a whole variety of applications, e.g. highly aesthetic temporary restorations, micro-invasive treatments and precise moldings at its Hamburg headquarters. Its customers include dentists and laboratories in more than 80 countries. The family-run company was founded in 1963 is managed by the second generation of Dr. Wolfgang Mühlbauer together with Susanne Stegen who is responsible for sales, marketing and personnel. Roughly 20 percent of the more than 300 employees work in R&D. DMG also supports dental research at universities. It was the first company in the dental industry to be ISO-certified in 1995. In 2010, WirtschaftsWoche Magazine, Accenture, ENBW and Evonik awarded DMG with the German Innovation Award in the SME category for the development of the Icon® cavity infiltrant.