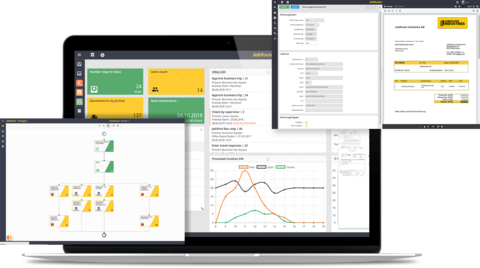 Platform Tour
JobRouter® digital process automation platform
For process automation that connects the entire enterprise. Low-code. Fast. Customized.
JobRouter® combines process automation and data and document management in a unique platform. Thanks to the industry-independent approach, we also connect all systems and departments throughout the company. This is achieved thanks to many modular building blocks and flexible interfaces, giving you a powerful solution for countless use cases. The JobRouter® platform always scales the way you want it to: Digitize your company step by step or extensively right from the start!
Extensive functions for automating your processes, data and documents
Map your communications holistically and integrate JobRouter® with internal and external systems. Thanks to the numerous interfaces, you benefit from versatile functionalities, such as receiving or reading e-mails, monitoring directories or importing special document formats such as e-invoices. Outgoing e-mails can also be created, PDF documents automatically generated on the basis of process templates, or other interfaces operated. JobRouter® Sign, the integrated solution for electronic signatures, allows you to incorporate signatures into your processes in a legally secure and modern way. You create the desired interfaces to the existing software infrastructure or to cloud services via modules and system activities. These ensure that you can integrate your existing IT system landscape into your processes.
JobRouter® Digital Process Automation Platform
Benefit from numerous capabilities to design your digital process landscape.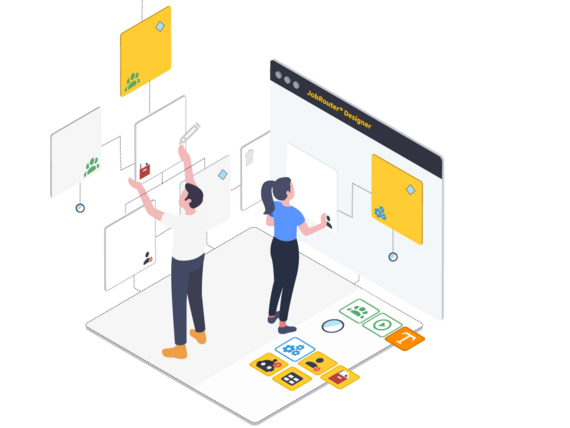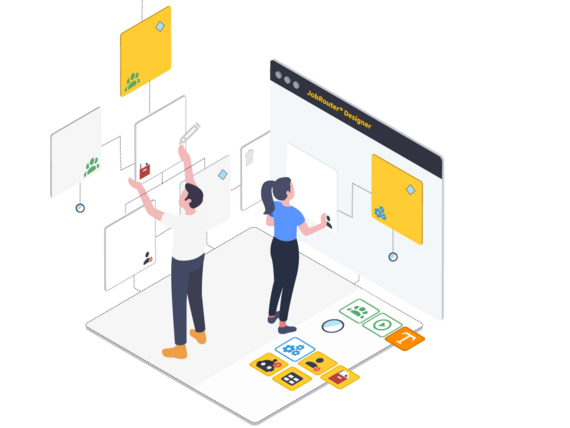 Visualize and document business processes
Digitize workflows and automate tasks
Create individual business apps
Digitize document workflows and archive documents
Extract and manage document content
Meet compliance requirements in a legally secure and traceable manner
Choose digital freedom - The JobRouter® digital process automation platform does more.
8 good reasons why you benefit from JobRouter®
The choice is yours: on-premises or from the cloud
Integrate your processes, data and documents company-wide!
JobRouter® is always as simple or complex as you need it to be. Depending on where your challenges lie, the platform offers a choice of solutions. You get a powerful and flexible digitalization platform so that you can digitally map an infinite number of application scenarios - across departments and systems!

More performance, less effort: The JobRouter® Digital Process Automation Platform
Modules

Always stay flexible

Choose from a variety of expandable modules and system activities and create your perfect platform for digital transformation. Take only what you need now - and stay flexible for future developments.

Integrations

Work with the tried and tested - only better!

In addition to a flexible REST API, the JobRouter® platform offers you seamless integration into your existing or predefined IT landscape and tools.

Success Stories

Digital transformation has many faces - JobRouter® makes them all smile

Working with the JobRouter® digitalization platform is always different. Our customers and users tell us about their challenges and success stories.