JobRouter® & Sage
Optimize digital accounting: JobRouter integration with Sage
Connecting JobRouter® with your proven accounting system such as Sage and raises the productivity of your department to a new level. Thanks to the powerful and intelligent JobRouter® Digital Process Automation platform, you can connect your business systems with efficient workflow and processes for seamless integration.
Sage is a modern ERP solution trusted by more than 6 million small and medium sized businesses worldwide. Sage offers key management solutions for accounting and payroll, enterprise resource planning, and customer relationship management and payments. We currently only offer integration for Sage 200 and use in Switzerland. If you would like to integrate Sage 100, please contact us.
Full transparency and efficiency through cross-departmental processes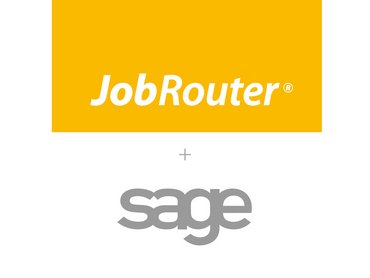 A Sage and JobRouter interface allows the user to execute an invoice receipt process in JobRouter, and then to post the accounting records to the Financial department. When executing the process, the billing information (vendor, amount, document number, etc.) are captured in JobRouter by the user. For that several selection lists are available that allow, for example, a search on the Sage maintained suppliers.
Additionally, it's possible to allocate an invoice. In doing so, the invoice can be accounted to different cost centers and cost accounts. Again, this data can be provided in dropdown lists. Following the factual verification and approval of the invoice, the collected data is transferred to SAGE in the form of accounting data sets where they can be accounted.
Features and benefits:
Start invoicing process in JobRouter® and book in Sage
Retrieve and read data from legend
Transfer accounting data to Sage
Assign invoices to different cost centers and cost accounts
Data access via dropdown lists possible.
JobRouter ties together disparate applications and systems and connects them with process, data and document management in a unifying Digital Process Automation platform.
Success Story

Going with the flow

Inland waterway transport cooperative automates accounts payable processing for themselves and their members using JobRouter and integrating with Sage.

Module

Keeping an eye on deadlines!

The JobTimer module allows you to automate unlimited time-based escalation actions for tasks or entire processes such as reminders or automatic assignment to another user escalation based on the due date.

Module

Connecting time zones

The JobGlobaltime module is a helpful tool to display user-related time zones within a JobRouter® process. A benefit for companies with locations across the US or that share business processes with global subsidiaries.