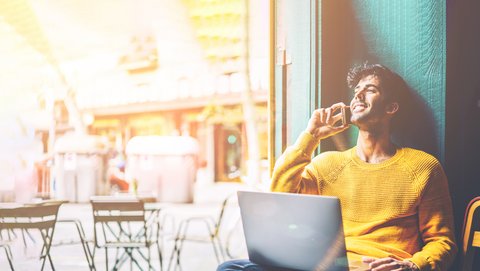 Use Case Example
Employee onboarding - ensuring satisfied employees right from the start
When a vacant position in the company is filled, it's not just the new colleague who is happy. Employee onboarding means the systematic and targeted induction of the new colleague into the company. But existing employees, as well as supervisors and partners, would also like to have the necessary information and take part in specific roles in employee onboarding. The purpose of structured onboarding is to ensure that new employees:
quickly get to know their new areas of responsibility
understand the company structure and procedures
establish contact with other colleagues
get a feel for the corporate culture
know whom to contact about which issues
In any case, the ultimate goal should be to integrate your new employees quickly and sustainably into the company and its day-to-day business and to retain them in the long term. To achieve this, digital onboarding and appropriate software such as JobRouter® is the right choice.
But before you decide on an onboarding software, you should keep the big picture in mind: What information, data, and documents does the new employee need before they start work and what will they need when they start? What tasks, roles, and information are associated with existing employees and how should they be secured?
These considerations can be the starting point for a specific solution or the beginning of a digital strategy by relying on scalable software like JobRouter® that adapts to existing systems and leaves room for future developments. In the long term, you will benefit from a process structure that will satisfy the newcomers and everyone else who is involved.
Digital workflow in employee onboarding – examples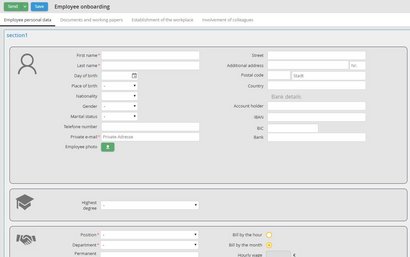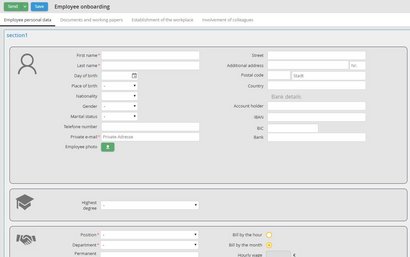 Capture personal data
The JobRouter® digital automation platform allows you to capture personal data such as place of birth, nationality, photo, level of education, and information on the type of contract and payroll selected. You can then manage the data and inform the relevant superiors.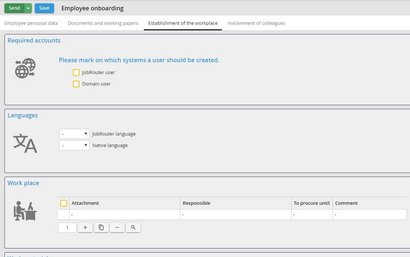 Set up workstation
You then set up a workstation for the employee by selecting the primary language, defining the assets and resources needed for the workstation, and saving them as a template. You select all the required resources as well as the responsible persons and set a date by which procurement must be completed. To do this, you can include other colleagues and assign specific tasks to them.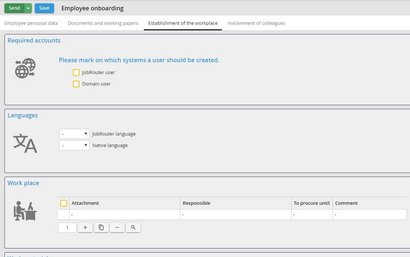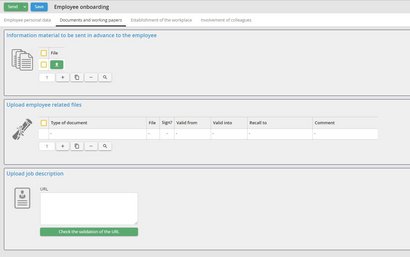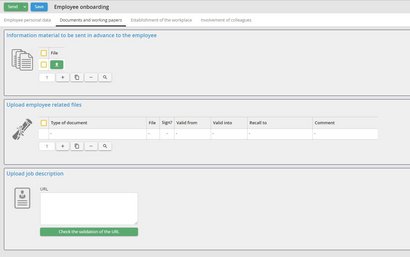 Process documents in employee onboarding
The next step is to optimize employee communication. Using the employee onboarding process, you can make additional documents available to the new colleague before he or she starts work or send them for signature. It is also possible to upload the job description and additional documents as a URL or PDF file and offer them to colleagues for preliminary information. All information is stored in the associated personnel file.
Approve employee onboarding
Supervisors must now review and sign-off on employee onboarding as assigned by HR. They can edit all data and approve or reject the onboarding. In case of rejection, a reason must be given.
Create and manage access rights
You can now set up access rights for programs used in the company on the basis of the data from the onboarding process and manage them in JobRouter®, for example.
Execute employee onboarding
Once all the data has been created, the actual onboarding can begin. Employees who have a role in onboarding the new colleague are automatically notified and assigned a task. Progress is documented in an inbox in JobRouter®.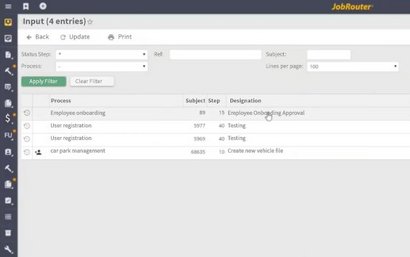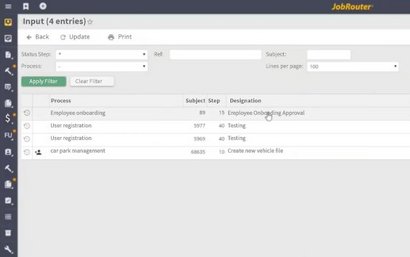 Create onboarding log
Once all tasks are completed, an onboarding log is created in PDF format and archived in the employee's personnel file. It contains all the information about the completed tasks as well as the job-related procurements and documents. HR managers can view the collected information via the personnel file.
Benefits
Digital Employee Onboarding
A clear workflow for existing and new colleagues increases employee satisfaction.
A clear rights and roles framework with approval rules creates transparency throughout the company.
Automatic provision of information strengthens employee loyalty.
Automatic reminder of upcoming tasks ensures more efficient onboarding.
A structured onboarding process improves retention.