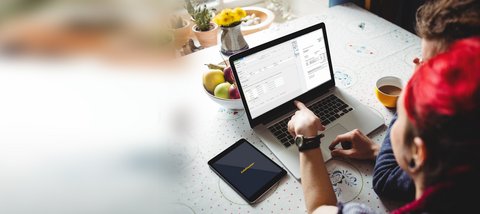 Agile Document Management
An efficient, transparent solution for all your document management needs
Isolated document management solutions have their limitations for companies who find themselves faced with manual editing work or an unclear process status. Agile document management breaks down these silos and connects processes with data and documents wherever they are needed. JobRouter® covers all the stages involved in agile document management from Input Management, with document processing, administration and Archiving, right through to Output Management.
Benefits: how you can benefit from agile document management
With agile document management, you will no longer have to deal with mountains of paperwork, misplaced documents and chaotic archiving systems. Paper-based processes are a thing of the past thanks to modern document management.
Document workflows are mapped company-wide
Documents are automatically synchronized between devices, systems and archives
Data and documents can be processed on an equal basis throughout the process
Integrated rights and role management provides clarity, transparency and traceability
Processes are documented and traceable at every stage in the process
All document amendments are documented
Document processes can activate other (meta) processes and vice versa
Media discontinuity and interface configurations can be avoided
Includes fully integrated, audit-proof archiving
No deadlines are missed
Easy integration in Windows Explorer, Outlook, etc.
Functions: how agile document management can ease your daily work routine
Agile document management fulfils a few simple requirements: it should support all document work, i.e. the six stages in the document lifecycle, which are also comprehensively mapped by JobRouter®. JobRouter® has numerous functions and additional modules, creating endless application scenarios.
Smart, agile, customized: document management with JobRouter®
For JobRouter®, digital document processing is a symbiosis of process, data and document management. Your benefits: end-to-end digital processes, with or without documents, and an integrated platform instead of isolated solutions. This allows you to remain independent and flexible company-wide!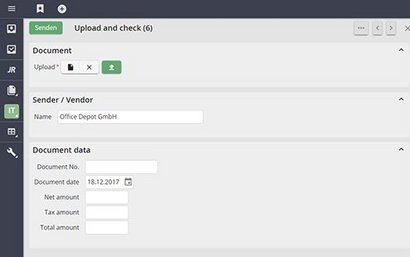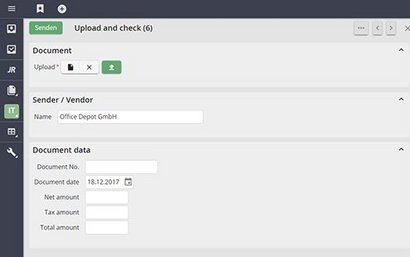 Automatic creation and completion of user-defined documents in JobRouter®
Did you know that you can securely and automatically merge all the data that you have collected or received through your JobRouter® business process with document templates, image documents, text modules, digital signatures and graphs to create new documents? This means that the documents or document sets created will be consistent, up-to-date and linked to your business process. You can also download and print access-controlled documents. There is also an option to automate hands-free e-mailing for specific recipients.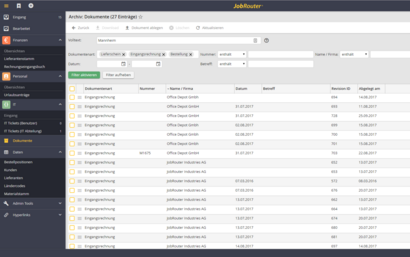 JobArchive - an integral part of the JobRouter® system
The optional JobArchive Module makes the JobRouter® platform into a complete, integrated electronic document management system, which grants immediate access to documents with centralized filing, rapid searches and access control.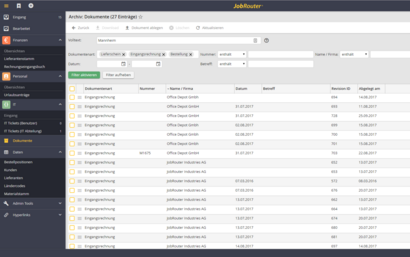 Key Features
Unlimited number, size or type of documents
Unlimited number of document archives
View, download and print authorized users
Integration of archiving with processes
Access control for document security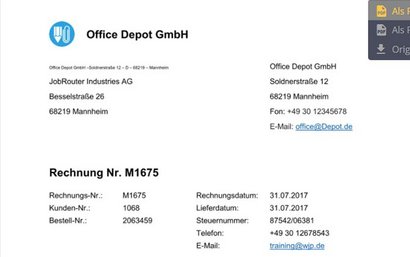 JobViewer 2 – the smart way to process documents
JobViewer 2 is fully integrated in JobRouter® and can be used to view and edit documents in the browser. It can be used wherever documents are displayed. JobViewer was designed especially for working with typical business documents and supports all common formats: PDF, image, Office and text files.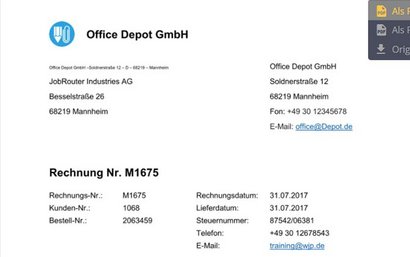 Key Features
Web-based: conveniently displays all documents in the browser
Annotations: adds texts, shapes and drawings to documents
Stamp: allows documents to be stamped at the relevant process stage
Snap & Drop: integrates texts in processes and forms
Traceability: seamless integration in the workflow
JobRouter® Scan App – agile document management for when you are on the go
JobRouter® Mobile for iOS and Android allows you to access and add documents to your DocumentHub from your mobile. You can scan documents, take photos or upload documents from the local gallery in the DocumentHub and use them straight away as PDF files in processes or archives.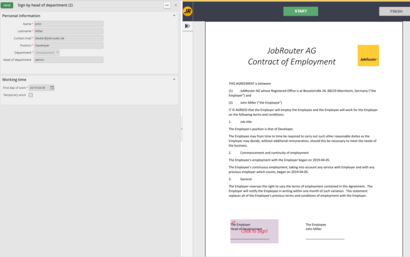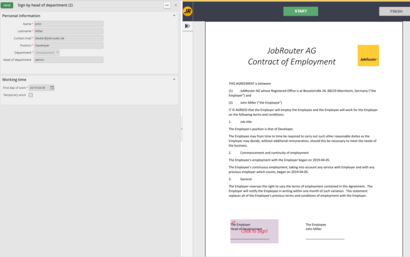 JobRouter® Sign - integrated electronic signatures
You can sign any kind of document, including employee and service contracts or order confirmations, completely digitally in a clear, secure, simple manner without needing any paper. JobRouter® Sign is the ideal desktop and mobile tool for creating seamless, compliant digital signatures!
Integrations: seamless integration of JobRouter® in your existing or predefined IT landscape
Whether you use ERP systems like SAP or different CRM systems, you can integrate other applications and get the best from your processes with JobRouter® interfaces such as REST API.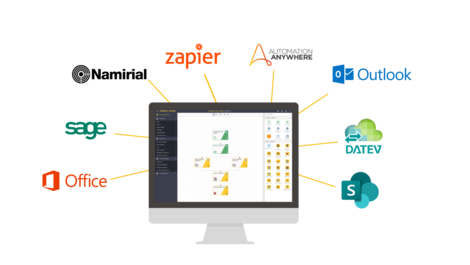 JobRouter® is GoBD and IDW PS 880 certified
JobRouter® and the JobArchive module have been checked for compliance with the GoBD principles based on the strict IDW PS 880 auditing standards to ensure that accounting-related processes are carried out securely and documents are archived in an audit-proof manner.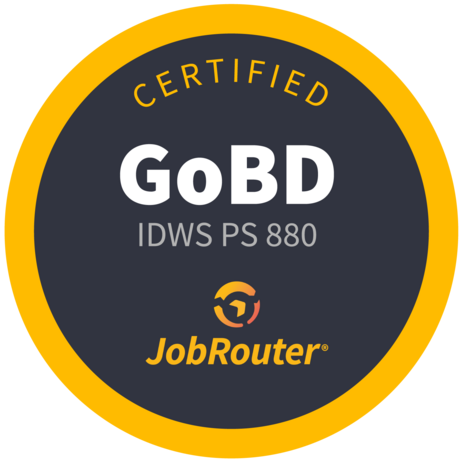 JobRouter® is GoBD and IDW PS 880 certified
JobRouter® and the JobArchive module have been checked for compliance with the GoBD principles based on the strict IDW PS 880 auditing standards to ensure that accounting-related processes are carried out securely and documents are archived in an audit-proof manner.
Examples: our customers rely on agile document management
Interesting facts about agile document management
What is document management?

Document management involves the digital capture, distribution, filing, processing and archiving of electronic documents and is therefore an important stage in the digital transformation of companies.

Document management systems(abbreviation: DMS) support you on your way to introducing paperless processes as they offer a solution for the organization of your electronic documents. Whether you are a large corporation or an SME, with a high-performance tools like JobRouter® you are not only saving the trees, you are also saving time and money by investing in efficient workflows. You will get more out of your resources with agile document management.
How does agile document management work?

Agile document management comprises different document processing functions. It focuses particularly on:

Input Management: you can input documents. This involves manual filing, monitoring e-mail mailboxes and directories, Outlook and Windows Explorer integration, reading invoices via OCR (text recognition) and reading ZUGFeRD, XInvoices and PDF forms.
Document Management: agile document management provides functions such as an integrated search client, direct access to workflows, full-text searches and an archive storage option as part of digital document management.
Output Management: the document output functions include the completion of text templates and PDF forms and the creation of PDF documents and ZUGFeRD invoices.
Document Archiving: a digital archive is an important part of document management and includes fully integrated, audit-proof, comprehensive documentation and change histories as well as automatic document solutions.

Every process is based on flexible rights and role management, which controls document access and allocates tasks accordingly. This means that individual employees see exactly what they are allowed to see and are only granted the processing options permitted by their rights concept. Every step and amendment is documented on an on-going basis to enhance transparency and traceability and eliminate sources of error.
How can I use agile document management?

Agile document management can be used in a whole range of application scenarios, for example:

Processing documents together

In simple terms: agile document management takes you another step forward in terms of corporate digitilization and brings you a little closer to the paperless office.
Can I process documents with JobRouter®?

Yes: JobRouter® provides an integrated document archive that can be seamlessly incorporated in your processes. Additional archive systems can be connected via interfaces. Documents can be created, attached or edited within the processes.
How much do agile document management solutions cost?

The price varies depending on the scope of the service and the licenses required. You can try out the JobRouter® digitilization platform and integrated agile document management options free of charge without obligation for 30 days. If you feel confident after this trial period that JobRouter® is for you, our advisory team will help you to find the best package for your company.
How can I learn agile document management?

We recommend that you take part in relevant training courses so that you can learn how to use agile document management to the full and enjoy all the benefits it has to offer. The JobRouter® Academy offers further training for end users, process designers, administrators and many more potential users. Make a note of the forthcoming dates of our Webinars.
Can I get JobRouter® from the Cloud?

Yes. You can have JobRouter® installed on-premises but you can also get it from the Cloud.