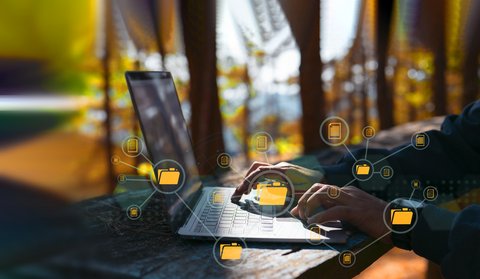 How to create a digital archive for documents
With a digital archive, your organization can finally achieve its goal of going paperless. Below, we show you how a digital archive works and why it makes sense to archive your documents digitally. You'll also learn how to use the right software to build an audit-proof digital archive.
Definition: What is a digital archive?
A digital archive, also known as an electronic archive, is a way to systematically store your documents for the long-term. Archives are built using computer-based, digital storage, also known as electronic storage.
The documents you store in your archive may be digitized versions of documents that were originally onpaper. You may also archive documents like emails, image files or digital invoices that were always digital.
To manage your digital archive, you will need software called a document management system (DMS). This may be either installed on your company's local network or based in the cloud.
Advantages of digital archives versus analog
There are many good reasons for your company to switch to a digital archive. Companies that make the switch enjoy the following advantages and more:
Time-saving
When your documents are stored digitally, it's much quicker for employees to find the specific document they're looking for. Simply type in a search term and use search filters, just like performing a search on the internet. The document is available in seconds.
Space-saving
Storage space is expensive. By converting your documents to a digital format, you eliminate the need for filing cabinets and shelves full of paper documents. A single disk drive can store hundreds of thousands of documents. And if your archive is in the cloud, you don't need any physical storage space on location at all.
Scalability
A digital archive gives you virtually unlimited storage space. As your need for storage grows, you can continually expand your digital archive.
More sustainability
Digital archiving is much more sustainable and reduces paper consumption. By switching to digital documents and electronic signatures, you eliminate the need for printing lengthy contracts and other files.
No redundancy
Your digital management software keeps your archive tidy and efficient. It ensures there are no duplicates and that the latest version is automatically stored in the archive.
Greater transparency
Unlike analog archives, your digital archive provides a single, central storage system. This makes your document storage more reliable, because your database is more transparent and up-to-date.
Flexibility
Your digital archive gives authorized employees secureaccess to documents whenever and wherever they need, whether they're at the office or working from home.
Change-proof
Paper documents are easily manipulated, but digitally archived documents include safety features that prevent tampering. This ensures maximum data security and compliance with legal document storage requirements.
Automatic cleanup
Different types of documents (like contracts) are subject to different requirements for retention. Keeping your paper archive organized and up-to-date is time-consuming. You can set your DMS to automatically remind you of expiring documents or delete documents that no longer need to be stored.
Which documents belong in your digital archive?
You can store any type of document in your digital archive. Some documents must be archived by law; for example, in case of a tax audit. Common documents that companies archive digitally include contracts, receipts, tax filings and written (email) correspondence.
Invoices

According to guidelines by the IRS, businesses should store financial records, such as invoices, for at least 3 years and, in some cases, even longer. The same rule applies whether you store your invoices on paper or electronically. Your invoices need to be accessible in your archive throughout the entire retention period.
Contracts

Contracts, like rental, employment or loan agreements, can easily amount to hundreds of shees of paper. Avoid paper waste with a digital archive and digital contract management instead. The retention periods for contracts vary based on its type.
Receipts

Receipts are used as a proof of business-related transactions. Just like invoices, they are part of your business's financial records. For tax purposes, you'll need to retain copies of your receipts for at least 3 years, whether the receipts are on paper or in digital form.
Email

It is almost impossible to make a precise distinction between emails that must be archived and those that do not. Most companies use a method called journal archiving. This simply copies all emails to the archive immediately when they are sent or received on the e-mail server - even before they appear in the mailbox of the parties involved.
Files

Your company should retain files such as personnel files, patient files, e-files or project files for the duration of any exclusion and statute-of-limitation periods. The statute of limitations for most types of legal disputes in the US is 5 years , but this may vary depending on the exact situation. When archiving digital files, it's important to ensure that archiving is traceable and verifiable.
Types of digital archives
There are 3 main types of digital archives:
Electronic document archive: Long-term, secure, change-proof storage of digital documents that can be retrieved at any time. Access is usually managed using archive software that is installed on the company's local network (not cloud based).
Long-term electronic archive: This is used to store documents after the minimum legal retention period has expired. As a legal precaution, many companies retain such documents for at least ten years.
Audit-proof electronic archive: Proper, secure storage of business and tax documents. This type of digital archive is designed for compliance with legal requirements and usually stores documents for six to ten years, depending on the document type.
Choosing the right software for your digital archive
To get your digital archive up and running, start by choosing the right archive software. Look for a solution that offers the exact features and options your company needs. You'll also want to ensure that the software fully complies with all legal requirements, including data protection, privacy, and tax law.
There are 2 main options when it comes to digital archive software:
Archive using a DMS

If your company chooses to buy a document management system (DMS), this will be installed on your internal network. DMS solutions are designed for compliance with document retention requirements. They help you automate and streamline your auditing process.

Archive with the cloud

A cloud-based archive solution is not installed locally on your company's network but stored on a remote, third-party server in the cloud. This means you don't have to buy, install, and maintain any archive software or hardware. Another advantage is that employees can securely access your archive, no matter where they are located.
5 steps to setting up a digital archive
If your company is ready to make the transition towards an efficient, secure digital archive, here is a step-by-step plan to help you get started:
Step 1: Install your archive system
First, install the document management system (DMS) of your choice. If you're using a cloud-based solution, make sure your company's account is properly set up, configured and ready to use.
Step 2: Digitize your documents
Next, scan and digitize all paper-based documents. It's best to do this according to a plan, so you scan similar types of documents at the same time. The right document management system makes digitizing your documents easy: the software is connected to a workstation or network scanner and starts the scanning process. Digital documents such as emails are captured automatically.
Step 3: Categorize your documents
Once all your documents are digitized, it's a good idea to divide them into useful categories. For example, place all contracts in one folder. If you have lots of different contracts, divide them into more specific subfolders. Organizing your digital archive this way makes it even more efficient and beneficial in the long-term.
Step 4: Transferring documents to your digital archive
The most important step: all the documents are transferred to your central, audit-proof digital archive via your DMS or cloud-based software.
Step 5: Using and maintaining your digital archive
Now your archive is ready to use. Employees are each given an authorization which allows them to search and access documents that they have permission to use. You can also digitalize work processes such as incoming invoice processing, so you skip the paper stage and the documents are automatically copied to the right folder in your digital archive.
Building an audit-proof digital archive
In an audit-proof digital archive, your documents are stored securely in a form that cannot be altered without a clear log of any changes that are made. This ensures that your document storage is fully compliant with all legal requirements; for example, requirements under commercial, tax and data protection law.
It is especially important to maintain a full, audit-proof archive of your financial documents. If your company is subject to a tax audit, and you do not have a full, audit-proof archive of these records, you may face penalties and expensive fines.
If your digital archive is audit-proof, there is no need for you to print or store physical copies of documents.
What does an audit-proof digital archive entail?
Any changes made to a document must be recorded.
Overwrites or deletions must be trackable in the digital archive.
The archive is maintained using specially designed archive software.
How to create a digital archive with JobRouter®
The JobArchive module is JobRouter®'s built-in document management system. It lets you create an audit-proof archive with centralized document storage, fast search features and secure access controls.
It also includes an intelligent document reader and features that allow your employees to collaborate on the same document simultaneously. In addition, it lets you archive any type of file and use different storage adapters. It also keeps track of document versions and lets you retrieve documents or search results from external programs.
These features let you easily set up and maintain an audit-proof digital archive. Simply open and edit the files you need using the document viewer, and fully integrate them into your company's digital processes. The JobRouter® digitalization platform is an all-in-one solution for workflow management and agile document management.
FAQ about digital archives
Should my company use a digital archive?

Digital documents are easy to send, transport and save. They are available to multiple employees at once, regardless of their location. They do not require storage space, which is a great advantage, especially for retaining large volumes of documents.
How can I create a digital archive?

Start by determining your company's requirements. Set a budget and timeframe and appoint a project manager or project team. Ensure that your digital archive complies with all legal document storage requirements that apply to your company.
Is it easy to switch to a digital archive?

Yes, as long as you have a high-quality document management system (DMS). This makes storing your documents online as easy as sending an email. It takes time to digitize your existing paper documents, so switching from analog to digital is time-consuming at first. In the long run, it saves lots of time and makes it easier and more secure for employees to access the documents they need.
Why should I use JobRouter to manage my digital archive?

The JobArchive module is a full-service document management system built into the JobRouter platform. It includes intelligent document recognition and features for collaborative editing and creation of documents. In addition, the JobRouter platform is an all-in-one workflow automation solution. In addition to document management, it lets you manage processes and link the data from your archive into your workflows.