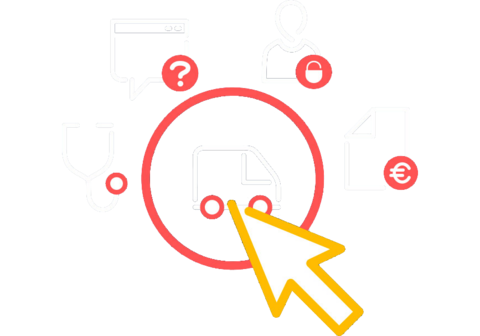 Working with JobRouter® is always different
Use Cases with JobRouter® Process Automation
JobRouter® is always as simple or complex as you need it to be. Depending on the challenges you face, the platform offers you a different solution.
JobRouter® is a cost-effective and easy-to-use low-code digital process automation (DPA) as well as workflow management platform to digitize and automate any business processes. The application scenarios with JobRouter® are therefore infinite and always tailored to the respective use case. But what does this mean for you?
You get a digitization platform that....
Is designed to be industry-independent and cross-departmental
links data, processes and documents
combines functions from workflow management, process automation, document management and robotic process automation
connects third-party systems, legacy systems and specialist departments
can be functionally extended by different modules
follows a low-code approach and thus conserves your resources
is easy to use and accompanies employees
can run parallel workflow applications as part of a process
digitizes small processes and applications
as well as digitally depict complex application scenarios throughout the company
... and thus fully digitally implements and automates a countless number of deployment scenarios.
Bring even more digitization to your office – with just one platform solution!
Draw on the full potential: Our platform solution brings a lot of capabilities with it, so it can sometimes be diificult to get a good overview of the all of the possibilities. Here is a small selection of typical application scenarios that can be easily digitized and automated with JobRouter®.
With JobRouter®, you save right from the start and increase your productivity with a scalable digitization platform:
Popular JobRouter® Use Cases
Digitalize your workplace with a customizable portal solution

Procure-to-Pay (P2P): From ordering to paying for merchandise

Improve transparency in your digital office with e-invoicing solutions

View contracts digitally, store them in an audit-proof manner and delete them in a legally secure manner with JobRouter®.

Employee Onboarding Software: Integrated, cost-effective, transparent

Ticket system - digital control of support requests

Digitally submit, manage and track travel expense reports at any time

Request, manage and bill business travel digitally with JobRouter®.

Submit and process business trip request digitally with an online form

Collaborate with your colleagues on digital documents

AP Automation - streamline and optimize your accounts payable processes

Digital personnel file - all data at a glance

Set up, maintain and track vehicle fleet digitally with JobRouter®.

Accelerat your goal of a Digital Office with JobRouter® Digital Process Automation (DPA)
Digital transformation is advancing rapidly. Keep pace with it thanks to JobRouter® process automation! Implement your digital processes with the proven JobRouter® digitization platform in a targeted, highly flexible and customized way - and benefit from solutions that fit your company structure to a T. No matter which digital strategy you choose, we support you in getting the most potential out of your digital processes!
Develop your process appliations around 80 percent faster thanks to low-code technology!

Integrated, innovative technologies offer a highly specialized and wide range of functions to meet the specific requirements of individual departments. These include, for example, solutions for collaborative work on documents or for the legally compliant electronic signature of documents on screen.
We have gathered our know-how from over 10,000 customer projects and compiled a selection of the typical JobRouter® deployment scenarios that will give you a quick start in digitizing your company.
Request a demo

Tell us about your pain points or ideas for digitization and experience JobRouter® live!

Learn from experts

Want to see a sample? We offer topic-related live webinars on a regular basis. Register now!

Talk to experts

Have questions? We would be happy to explain all JobRouter® benefits and functions to you in an online session.