The digital office has never been closer:
JobRouter® integrates an electronic signature solution into the platform functionality
Put your signature - clear, secure and simple, without any paper. With JobRouter® Sign you lift your document management into the modern age.
Trigger integrated digital signatures from processes and set signatures with JobRouter®
Create, edit and save documents together in a revision-proof way - no problem with common document management systems and especially JobRouter®. But the biggest pitfall for digital document work for a long time has been the binding and legally valid signature in digital form. That's why many common digital and document-based processes ended with the need to go to the printer.
Consistently integrated electronic signature in your individual business processes
JobRouter® Sign brings security, convenience and clarity to all transaction processes where legally compliant signatures are required for customers from a wide range of industries and sizes. With the seamless integration of Namirial eSignAnywhere into the flexible process management and powerful process automation of JobRouter®, signatures can now be requested and executed from processes. Thus JobRouter® Sign optimizes your digital document work far beyond the standard.
JobRouter® Sign is available with the JobRouter® 5 version and can be obtained both on-premise and from the cloud.
JobRouter® Sign changes the way you do business and close deals.
Create a contract template or select an existing template and fill it with the relevant information and the people involved. JobRouter® will then automatically send a request to approve and sign the document to the address you have entered. Only this person can execute the digital signature; all intermediate steps are documented and comply with all legal and compliance requirements.
Digitally map any application - with minimal programming effort
The JobRouter® Designer is the optimal tool for compiling your business processes and designing digital workflows. You can drag and drop the desired functionality into the process flow, access an existing rights and role management or create a new one for your signature processes. All steps for a successful signature event can then be automated, documented and unambiguous at any time. The programming effort is reduced to a minimum thanks to our low-code approach, so that you can carry out process configurations and changes quickly, easily and transparently.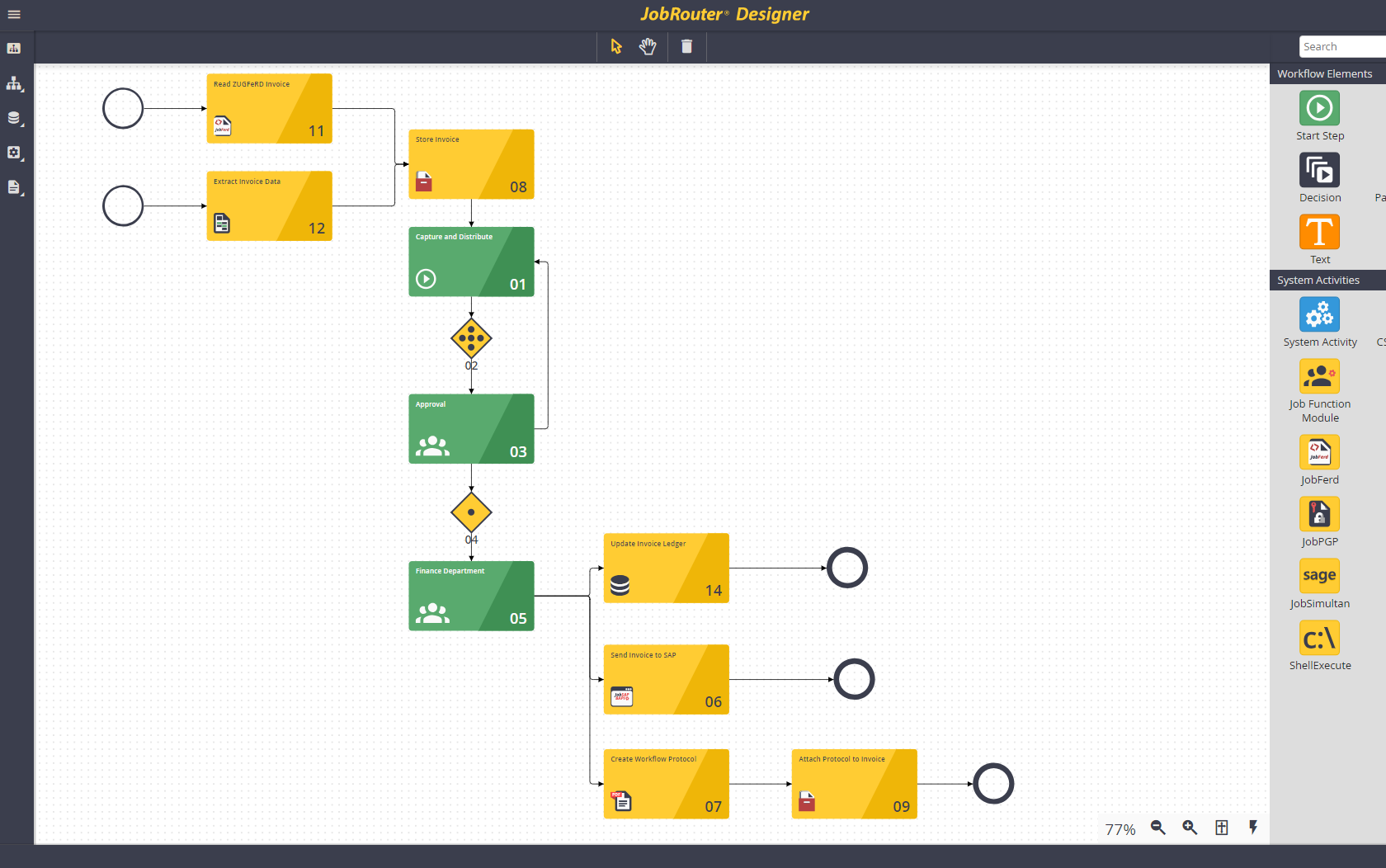 Control of automated workflows within the framework of signature processes, from preparation through execution to completion of the signing process.
Fully integrated electronic signature into the JobRouter® platform
Start a signature event from any process
Starting any subprocesses within signature processing
Complete documentation of all intermediate steps, persons involved and actions performed
Audit-proof archiving of documentation and documents
Fast and unique digital signature from any end device
Increased employee productivity and satisfaction through an optimized information flow in document work
Reduce queries and compliance challenges with clear processes and notifications
Compliance with legal standards and regulations without effort through certification as a trusted service provider
Reduce business risk as processes run and close faster
Increased transparency and security about the status of the document
Control of processes across departmental and company boundaries (integration of external partners)
Possible application scenarios of the electronic signature for your business processes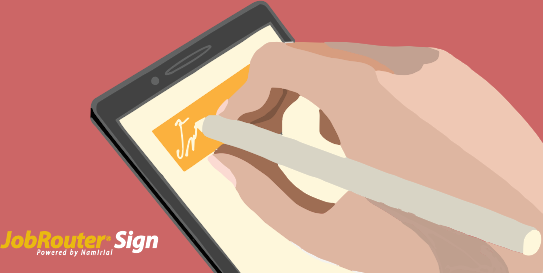 Employees Onboarding
In the course of onboarding new employees, not only the employment contract must be signed, but in many cases other documents, such as a non-disclosure agreement, security instructions, contract of use for a company car, etc. must also be signed.
With the help of JobRouter®, these signature requests can be easily and legally integrated into an onboarding workflow and processed digitally. The employee has an ingenious digital employee experience from day one.

NDAs
In cooperation between companies, confidentiality agreements are often required. These can be signed e.g. via a JobRouter® process. One of the advantages here is the automatic filing and indexing of the legally signed contract in the audit-proof JobArchive archive.
This means that at the start of the process only the contracting parties are defined in JobRouter®. JobPDF is then used to generate an individual agreement, which is then signed and automatically archived.

Maintenance contracts
We live our product. From now on JobRouter AG will send all maintenance contracts digitally via JobRouter® SIgn to your partners and customers and then make them available in the portal.