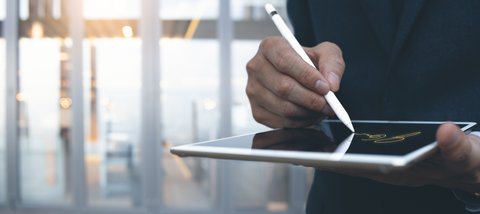 Electronic signatures in banking: From the idea to the implementation
Opening a bank account or buying shares with a few clicks. In many areas of daily life, we can sense that the digitization of banking is advancing. Credit approvals, credit checks or consumer loans are just a few more examples of internal and external processes in banks. For some time now, these processes have increasingly been accompanied by a faithful companion - the electronic signature. It ensures that contracts or approvals can be processed faster and more efficiently.
Why the electronic signature is relevant for banks
Digital signature procedures generally support process automation in banks. The acceleration of business processes and cost savings are just two of the reasons why banks in particular are introducing and using electronic signatures, say experts from the auditing and consulting firm PwC.
In an ever-growing digital world, it is not just customer expectations or habits that are driving the digitization efforts of banks. Our society has developed an awareness of the importance of sustainability - of moving away from paper and toward digital processes. In addition, digital change has already reached us in many other areas of life. We can shop, meet friends or watch our favorite series - all online and virtually. In a way, this has become normal for us. We demand this "normality" for banking transactions as well. For this reason, OmniChannel concepts are considered to be successful and forward-looking. From the perspective of the banks, this means not only meeting customer requirements, but also building long-term customer loyalty. In addition, background processing is becoming increasingly important. This refers to automated business processes that customers can neither see nor influence. Robotic Process Automation is very popular here and, similar to the electronic signature, contributes to customer satisfaction through efficient and fast processing.
In addition, the corona virus pandemic reminds us how important digitization is. In particular, the need to work remotely or from home and to secure the ability to operate in this way is driving companies and banks alike to step up their efforts to push digital projects. The electronic signature is the perfect component here to enable contracts to be concluded or similar transactions to be carried out regardless of location.
What a good solution for banks must offer
It is obvious that banking processes contain sensitive data. These must be fully protected. Therefore the chosen signature solution must cover all legal and compliance-relevant aspects. In addition, there are many different areas of responsibility in banks, where the highest level of security must also be guaranteed for the exchange of data between banks. A decisive advantage of electronic signatures is their unalterability. Electronic signatures cannot be added to or manipulated later. Altering them is technically and procedurally impossible.
A good solution should also take into account the complexity of the banking business, i.e. be adaptable and take into account authorizations, process sequences and possible decentralized structures. If responsibilities change, it must ensure that the right people always receive the appropriate documents to sign.
Banks should also rely on software that can take into account all customer interfaces (customer portals and platforms, CRM systems, etc.) to enable customer-centric integration of electronic signatures along the customer journey.
These points should be considered during implementation
A signature process can be implemented based on four general questions:
1. What type of document should be signed? Derived from this: What type of signature is required?
2. If a qualified electronic signature is required, how many different signatories are there and how often do they sign?
3. Are the documents to be signed finally available or are they created during the process?
4. How does the signature process work?
Whether a simple, advanced or qualified signature can or must be used is based on the type of document and the required evidential value. Experience has shown that banks have many documents that have to be created internally and signed by all parties involved. This including the management, for example, of activities like credit approvals, credit checks, and customer ratings, etc. These documents are mainly created in Word, filled in by different departments and persons, approved, signed and filed at the end. Qualified electronic signatures are equivalent to handwritten signatures and are used if the so-called written form requirement applies to the application.
Bank processes implemented by JobRouter® digitization platform
If a bank process is to be implemented with the JobRouter® digitization platform, both the creation, approval and signature of the document can be performed in the software. It is possible to extend the Word template with mail merge fields and signature placeholders. With mail merge fields, information collected during a process can be automatically transferred to the document. If the final document is already available, it can be easily uploaded and also provided with signature placeholders. Once the process flow has been clarified (who signs, how it is signed and in what order), the actual signature process can be implemented.
In JobRouter® it is possible to send the document directly by e-mail to the selected signatories. If these persons are internal users with access to JobRouter®, the document can also be provided via the inbox and signed from there. This has the great advantage that it is always possible to see who is currently holding the document for signature. In addition, people involved can be reminded automatically and regularly of the signature due date using predefined reminders and deadlines.
Even though some financial institutions already rely on electronic signatures, there is still room for improvement. The implementation is not that difficult, but opens up a multitude of new opportunities and potential. PwC and JobRouter are pleased to support you!
About the authors
Julia Köhler

Julia Köhler is a management consultant at PwC with a focus on strategy and implementation of portal and platform solutions. In particular, she supports customers in the introduction of workflow solutions with a focus on customer interaction and digital signatures.

Robert Eickmeyer

Robert Eickmeyer is a management consultant at PwC, his focus is on the digitalisation of products and processes. He advises clients of PwC on the development of new business models. Within the company, Robert Eickmeyer heads the German Digital Identity Team.