Digital Process Automation
From workflow specialists to comprehensive digitization platforms: Process automation with JobRouter®
Workflow components form the heart of the JobRouter® platform and are thus also at the heart of your digital strategy. They control all digital processes and process steps within a company as well as between employees, partners and systems. This allows you to remain flexible in your daily work and benefit from end-to-end digital processes.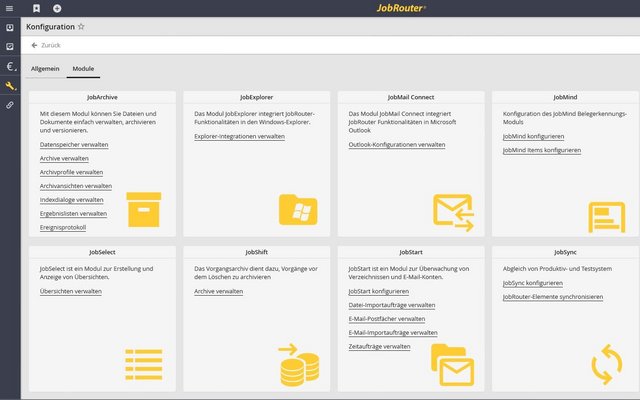 JobRouter® makes independent process management possible. What does that mean? JobRouter® is a comprehensive Digital Process Automation platfom that allows you to design any complex business process yourself and to visualize and execute workflows.
Choose your next digital project strategy
Traditional Business Process Management (BPM) vs. Digital Process Automation (DPA)
Digital process automation is about digitizing more processes using smaller, more agile projects. True to the idea: Start at one point and then go viral! It is also interesting to note that digital transformation is increasingly displacing cost reduction as the main focus of process digitization. Some of the key features of the DPA are:
Stay flexible with DPA features:
high process functionality
keep it simple - in contrast to highly complex solutions
fast application development
broad commitment in the company
moderate prices
Build strong apps with BPM features:
focus on reducing overall costs
build highly complex and feature-rich processes and applications
target core-functions and systems
build for special departements
control project timelines
Learn more about digital process automation with JobRouter®
Digital Process Automation

Eliminate information silos and gaps with JobRouter®

When you are looking for an integrative, flexible and scalable approach to your digital strategy, make room for change.

Digital Process Autoamtion

Control complex workflows company-wide with one digitization platform

Invoice Processing, Rights and Role Management, Audit Trails - Good business processes need to be much more than just digital

Digital Process Automation

Manage approvals digitally - the approval matrix

Employees repeatedly come across a large number of work processes in which approvals are critical to business success and must be handled with care.

Digital Process Automation

Don't let others set limits for you

Experience digital transformation through independent process management. JobRouter® integrates itself into your existing IT system landscape - and unleashes its potential!

Digital Process Automation

Process design with JobRouter®

Build integrated, feature-rich, web-based applications — without programming. Our low-code approach enables all employees to engage in process mapping and process design and thereby speed digital enterprise transformation!

Digital Process Automation

5 types of workflows with JobRouter®

There are five basic patterns of process workflow control flow - and JobRouter® knows them all. This leaves you free to choose how your process steps should start or be further processed.

Digital Process Automation

Change Management and Exception Handling in JobRouter® processes

It will come as no surprise to anyone running a business that 80% of the problems in business processes are usually tied-up in 20% of the work - mostly caused by exceptions.

Digital Process Automation

Lean processes – What does this mean?

Processes are streamlined using the JobRouter® digitization platform and optimized for digital work.

Digital Process Automation

Trigger processes with JobRouter® - the choice is yours

Triggers are actions that start processes. Combine individual digitization with efficient automation and use the full potential of your business processes.