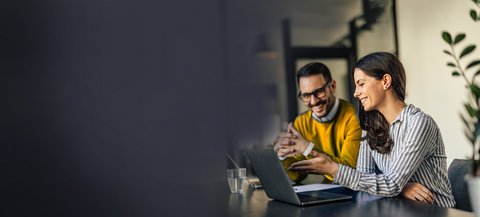 Procure-to-Pay (P2P): From ordering to paying for merchandise
Procure-to-pay (P2P) is more than just processing invoices. It covers the entire process from ordering to paying for merchandise. Because of the many subprocesses it involves, P2P is a cost-intensive process for any company. Processing P2P by hand is inefficient and error-prone. Often, orders or invoices get lost or stuck in the review or approval process, making it hard to maintain an overview. As a result, it takes longer to process requests, and suppliers may be forced to wait for payment, which has a negative impact on their relationship with your company.
To avoid these problems, companies are increasingly digitalizing and automating their P2P process, making it faster, more secure and more cost-effective. Discover which sub-processes belong to P2P and how the JobRouter® digitalization platform can support you.
What is procure-to-pay?
Procure-to-pay (P2P) refers to all processes that take place within your company starting the moment an employee needs to purchase a good or service from an external supplier. It starts with defining the procurement requirements, and goes on to include creating the purchase order, handling the order management, and finally processing and paying the invoice.
Procure-to-pay versus order-to-cash
P2P and order-to-cash (O2C) are two different business processes that are basically the mirror image of one another. P2P is what happens when your company needs to buy a good or service from another company, and O2C is the process of filling an order that another company or customer places for goods or services from your company.
What is purchase-to-pay?
Purchase-to-pay is an alternative term for procure-to-pay or P2P. These two terms are used interchangeably.
How does the procure-to-pay process work?
P2P is one of the most time-consuming, expensive administrative processes that a company has to deal with. That's because it is complex and involves multiple sub-processes. But it's also because P2P is a never-ending task, and there are constantly new purchases that need to be processed. Depending on the size of your company, it may go through tens of thousands or even hundreds of thousands of P2P processes each year.
Processing all that information manually is time-consuming and error-prone, especially when you consider how many individual steps are involved and all the documents and information that have to be exchanged. By switching to a digital, automated process, you make your P2P transparent for everyone involved, while also minimizing the risk of errors and keeping costs to a minimum. Special automation software like JobRouter® lets you handle all the individual steps in your P2P process, from purchase requests to payment.
A typical P2P process might include any or all of these steps:
Purchase requisition (requisition note)
Checking/approving the order
Receiving the supplier's order confirmation (optional)
Receiving incoming goods
Receiving invoices (via different channels)
Checking invoices (including reconciling purchase orders with the goods received)
Invoice approval
Accounting
Payment
Archiving (in accordance with legal requirements)
The first four steps mentioned above are related to procurement and materials management. In some companies, these processes are already largely digitalized because they are supported by workflows in many common ERPs. But starting with the fifth step, accounts payable automation , many companies are still working by hand. Unfortunately, many common ERP solutions don't offer the features you need to automate this important stage of the P2P process.
Key advantages of digital procure-to-pay
It eliminates time-consuming manual work by standardizing and automating processes and keeping track of all the information and process steps in one place.
You can fully trace invoices, so you have a clear overview of when the invoice was received, in which format, and from which supplier.
The investment generally pays for itself very quickly (fast ROI).
No more wasting time searching for lost invoices. All your company's incoming invoices are now easily searchable inside one digital invoice ledger and can be found quickly.
It saves time and hassle for everyone involved, so employees can devote their attention to other tasks.
Automated invoice verification increases security. JobRouter® can even detect fraudulent invoices.
Generating meaningful KPIs that help you optimize your process even further.
There is a solution for all P2P processes: JobRouter®
JobRouter® lets you map out P2P processes for C-parts (parts with low value that are procured in high quantities) such as work clothes, office supplies, or services. Within your P2P process, suppose an employee reports via JobRouter® that they need a new laptop. Usually, the person's manager releases the order in the platform, which automatically notifies your Procurement Team. They then order the new laptop and receive confirmation from the supplier. Once the laptop arrives, the person responsible can confirm receipt centrally through the JobRouter® platform or make a complaint in the event of incorrect delivery. Your Procurement Team can now also follow the latest status of any goods they've purchased.
Paying and archiving invoices
During the payment process, you can use JobMind Cloud or another OCR system with an interface to collect the invoice data and transmit it to the P2P process. This enables JobRouter® to make sure there's a perfect match between the invoice data, the original order, and the goods that were actually received. You can also automatically send the invoice to the person who placed the order to ask for their approval. If the invoice is correct, it's ready to be paid and stored in JobRouter®'s audit-proof digital archive.
The advantages of JobRouter® compared to other P2P solutions:
JobRouter® lets you map out all the sub-processes in your P2P process.
The platform can be seamlessly integrated into your existing IT landscape.
You have the option of implementing additional business processes based on your company's needs.
You can connect with all major ERPs, accounting or merchandise management systems, including SAP and DATEV.
Use cases for P2P with JobRouter®
Supplier Management

Supplier management is about controlling and interconnecting all the data and processes that exist between your company and its suppliers. It's an important part of P2P, especially at the beginning when the order is placed and at the end when the invoice is received.
Order management

Order management includes all the processes from requisition to inspecting and accepting received goods or services. It can also work in two directions, as your company can either place orders itself or receive orders from its customers.
Job management

Job management refers to the way your company handles and monitors jobs that its suppliers perform.
Digital inbox / invoice processingaccounts payable

A digital inbox lets you receive electronic invoices from your customers which are then automatically entered into your company's process for incoming invoices: checking, verification, approval, payment, and archiving.
Returns process

If your company receives faulty goods, you need a transparent way of handling and monitoring returns and refunds. An automated returns process helps you keep track of the status of all outstanding returns and refunds.
Spend management

Spend management software helps your company manage and track all expenses to maintain better control. It also lets you set caps on how much employees can spend on a P2P purchase.
Order-to-cash

Order-to-cash is the counterpart to procure-to-pay (P2P), seen from a supplier's perspective. It covers the processing of a customer's purchase transaction from the moment an order is received until it is paid. Like P2P, it also involves many sub-processes.
Can you use SAP for procure-to-pay?
As part of their procure-to-pay process, companies often use an ERP system such as SAP to handle incoming invoices. But lots of the steps in the P2P process (like purchase requisitions, automatic approvals and issuing Pos) can only be implemented in SAP with a lot of technical and coding expertise. By using a digital process automation platform that's based on low-code development instead, you can quickly and easily implement an all-in-one solution that covers many other business processes in your company, including digital contract management, employee onboarding, and fleet management.
If your company is already using SAP, you can integrate JobRouter® into your existing infrastructure and gain all the advantages of using an ERP along with a flexible digitalization platform. Read which modules and functionalities are available for this in our digital brochure or on our integrations page.