JobRouter® is as individual as the requirements in your company. For this reason, there are three editions with different functionalities. Whether you want to start small or digitalize big – we have the right package for you. Choose the best option for your current requirements, get started right away, and always stay flexible with our rental price conditions.
You can obtain the JobRouter® digitalization platform directly from the Cloud or, alternatively, operate it locally.
Starter

10 users included (50 users max.)
2 processes
100.000 archived documents
100 electronic signatures per year

Starter features:

All workflow management features
All document management features
Data management
JobRouter® Mobile App
Unlimited number of workflow instances
Unlimited number of process steps
Unlimited number of integrations
Unlimited creation of documents
Electronic signature
Basic Academy access
Dashboards and reporting

Advanced

100 users included (1.000 users maximum)
20 processes
Unlimited number of archived documents
100 electronic signatures per year
1 test system

All Starter features + Advanced features:

GIT integration
Individual color schemes
Heatmap
Scaling tools
Fail-Over-Cluster
Process archive

Premium

300 users included (expandable unlimitedly)
50 processes
Unlimited number of archived documents
100 electronic signatures per year
3 test systems
2.500 Portal users

All Starter and Advanced features + Premium features:

BPMN importer
Time zones
Load balancing
Full multi-language support for all processes and applications
Advanced features​
Process instance archive
Archive old process instances in a long-term archive and keep your system lean and clear.

CI individualization
Customize the JobRouter® color scheme & logo to match your corporate CI.

Heatmap​
Analyze your business processes and identify optimization potentials.

GIT integration
Connect JobRouter® to a GIT repository and use versioning functionalities as well as your own development environments for process extensions.

Fail-Over Cluster (on-premises)
For an on-premises installation, use a fail-over cluster for high resilience of your digitalization platform.

Scaling tools​
Use load balancing for user and automated process steps to digitalize processes with high performance.
Premium features​
BPMN Importer
Import existing process models in BPMN format into JobRouter® to automate them.

Time zones
Enable all users to work in different time zones.

Full multilingualism
Translate all descriptions and texts within your processes, data objects, and archives into any number of languages.

Load balancing (on-premises)​
Scale the platform for a high number of users by adding as many additional web servers as you need.

Enterprise Cloud​
Combine the premium version with an individual Enterprise Cloud environment.
Let's find the best solution together
Would you like more information? We will be happy to advise you on the choice of the right edition.
JobRouter functionalities
User functions / End user experience

Starter

Advanced

Premium

Individual dashboards

Users can create individual dashboards for their workflows and applications

✅

✅

✅

Substitutions

Sophisticated substitution policy to ensure that all workflows are processed

✅

✅

✅

Time zones

Users can participate in the workflow from different time zones

✅

✅

✅

Support of 24 user interface languages

Users choose the language of the JobRouter® interface individually from 24 available languages (incl. Chinese and Arabic)

✅

✅

✅

Email notifications

Notification on new tasks, escalations, etc. via email

✅

✅

✅

Push notifications

Notification on new tasks via the JobRouter® Mobile App

✅

✅

✅

Offline-enabled Mobile App

Create custom mobile business applications with the JobRouter® Mobile App and use the integrated native features, such as document scanner, barcode reader, geo-location detection, or signature fields.

✅

✅

✅

Individual colour schemes and company branding

Customise the look and feel of JobRouter® to suit your business

❌

✅

✅
Low-code process automation

Starter

Advanced

Premium

Visual flowchart designer

Model your processes with the visual workflow designer via drag and drop

✅

✅

✅

BPMN importer

Import your existing BPMN process models

❌
❌

✅

Form designer

Create simple and complex forms with our integrated form designer

✅

✅

✅

Process versioning

Create as many versions of your processes as you like for continuous improvement of your workflows

✅

✅

✅

Zapier integration

Connect your processes with over 5,000 applications using our integrated Zapier interface

✅

✅

✅

REST API

REST API to access all functions and automate workflow tasks

✅

✅

✅

Heatmap

Identify the potential for improvement in your workflows with the integrated process heatmap

❌

✅

✅

Data management

Create any tables

✅

✅

✅

Simulation environment

Test and simulate your workflows in an integrated simulation environment

✅

✅

✅

GIT integration

Use GIT repositories for versioning your processes

❌

✅

✅

Escalation management

Monitor your processes for deadline overruns and define automatic escalation scenarios

✅

✅

✅

Scheduled workflows

Start workflows automatically at specified times (e.g., hourly, daily, or monthly)

✅

✅

✅

Email monitoring

Monitor email inboxes for new messages and automatically launch workflows

✅

✅

✅

Hot folder monitoring

Monitor directories for new files and start workflows automatically

✅

✅

✅

Complete multilingualism

Multilingualism of all processes, archives, and elements in the platform

❌
❌

✅

Ad-hoc workflow capabilities

Use the integrated functions for queries and assignments to quickly implement ad-hoc workflows

✅

✅

✅

Process history

Document and view all process steps and decisions

✅

✅

✅

Process archive

Move completed instances to a long-term archive for documentation purposes

❌

✅

✅

Table management

Create any tables to store business data (e.g. contacts, suppliers) that you need for your processes and applications

✅

✅

✅
Document management

Starter

Advanced

Premium

Any number of archives

Create any number of archives to store and manage your documents

✅

✅

✅

Rights management

Define individual access rights to your archives and documents

✅

✅

✅

Deduplication of documents

Save storage space with the integrated duplicate recognition of files

✅

✅

✅

Integrated Viewer incl. live OCR

With our integrated Viewer, you can view, search, and annotate numerous document formats directly in the browser

✅

✅

✅

Digital stamp

Apply digital stamps to your documents with the stamp function

✅

✅

✅

Personal document storage

The integrated Document Hub provides users with a workspace for storing personal documents that syncs directly with the JobRouter® Mobile App

✅

✅

✅

PDF generation

Automatically create PDF documents based on templates and automatically populate them with data from your business processes and applications

✅

✅

✅

Integrated electronic signature

Use the integrated electronic signature with JobRouter® Sign to electronically sign documents within the workflow or externally in a legally secure manner

✅

✅

✅
Security and authentication

Starter

Advanced

Premium

User synchronisation with Microsoft Active Directory

Connect JobRouter® to your Active Directory / Azure AD and synchronise users and roles

✅

✅

✅

Single Sign-On, SAML SSO

Automatic login to the application without entering user and password

✅

✅

✅

Two-factor authentication

Increase security with two-factor authentication

✅

✅

✅

User profiles

Create authorisation groups to manage rights for a large number of users

✅

✅

✅

File encryption

Encryption of all files managed in JobRouter®

✅

✅

✅

Complete audit logs of all changes

Complete history and documentation of all workflow steps

✅

✅

✅

Individual password policies

Define password policies according to your company specifications

✅

✅

✅
Cloud infrastructure

Starter

Advanced

Premium

Database capacity (expandable)

1 GB

20 GB

50 GB

File storage capacity (expandable)

5 GB

100 GB

250 GB

Dedicated email account

With the integrated email account, you can receive and automatically process emails and send messages

✅

✅

✅

sFTP access

Secure sFTP access allows you to share files with the Cloud

✅

✅

✅

Site-to-site VPN

Enable access to your systems from within the workflow using site-to-site VPN access

❌

O

✅

Remote database access

Integrate local databases with your workflow applications in the Cloud via our remote database service

❌

✅

✅

Nightly backups

Automatic nightly backups of your environment

✅

✅

✅

Individual update time

Choose the update time for your environment individually

❌

✅

✅
On-prem infrastructure

Starter

Advanced

Premium
Failover cluster
Support for the operation of a failover cluster
❌
✅
✅
Load-balancing
Support for any number of web servers for maximal scaling
❌
❌
✅
Discovering JobRouter®
Let's find the best solution together
We are pleased that you are interested in the JobRouter® digitalization platform. We will be happy to help you find the optimal edition. Select a suitable consultation date in the calendar and we will get back to you.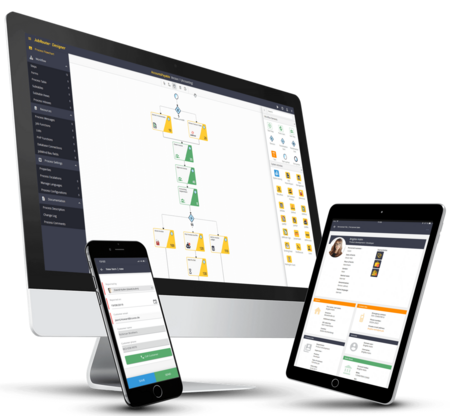 We are happy to receive your request!
If you can't find a suitable date, feel free to write us your wishes via contact form.