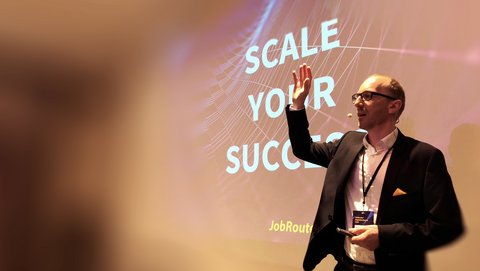 Save time with workflow automation
How you benefit from workflow automation
The JobRouter® digitization platform accelerates your workflows and frees up time in your organization for the tasks that truly add value. Our workflow automation software offers a wide variety of integrated interfaces and modules that enable you to automate processes in virtually any scenario.
Unlike document management systems, our platform equally supports both document- and data-related processes. Below, you can find valuable tips and learn how JobRouter® supports you with workflow automation.
Definition: What is workflow automation?
Workflow automation means your company not only documents and visualizes tasks and business processes, but also maps them digitally. You achieve this by implementing automated processes that perform routine tasks. For example, you can use a workflow automation system to automatically route data and files between people and systems based on preset rules.
Using workflow automation software lets you take control of processes and automatically ensure that everyone can work together more efficiently within the digital workflow. The goal is to replace redundant, time-consuming manual tasks with smart automatic steps, so you continually save time and improve efficiency.
Here's how it works:
Your workflow automation system automatically assigns the right tasks (process steps) to the right people at the right time.
Once each person completes their task, the system automatically assigns it to the next person involved in the workflow.
Now, there's no need for anyone to send emails or forward documents or cases to each other manually.
All of the planning, modeling, monitoring and analysis of these processes can be summarized using the term Workflow Management.
Good reasons for workflow automation
The right workflow automation software lets you increase productivity across departments in your company by automating common work processes. You and your employees then have more time to spend on improving your customers' experience. And that helps you gain a critical competitive advantage over other companies that are still working with manual workflows.
How JobRouter® supports you in workflow automation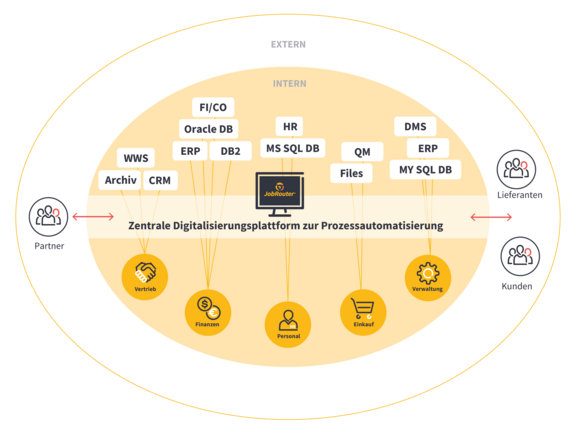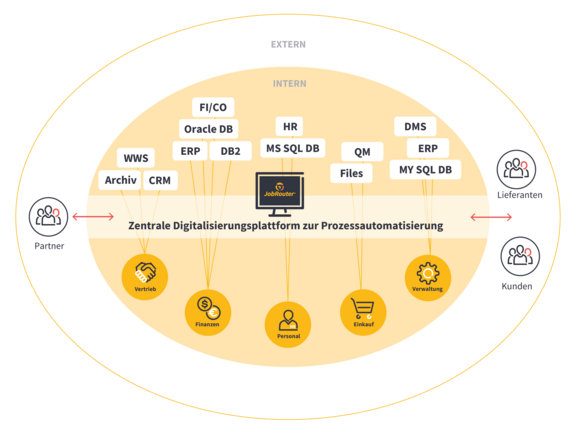 Networking your entire company
The JobRouter® digital process automation platform combines processes, data and document management into a unique platform that lets you automate workflows the way you want. No matter which industry your company operates in, JobRouter® lets you network all systems and departments throughout your company.
To make this happen, we offer modular building blocks and flexible interfaces, giving you a powerful solution for countless use cases. That means the JobRouter® platform is fully scalable, whether you're gradually implementing a few automated business processes or interlinking entire departments across your company.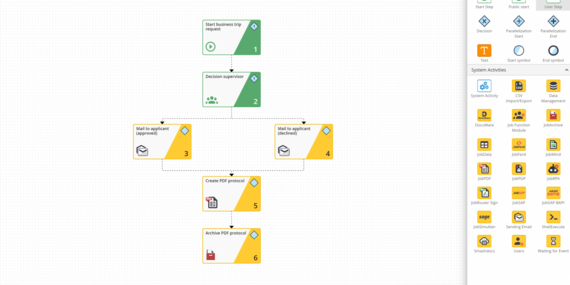 Visualizing and designing business processes
Workflow automation starts with assessing your current needs and defining a target workflow. JobRouter® supports you in this process with a visual flowchart designer, which you can use to map and design simple to complex processes.
From day one, you can already clearly display and modify the workflow. The flowchart can also be exported for documentation purposes.
If you have already created a flowchart in BPMN format with another tool, you can also convert it with BPMN converter and import it into JobRouter®.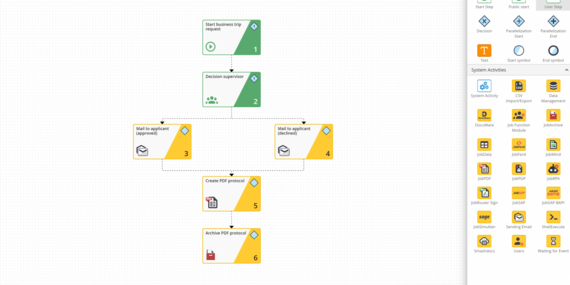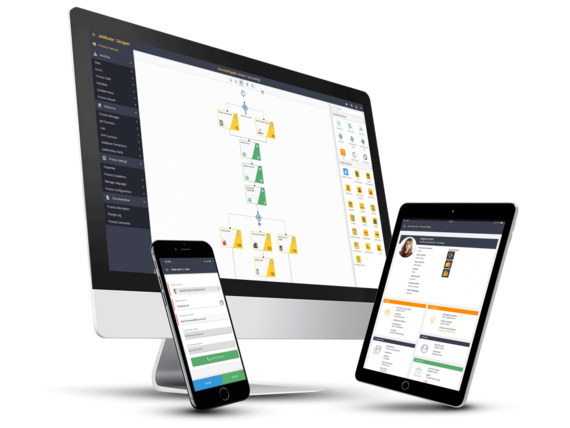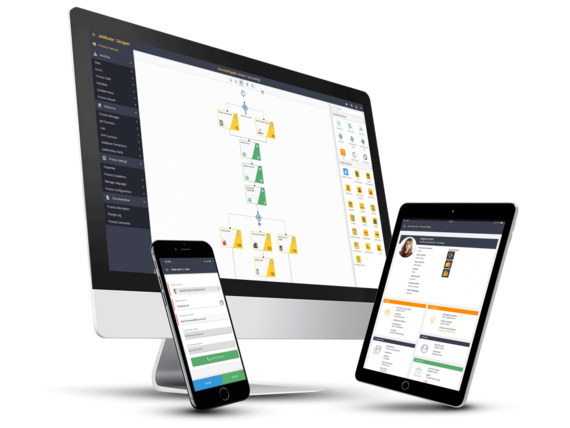 The Digital Workplace for everyone
Looking for a central place for managing all your company's process-driven tasks? One that gives everyone instant access to all the data and documents they need?
With JobRouter® you create a Digital Workplace. Our intuitive web interface and mobile JobRouter® app give you a constant overview of ongoing tasks. The interactive forms help everyone complete their tasks and easily access all the information they need, including from other applications.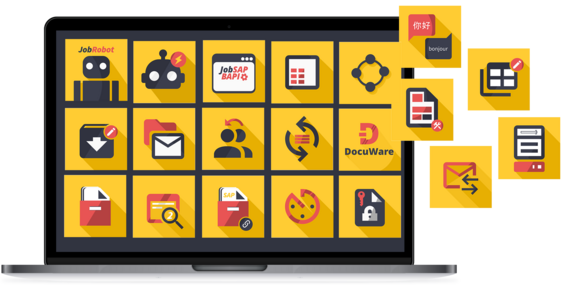 A workflow engine to control your processes
The JobRouter® workflow engine controls your digital business processes and ensures compliance with preset business rules. The engine is built for scalability and efficiently handles your processes—from just a few to tens of thousands of transactions per day.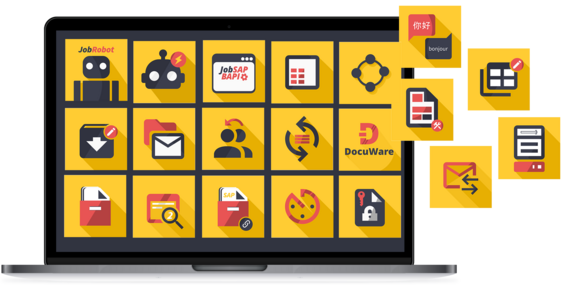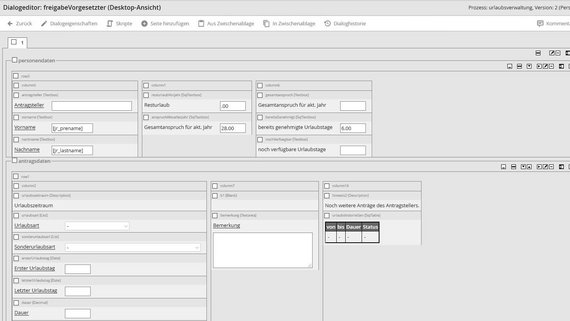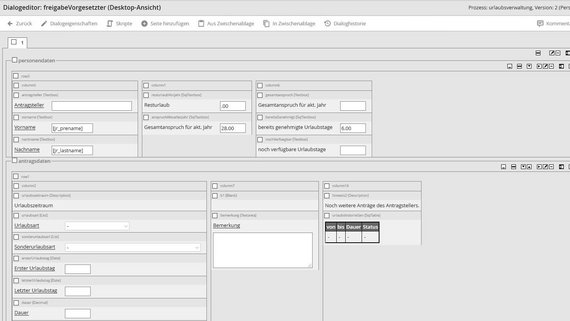 Design user interactions with the form designer
Forms enable everyone involved in the workflow to receive the information they need and complete their tasks. With the form designer in JobRouter® you can easily create new forms, even if you have no programming knowledge.
Simply choose and configure the elements you want and they are added to the dialog, whether it's input fields for displaying and editing process data, list fields for selecting data, or much more.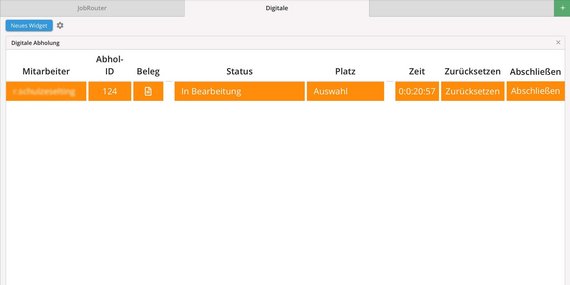 Monitor process and step times
JobRouter® has integrated functions that monitor process and step times. If a user misses a deadline, they receive a visual notification. You can even incorporate multi-level escalation flows. For example, send an automatic email to the person responsible for a task, or automatically reassign tasks when needed.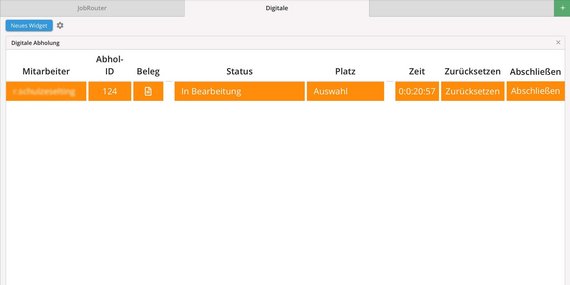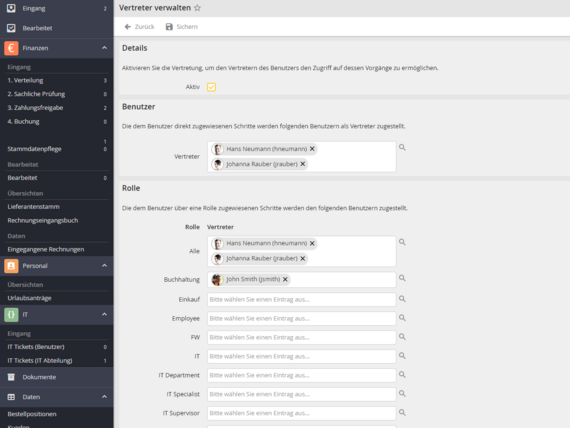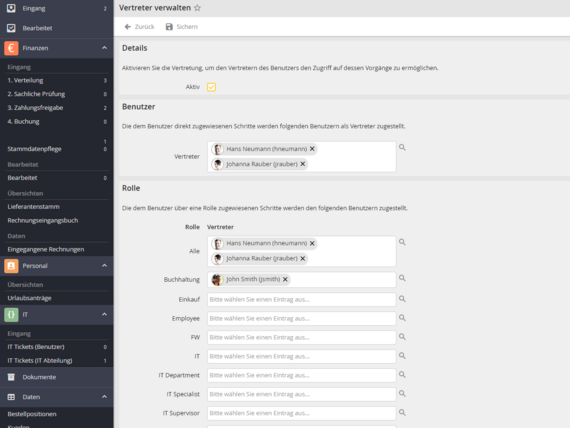 Set up substitutions and delegate tasks
Each user can select a substitute for each task they perform, so there's automatically someone there to back them up in case they are absent. You can even select different substitutes for different tasks.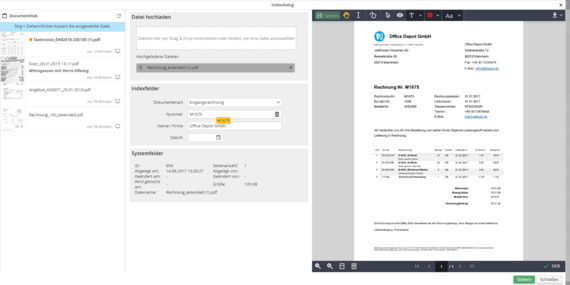 Integrate data and documents
Virtually every task involves data and documents. The JobRouter® platform is a one-stop solution for processing, managing and archiving your documents. You can also integrate master data into your processes and archives whenever needed, enabling you and your employees to work more consistently and efficiently.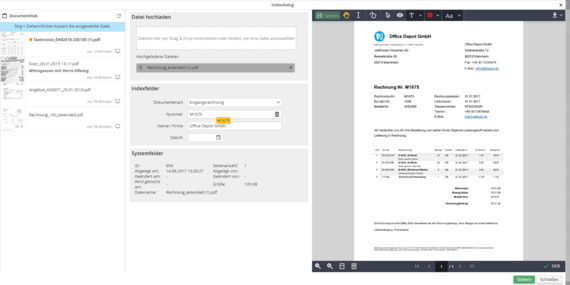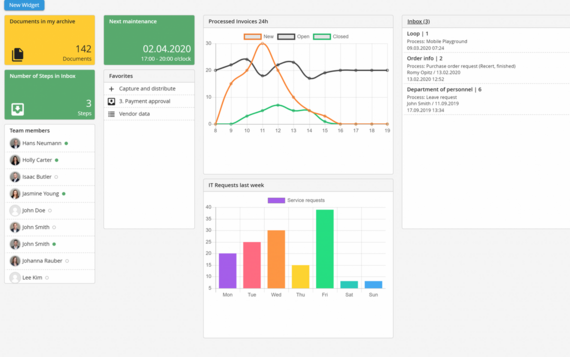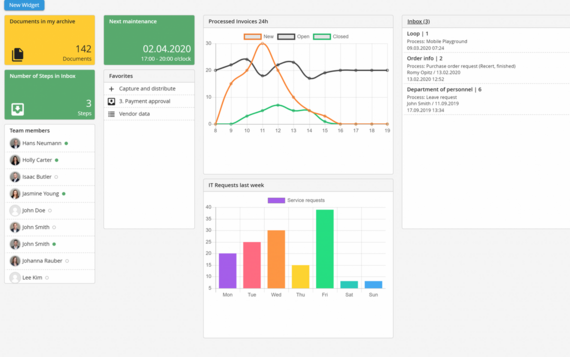 Continuously improve your business processes
One of the main benefits of workflow automation is that it allows you to continuously improve and optimize your business processes. Based on the recorded workflow data in JobRouter®, you can analyze and identify areas for improvement. You can use this data to guide you through all phases of setting up business process management.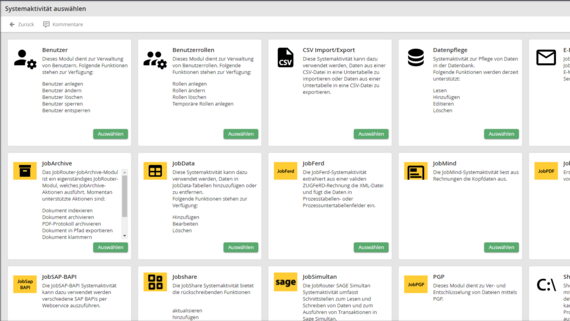 System activities for end-to-end automated workflows
With the help of system activities, you can easily add any functions to a JobRouter® process. System activities can serve as an interface to other company applications such as your ERP or CRM system. They can also be used for existing functions, such as sending emails, archiving documents or creating new users.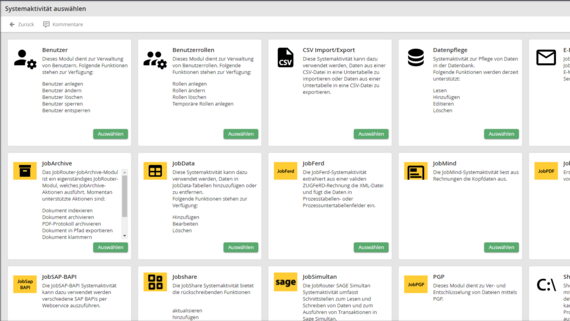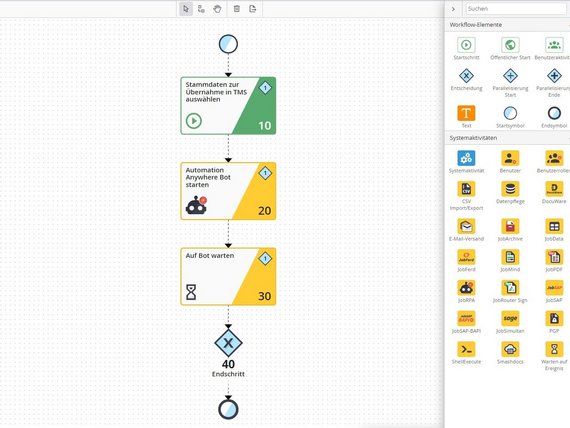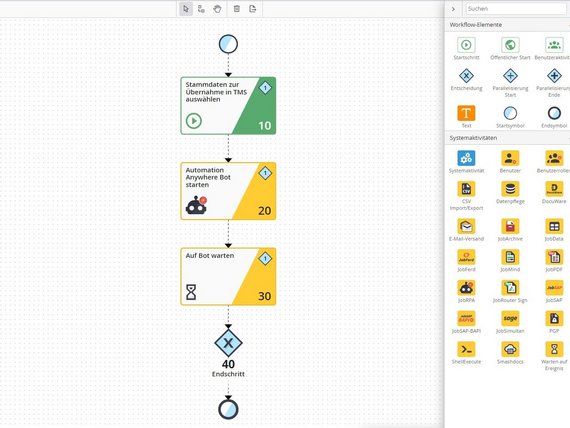 Innovative process automation with bots
JobRouter® gives you the possibility of expanding your processes to include Robotic Process Automation (RPA). This lets you run manual tasks in JobRouter® automatically—without the need for an interface to third-party systems.
How to automate workflows the right way
There are many different ways to automate workflows. For example, you can automate a simple, one-step approval process, or several different tasks that can be controlled by predefined rules.
With digitized accounting, for example, approval processes for capital expenditures are a popular automated workflow:
The employee submits their expenditure request using an online form.
Your workflow automation system springs into action and forwards the request to the right manager for approval.
The manager can approve, reject or forward the request to another person in the company.
Depending on the amount, the request may need to undergo a second round of approval. (For example, an amount of less than $20,000 can be forwarded to a finance employee, while a higher amount is sent directly to the CFO.)
Once the request is approved, any other departments involved (IT, marketing, etc.) can be automatically brought into the workflow to carry out the investment as needed.
The steps below walk you through the process of automating workflows the right way, every time:
1. Visualize your workflows
The key to creating effective automated workflows is to start with a solid plan. To make your work easier, divide your plan into small, manageable tasks. It's a good idea to map out your workflow in visual form, using a business process flowchart, for example. Divide each process into steps and use different colors to indicate different phases.
2. Collect Feedback
Ask for feedback from employees who are manually performing the tasks you want to include in your automated workflows. They can help point you towards tasks where automation will make the biggest impact in terms of productivity and efficiency.
3. Define and measure measurable KPIs
To monitor the performance of your workflow automation, it's important to choose KPIs that reflect the areas where you want to have an impact. Some common KPIs for workflow automation include saved labor and cycle time per week.
It's never too early to start thinking about which KPIs matter to your organization. We recommend choosing KPIs while you're still in the design stage of your workflow automation.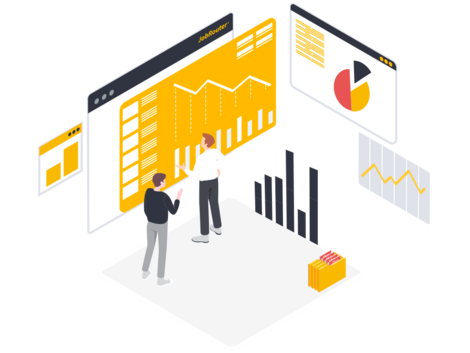 4. Use the right tools to automate your workflows
When automating processes, there are many different technologies and approaches for you to choose from. For example, you can use Robotic Process Automation to automate routine tasks, or Digital Process Automation for more complex scenarios.
If your organization's requirements change over time, you'll want to look for a solution that is flexible enough to evolve alongside you. This is one reason why low-code platforms are highly recommendable. They let you simply automate workflows with minimal coding. That way, you can implement workflow automation even if your organization does not have extensive programming expertise in-house.
5. Test and learn
Before you roll out workflow automation in one department or even across the entire company, it's crucial to thoroughly test your system first. We recommend putting your system to the test repeatedly and in different settings. During the testing stage, you can already start involving the people who will eventually be using the workflow automation software every day.
6. Introduce, monitor and adapt
Your workflow automation system has passed the test and now it's ready to go live. Train your teams on how to use the tools, so they can see the benefits for themselves. By taking the time to gradually introduce everyone to the new system, you make the rollout much easier for everyone.
Once your processes are up and running, it's important to continually monitor them. Is everything running smoothly or are there errors that need to be worked out? Based on your monitoring, continue to fine-tune your workflows.
Examples of workflow automation in action
Companies that work with automated workflows usually rely on a process- or workflow-automation solution. These tools ensure that information is forwarded from A to B according to defined rules and that actions are completed according to schedule.
Even simple processes can be automated in this way (for example, creating and sending invoices). Writing invoices the old-fashioned way involves entering your customer's data into an invoicing template, listing the items and entering prices. Once you've saved the document, you then have to send it to the customer and then wait to receive the payment. Once the invoice is paid, you then have to update your records.
Workflow automation software can fully automate and streamline processes like these. For example, automation software can detect when a customer orders an item or uses a service. It then automatically transfers the customer's data to a new invoice and calculates the total. You can include a verification step to double-check that all the data is correct. And then the software can automatically send the invoice to the customer. Once the invoice is paid, your account book is automatically updated.
Common use cases for automated workflows include:
Approvals
Application management
Budget approvals
... and much more