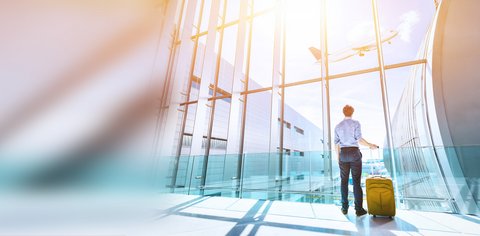 Use Case Scenario
Submit and process business trip request digitally
More transparency and traceability in travel management with the digital business trip request
Multisite meetings, conferences, training courses or events - personal exchange and current life circumstances call for flexible working time models. That's why the business trip request is part of the standard process in every company, regardless of size, industry or structure. As a rule, applications for business trips must be submitted and documented in writing. Only after approval - often by several departments, cost centers and managers - may the business trip be undertaken. This can be a lengthy process in which individual tasks are not well tracked, layovers occur, documents get lost, or perhaps the supervisor is not clearly defined. Even finding the right form for the business trip request or travel expense report can become a hurdle.
Digitize business trip requests - paperwork is a thing of the past!
If the application remains unprocessed for a long time, this can lead to frustration and, in the worst case, to the cancellation of appointments. It becomes particularly tricky when appointments come up on short notice, change, or have to be taken by a substitute - and time becomes the most important factor. A digital business trip request can solve these problems.
Digital business travel request with JobRouter®.
The digital business trip application is quickly explained! All employees benefit: You submit your business trip requests digitally throughout based on a defined form and upload accompanying documents or supporting evidence. Accounting and the back office also benefit: Entering, checking, and booking business trip requests is handled completely digitally and everyone receives exactly the information needed to make a decision!
Integrated rights and role management
Secure and simple approval processes
With the digital business trip request from JobRouter®, you record any requests for upcoming business trips digitally throughout. With just one click, you send all information to a defined manager for approval. The integrated rights and role management of the JobRouter® digital automation platform supports you in this process. This automatically handles all approvals, notifications and follow-up steps, so you don't have to worry about anything and benefit from the new transparency, traceability and documentation. Nevertheless, you remain flexible: The stored approval matrix is fully customizable at all times and can be planned on a multi-level or parallel basis. For example, if a specified amount is exceeded, approval requests can be routed to a different manager. Fully automated, of course.
Flexible merging and forwarding
All important business trip request data at-a-glance.
It doesn't matter what resources you need for the business trip (hotel, transportation, advance payment...) or other specific options that the company offers: With JobRouter®, you can easily define each resource and add or remove it as needed. It's a snap to make the selection.
You can also define whether the travel arrangements should be booked by the back office or by the requester. The defined approval matrix regulates all requests within the JobRouter® platform in an automated manner throughout.
It is just as easy to define how requests should be routed for approval. For example, you can use cost-based approval thresholds or distribution based on department and/or management hierarchy. In either case, multiple approvals can be configured. You can also route high-cost requests directly to senior management.
Functions of the digital business trip application with JobRouter®.
Export travel time period to Outlook
Advance payment can be entered
Create templates for recurring trips
Add summary or detailed itinerary
Clear booking of travel resources
Automatic start of parallel or subsequent processes possible, such as an expense report
Handling business trip requests digitally with JobRouter® process automation - sample processes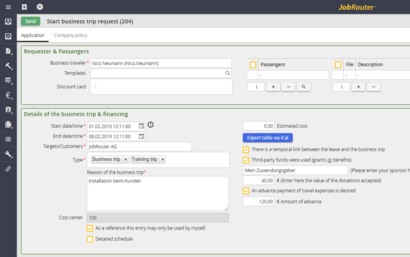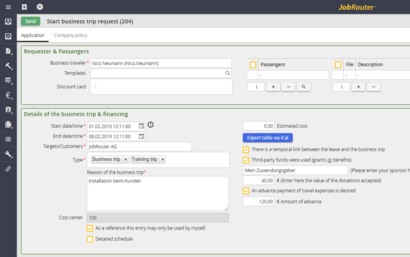 Submit business trip request
You can start the process using a step in the JobRouter® menu and selecting the applicant and any passengers. Upload accompanying documents and specify details about the business trip and funding. For example, you can set the schedule and export it as iCal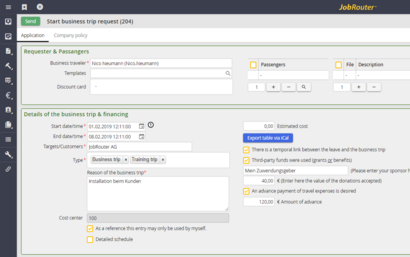 Request travel resources
Select the resources available, such as rental car, business car, hotel, and catering. Define the period of need and specify additional requests if needed. Done.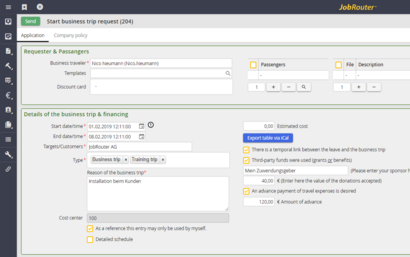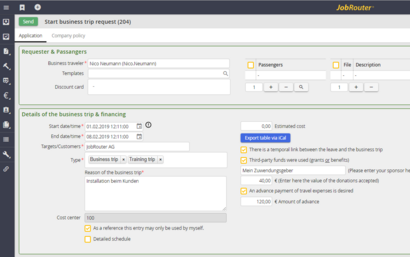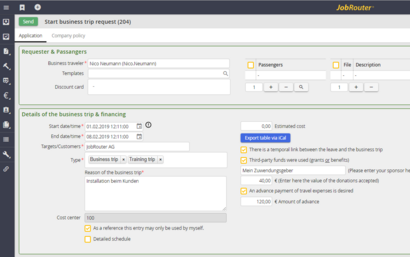 Create a travel report
At the end of the form, you can decide whether a travel report should be created. This will be sent to the applicant after the business trip booking has been processed, for example by e-mail.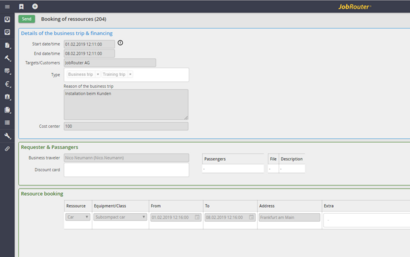 Check and approve business trip application
Integrated rights and role management with a corresponding approval matrix helps ensure that many steps are automated: The stored manager receives a notification and approval request, either by e-mail or in his or her JobRouter® inbox. The manager can then approve the business trip, approve it subject to a defined condition, send it back with for correction, or reject it with a reason. In addition, it may be necessary for the requestor to process their request.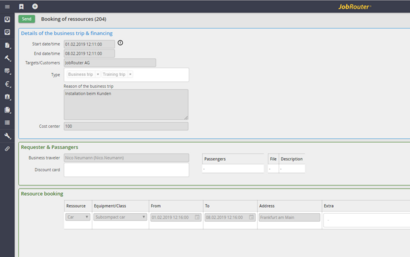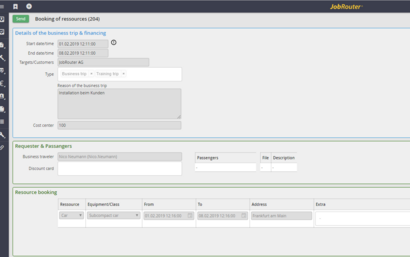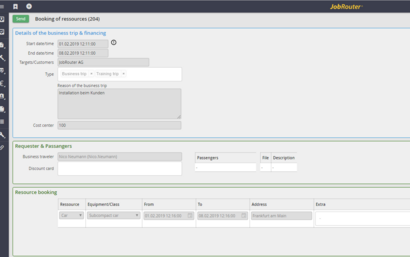 Book resources through back office
After approval by the manager, the requested resources can be booked. For a business trip request with selected advance, two steps are started in parallel. One step goes to accounting to pay the advance to the requestor, the other step is assigned to the back office.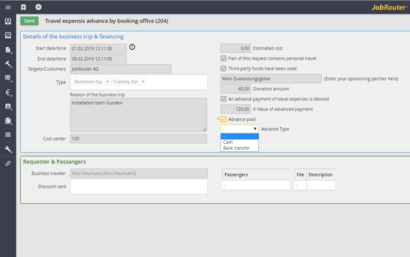 Edit advance
Employees in accounting will now receive a notification (directly to their inbox or via email) with information about the requested advance or the booking of the business trip, if advance payment has not been selected.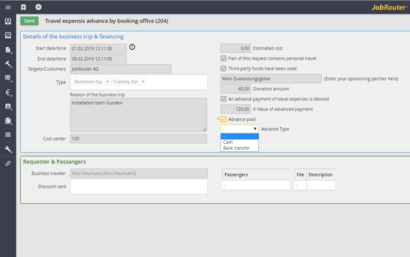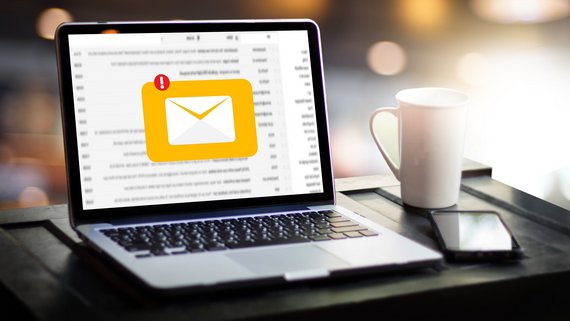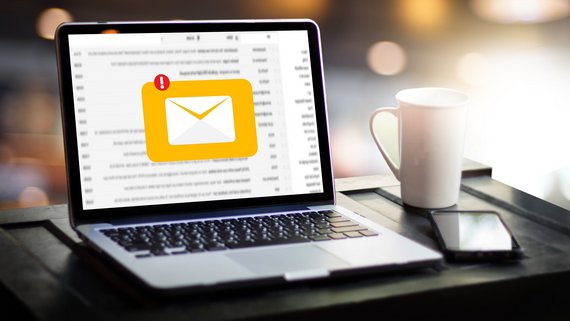 Complete booking
As soon as the required resources have been booked by the back office, the requestor receives information by e-mail. All business trip-related documents are attached to this e-mail so that the process is fully documented.
Benefits for you
Digitize business trip requests with JobRouter®.
(Partially) automated processes thanks to stored rights and role management
Security and transparency regarding responsibilities, documents and approvals
Current process status can be viewed at any time
Control over internal guidelines and compliance with these guidelines
Access to data and information from anywhere and at any time
Reduced errors and paperwork
Complete documentation
Facilitated communication in case of clarifications