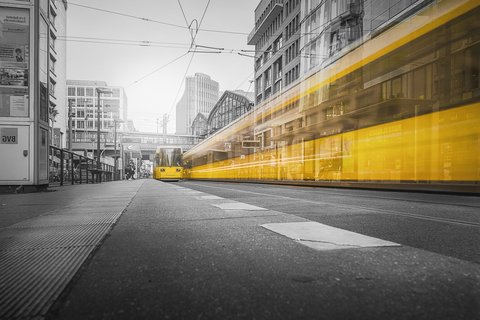 Use Case Example
Manage digital travel management with one software
From the business trip request to the expense report, everything in one solution
After employee salaries and fixed material costs, business travel is the second largest expense item in a company - taking up to 10 percent of the total budget! Even though business travel management can be a high cost factor and collaborations are being moved to digital tools such as Zoom, Microsoft Teams or Skype, there are still good reasons for face-to-face exchanges. When managed effectively, companies earn more than 10 dollars for every dollar invested in business travel. Moreover, personal interchange also known as "small talk at the hotel bar" is still important for the development of a business relationship. Which is why it is foreseeable that business travel management will pick up again after times of crisis. Decision-makers should take this opportunity to look at digital travel management software now.
Challenges in travel management
Whether you are using analog or digital travel management, the challenges of planning, executing and following up on a business trip are high for all parties. Still, digital business travel management offers distinct advantages over paper-based processes. Common challenges include:
Variable costs for business travel make planning difficult
High time expenditure for manual checking of travel expense reports
Unable to post if receipts are lost
Increased email volume to clarify open questions or inaccurate specifications
Booking requests, flight changes and cancellations must be clarified multiple times
Finance department must manually review expenses, cost centers and reasons
Compliance with travel policies is difficult to make transparent or mandatory (loss of control)
Micromanagement by finance and HR creates additional work and dissatisfaction
Limited choices for travelers
Lack of convenience and low flexibility
Focus in Travel Management Today: Combining Flexibility and Compliance
On the one hand, the focus today is on meeting and improving corporate objectives by making processes run even more efficiently and maximizing value creation. On the other hand, the focus is shifting to the wishes and expectations of employees who want to experience the flexibility and convenience they are accustomed to from private travel bookings in their everyday business lives as well. In addition, business appointments are increasingly being combined with private vacations, as a so-called "bleisure" model. Outdated, functionally weak tools and manual, paper-based processes cannot meet these requirements.
Employee satisfaction: stress factor business travel
Anyone planning, taking or accounting for a business trip is under stress. Employees from several departments have to make decisions, substantiate expenses and react flexibly to changes. They must
comply with company-wide guidelines,
or act without defined guidelines,
submit a business trip request,
communicate booking requests or special requirements,
book rental cars and accommodations yourself or have them booked,
prepare business appointments at the same time,
rebook travel connections flexibly,
manage postponements or changes,
collect receipts and invoices,
document expenses,
post expenses and travel expense reports.
Companies should use the crisis-related pause or reduction in business travel management to review their processes and guidelines and exploit optimization potential in all aspects of booking and executing business trips. This is possible with the digital automation of business travel management through the JobRouter® platform.
Implementing digital travel management with JobRouter® process automation
In order for the digital automation of business travel management to bring the desired success, the following should be clarified in advance:
Are there company-wide travel expense guidelines
How are these guidelines implemented in practice?
How is business travel approved in the company?
How are business trips booked?
How are travel expenses accounted for?
Digitization platforms such as JobRouter® help companies to analyze all business processes in order to map efficient digital and largely automated processes. In digital travel management, the business trip application and the travel expense report are especially well suited for a significant increase in benefit and efficiency through process automation. Both processes can be well defined using rights and role management and by digitizing the processes, paper, resources and time can be saved. The effort required for clarifying processes, queries and formal errors is reduced for all employees.
HR Benefit
Advantages of digital business travel management with JobRouter®.
Reduces paperwork,
Creates transparency about liabilities and process status,
Security over all tasks and responsibilities
Saves time in day-to-day business and organizational tasks,
Convenient access from anywhere, anytime through web and mobile app,
Employees can submit receipts digitally,
Shows all info at a glance,
Data can be fed directly into HR and financial systems.
Increases employee satisfaction in both HR, Finance and claimant departments,
Forms are not lost or left unprocessed
Individual forms are possible
Reduces errors in data entry and manual checks
Assists finance with budgeting,
Helps companies to comply with the legal duty of care
Integrated escalation management
Increased transparency, compliance, security & control
Introduce digital travel management: If not now, when?
The proliferation of mobility options and the prospect of successful business will continue to drive business travel in the future. To this end, decision-makers should provide their employees from finance and HR departments as well as their traveling colleagues with a convenient solution. Digital travel management software can support the creation of various applications, such as business trip requests, and reporting such as travel expense reporting. It offers employees greater convenience through access from different devices such as smartphones or laptops, and - building on rights and role management - can digitally track company-wide policies for business travel management.
In addition, tools such as digital assistants can use artificial intelligence to help with travel booking, calculating the exact cost and setting the right time for the booking process.
This will
make it easier for employees to make decisions,
efficiently calculate costs and improve the ROI of business travel,
streamline the travel management process,
clarifies internal processes and policies,
uncover opportunities for process optimization.
However, many external service providers and solutions do not fit the specific requirements or processes of a company. The JobRouter® digital automation platform is different, it always scales according to the company's requirements and models processes according to real-world needs.