To the Digital Office with a digitization platform
Digital transformation through independent workflow management
With the JobRouter® Digital Process Automation platform, you can visually map workflows, execute them and design even the most complex business processes yourself. For this we rely on independent process management. What does that mean?
Integrated vs. independent workflow management
These so-called 'workflow engines' that are offered in many ECM or DMS systems, are integrated components. As a result, they either can't automate data-related, cross-application processes or they can only do so with a great deal of added effort and cost.
But JobRouter® is independent. The system supports document-related and data-related processes equally - and thus creates significant added value for your digital workplace.
JobRouter® integrates itself into your existing IT system landscape - and unleashes its potential!
JobRouter® workflows connect the whole company
JobRouter® communicates with the most diverse applications or systems and connects at all company levels. These include the operating system level, data storage level with databases and archives, and the application level with financial accounting, personnel administration, customer management or office applications.
As a standard interface, JobRouter® forms a control center that allows users to control all tasks and process steps from a dashboard. Users get more transparency, work more efficiently and are less prone to errors.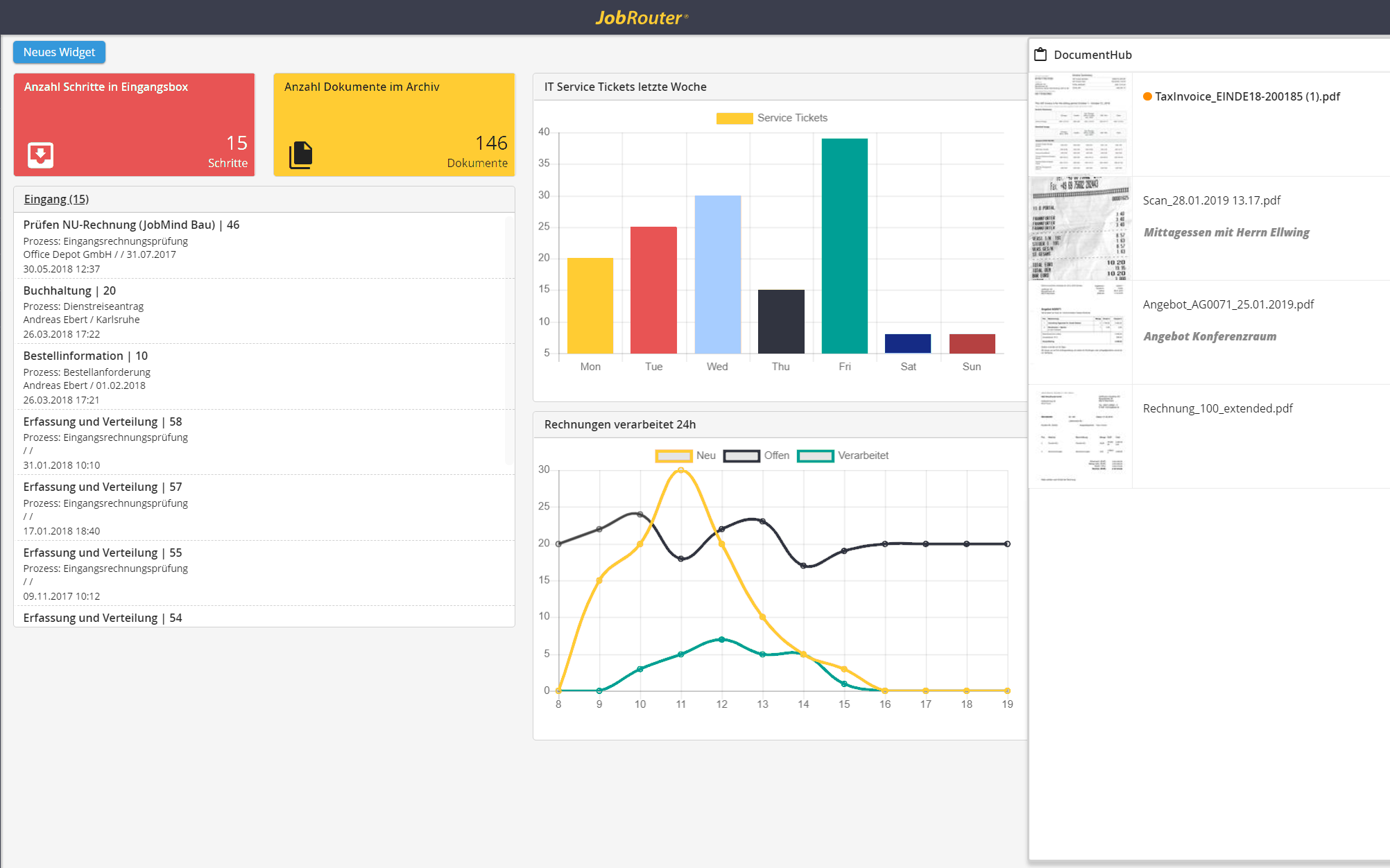 Our digitization platform is different
Many business processes require data from several IT systems. If you rely on isolated solutions, you can quickly lose track of important resources and lose oversight. Our digitization platform is different. JobRouter® automates manual intermediate steps and transparently maps all processes. JobRouter® accesses company applications and legacy systems via numerous interfaces, collects data and documents from several sources and processes them, and makes the information available in your business process at the right time. In doing so, it uses its own functions which, for instance, BPM, ERP or DMS systems do not have - and extends their application capabilities.
Learn more about digital process automation with JobRouter®
Digital Process Automation

Eliminate information silos and gaps with JobRouter®

When you are looking for an integrative, flexible and scalable approach to your digital strategy, make room for change.

Digital Process Autoamtion

Control complex workflows company-wide with one digitization platform

Invoice Processing, Rights and Role Management, Audit Trails - Good business processes need to be much more than just digital.

Digital Process Automation

Lean processes – What does this mean?

Processes are streamlined using the JobRouter® Digital Process Automation platform and optimized for digital work.