Digital Invoice management with JobRouter®
Improve transaprency in your digital office with e-invoicing solutions
Reduce manual tasks to a minimum with digital invoice management: Input, through-put, output management all in one agile solution.
Digital invoice processing – what does this mean? Often it is understood as the digitization and filing of incoming invoices. But efficient digital work requires – and enables – much more! In general, the simple invoice process implies only the creation, forwarding, or providing of invoices by the sender, while a recipient receives, stores, checks, releases, books and pays them.
So invoice processing consists of many single steps, performed by different persons and departments inside or outside of the company. The steps need to be coordinated, managed and surveyed to generate real "digital added value".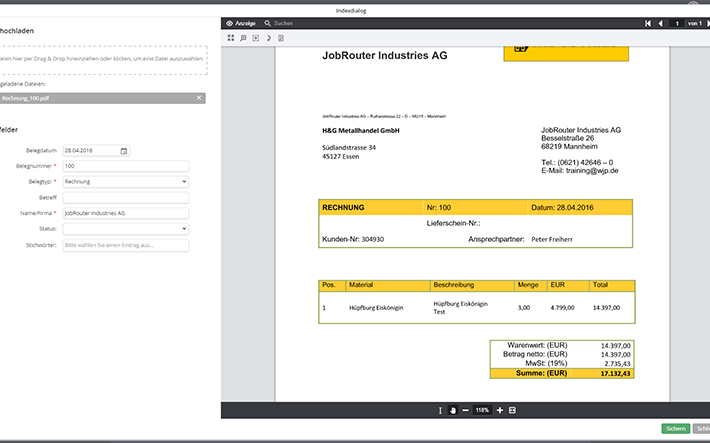 Invoice income and output: Create your customized digital workflows
The JobRouter© digitization platform supports users in the depiction of consistent digital business processes, which could not be performed or could only be fulfilled with considerable extra work when using isolated applications. JobRouter©, as a scalable platform, works between your usual applications and systems as well as departments within the company architecture, and enables a media break-free exchange of information – via data, documents or metaprocesses. We follow the process requirements, where invoices can be attached and processed as documents or files. So processes stay lean and agile. Modifications and adaptions are possible at any time by one click only and each employee receives exactly the information they need for his role or job function.
E-Invoicing – More than just document management
The electronical invoice processing (E-Invoicing) can be implemented easily and without great technical or administrative difficulty by any company. The simplification of the legal framework on the part of the legislator resolves many legal uncertainties faced by companies and significantly increases the acceptance of electronic invoice processing. The enormous saving potential that can be reached by E-Invoicing is not only based on printing or postage costs, but is especially based on the automated business processes in the invoice processing.
Digitize Multi-Channel Output & Input Management ..
JobRouter® offers flexiblity
The JobRouter© platform offers numerous input and output interfaces for many company systems and data standards, such as ZUGFerD or other structured data and document formats. Thereby JobRouter© processes are depictable, including all processing stages of an invoice: creation, provision, delivery, receipt, processing, verification, payment and storage. The way how invoices reach a company or how they are send, influences the invoice processing efficiency profoundly:
Multi-Channel Input
The agility of the JobRouter© platform is demonstrated in the fact that invoices can be processed via any input channel: On paper, as image, text or PDF, via e-mail and fax, invoices have to be scanned and then recognized. But in ZUGFeRD or EDI format they can be read directly and processed according the existing rules and job functions. Notwithstanding how you change your invoice processing procedure over time – the configuration of JobRouter© processes is always fast and simple.
Document Recognition
Via OCR technology JobRouter© recognizes and classifies the incoming document as an invoice, delivery note, order, notification, etc. – fully automatically. Therefore no external software is needed. All document contents and payment terms on position level as well as the header data are extracted simultaneously. That saves the purely manual capturing. The document is checked according to §14, §13, and §13b and the mathematical initial calculation is performed on header and position level.
Document Processing
JobRouter© enables you to work with the document as if it was printed on paper: users can write notes, annotations and set marks, or receive, if needed, additional documents, such as orders or delivery notes, or are able to link them. The corresponding assignment of invoice positions enables also the objective and mathematic, as well as the commercial and technical assessment – while each step is documented and trackable. This simplifies audits and increases compliance during the digital invoice processing.
Incoming Invoice Verification
JobRouter© offers a self-learning system, that learns through the human check and correction of recognition results and so improves quality constantly. After the data has been automatically recorded by the system, it is forwarded, enabling a role-based view and an objective check by the respective person in charge, in accordance with the organizational structure. These persons can send requests directly, insert comments in the document or immediately correct eventual errors.
Release & Archiving
With JobRouter© release cycles are automatized and optimized according to the organizational structure: Invoice dates are transferred into a booking voucher and aligned with order or receipt of goods data – no problem, due to the direct connection to ERP or CRM systems and databases. Then it is possible to synchronize the data with the respective systems or departments, the payment block is released, the invoice booked, and the data is finally stored and saved in an electronic document archive. Everything is done with only one click – thanks to JobRouter©.
The Multi-Channel Output
The JobRouter© OCR technology reads the invoice, including the invoice header and position data, and retrieves data according to §14UStG. After that the invoice will be released, allocated or booked and a document is created, if needed, in accordance with the required standard formats, such as ZUGFeRD. In the next step the invoice can be issued via different interfaces, like printer, fax server, e-mail correction or ZUGFeRD in the desired format for example: paper, fax, e-mail or electronic data.
These goals can be reached through seamless digital invoice processing:
Optimization of Multi-Channel Input (paper, e-mail, ZUGFeRD, EDI)
Transparency concerning the current status of the process and each step
Accelerated processing through (partly) automation
Representative and escalation management supports the processing
Digital Working: Check and release at the screen without media-breaks
Data exchange between company processes and specialist applications
Recording of invoice processing (Audits)
Supply of invoice information in on portal, if needed, in additionally structured formats
Optimization of Multi-Channel Output (paper, e-mail, ZUGFeRD, EDI)
What would you like to do next?
Data Intelligence

Invoice verification with JobMind Head

Say goodbye to tedious tasks and benefit from better traceability and security in digital invoice processing.

Data Intelligence

Integrated data management with JobRouter®

Digitization creates efficiencies if data is optimally managed, analyzed and processed accordingly. But why is this not the rule?

Data-Intelligence

Automated accounting with JobOrder Match

Fully automatic invoice verification including payment run without human intervention: For this to succeed, incoming invoices must be entered at the right place and reconciled with orders - with the help of the JobRouter® platform.