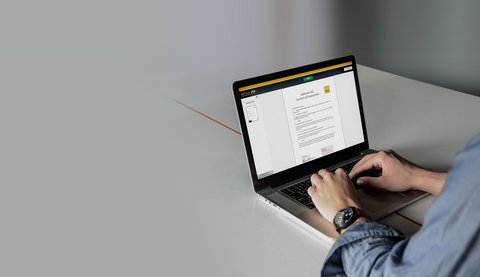 Electronic signature: Create digital signatures
Set your digital signature completely without paper with JobRouter® Sign - clear, legally secure and simple.
Creating documents collaboratively, editing them, and storing them in an audit-proof manner - all of this is no problem with common document management systems. But for a long time, the biggest pitfall for digital document work was the binding and legally valid signature in electronic form. But that is no longer an issue. Regulations exist now that provide a framework for creating e-signatures that are secure, legally compliant, and accurate identification methods. For example, the eIDAS regulation provides standardized regulations for e-signatures throughout the EU as well as for US or UK companies with customers, operations, or suppliers in the EU. This regulation stipulates that in most cases electronically signed documents are admissible as evidence in court, for example, to prove the conclusion of a contract. So now it's time to stop talking about the potential of digital signatures and start putting them into practice!
How does an electronic signature work?
Both technical and legal components play a role in an electronic signature. The process must enable secure authentication and proof of approval when signing digital documents. In order for eSignatures to be legally binding, strict requirements and certifications must be met on the part of the eSignature provider.
Creating a digital signature
From a technical perspective, an electronic signature is initially a set of data that is attached to other electronic data, such as a PDF document, which the user then uses to sign. In most cases, this is data generated in conjunction with electronic certificates for natural or legal persons (for example, companies). In this technical context, we also often talk about digital signatures - a method of generating electronic signatures using encryption processes (cryptography).
JobSignature - the fast and preconfigured solution for digital signatures!
JobSignature - the fast and preconfigured solution for digital signatures!
What are the advantages of an electronic signature?
JobRouter® Sign changes the way you do business and close deals.
Create a contract template or select an existing template and fill it with the appropriate information and the people involved. JobRouter® then automatically sends a request to approve and sign the document to the email address you have on file. Only this person can execute the digital signature, intermediate steps are documented and therefore all legal and compliance requirements are met.
JobRouter® Sign Features
Fully integrated electronic signature in the JobRouter® platform
Start a signature event from any process
Fast and unambiguous digital signature from any end device
Complete documentation of all intermediate steps, persons involved, and actions performed
Audit-proof archiving of documentation and documents
Increased employee productivity and satisfaction through an optimized flow of information for document work
Effortless compliance with legal standards and requirements thanks to Namirial's certification as a trust service provider
Increased transparency and security over the status of the document
Control of processes across departmental and company boundaries (integration of external partners)
Batch signature support: Apply multiple signatures to a document, deciding whether to set them individually or simultaneously.
Support of multiple documents per envelope: Attach multiple documents to a signature process, which are then signed together.
JobRouter® Sign is available with version JobRouter® 5 and can be obtained both on-premises and from the cloud.
Security at all levels
Our solution is eIDAS-compliant. To achieve this, we work together with trust service provider, Namirial. We use only the latest encryption technology and ensure complete documentation of the signature process.
What types of electronic signature can be implemented with JobRouter® Sign?
With JobRouter® Sign you are able to implement qualified, advanced, and simple electronic signatures.
1. Simple electronic signature
Simple electronic signatures have a low, sometimes even insufficient probative value. You can use them only for processes that involve a low legal risk, for example, internal processes such as vacation requests or invoice approvals.
2. Advanced electronic signature
With the advanced electronic signature, it is possible to verify documents for authenticity and integrity. This type of signature must be generated by means that the signer can keep under his sole control. It must be exclusively associated with the signer, thereby identifying him or her. It must also be linked to the data to which it relates so that any subsequent alteration of the data can be detected.
3. Qualified electronic signature
A qualified electronic signature has the same legal effect as a handwritten signature. Qualified electronic signatures are generated on the basis of a qualified electronic certificate. This is provided by a trust service provider such as Namirial after the signatories have been identified. Documents signed with a qualified electronic signature can be verified for authenticity and integrity. Qualified electronic signatures should be used if there is a requirement for the use case to be in writing. However, this is not the case for the vast majority of business processes.
Which use cases are possible with electronic signatures?
Learn more
BLOG ARTICLE

Connect legally binding digital signatures with your business processes

JobRouter® Sign is the seamless integration of legally binding electronic signatures with the powerful process management of JobRouter® technology.

BLOG ARTICLE

Electronic signatures in banking

Open a bank account or buy shares with just a few clicks! The digitalization of banking is advancing. For some time now, electronic signatures have become a trusted companion in many processes. In the blog article, you can find out what a good eSignature solution for banks has to offer.