JobRouter® & SAP
Low-code digital process automation and archiving with JobRouter® and SAP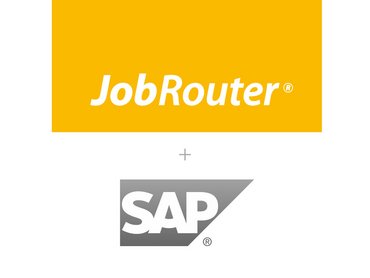 JobRouter® processes can access data or execute transactions in SAP using the JobSAP add-on modules. With these modules, processes can be modeled independently from SAP, so that no SAP access is required for the users involved.
For example, using the JobSAP BAPI interface, you can easily perform SAP transactions in your processes, such as parking or posting an invoice. In addition, use JobArchive as a revision-proof archive for your SAP installation and archive documents automatically into the JobRouter archive - using the JobArchive Link SAP module.
The JobRouter® Digital Process Automation Platform and its solutions are certified for SAP integration
Mapping of any deployment scenario with JobSAP
JobSAP modules offer various predefined scenarios for communication, such as an incoming invoice audit. From data entry and related approvals to the creation of an invoice record in SAP, JobRouter® users can directly access SAP data such as accounts payable or material inventory.
Calling SAP Transactions from the Workflow
Using special workflow steps, any SAP transactions can be triggered in any business process and their feedback can be used in the process. Configuration is very simple using data mapping in the process designer - even without prior programming knowledge.
Direct access to data in SAP
To retrieve data and information in real time from SAP and make it available to the user, JobRouter® provides a further element. Using the JobSAP BAPI interface, you can retrieve or validate data in forms directly from SAP.
Synchronization of data sets
Large amounts of data, which you want to use in JobRouter® processes and applications, can be easily synchronized to the JobRouter® platform using the JobSAP TableSync module.
Archiving of documents from SAP via ArchiveLink®.
Thanks to the support of SAP's ArchiveLink® technology, JobRouter® archives can be easily docked to your SAP system and take over the audit-proof archiving of your documents.
Your value
Product features & benefits
Online validation of input values with the SAP data
Online search of SAP values
Execution of transactions in SAP (e.g. parking invoices, creating BANF, allocating material)
Use of a default user for SAP access is possible
Management of their own account by the users in JobRouter is possible
SAP-certified interface
Calling SAP functions via RFC (no additional modules required)
The interface easily can be extended by new scenarios
Module

JobSAP BAPI - Directly calling BAPIs

The JobSAP BAPI module offers the possibility to directly use JobRouter to communicate with the SAP Webservices and call BAPIs. In contrast to the JobSAP module, no additional interface software (APICONNECT/X) is necessary.

Module

JobSAP TableSync - Data synchronizations between SAP™ and JobRouter®

With JobSAP TableSync you can synchronize information such as HR or supplier master data from SAP™ with JobRouter®.

Module

JobArchive Link SAP - Linking of documents from JobArchive with SAP™

ArchiveLink is an interface which is integrated in SAP™ for the linking of DMS systems.