Blog
In our blog we present stories about digital: Whether it's news about our company & employees, digital trends, tips and tricks regarding our digital process automation platform or sneak peaks into our JobRouter® Academy – it is worth a read!
Interview
"Platforms such as JobRouter® Academy will become increasingly important in the future"
Publication date

Reading time
The JobRouter® Academy exists for 2 years now – so it's about time to draw a conclusion and take another look behind the curtains. What constitutes the work of the team, what has been achieved in two years, and what is the future of the blended-learning platform? Silke Etter, head and co-founder of JobRouter® Academy, brings light into the darkness.
Read more
More blog posts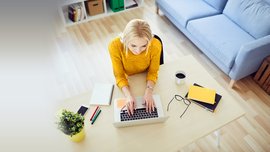 Be digital!
This is why digitalisation is so important in times of crisis
Publication date

, updated on
Those who are now lagging behind in digitization are having a hard time: aside from schools and authorities, companies especially are trying to handle everyday life digitally during the 2020 crisis. We will show you three reasons, why digitization is so important for your company right now.
Read more