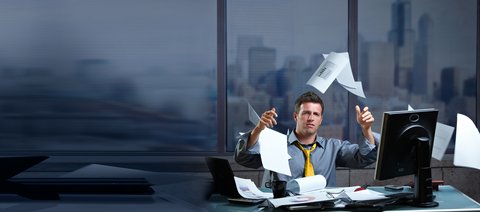 5 practical tips for transforming your workplace into a paperless office
A fragrant cup of coffee on the left, a computer in the middle… and mountains of paper on the right. Does this sound like a familiar scene around your office? Even in the digital age, flipping through stacks of paper is still a common headache for millions of office workers. It's even worse when you consider that the average office worker uses 10,000 sheets of paper each year! The good news is: there's a faster, more efficient, and more sustainable way to handle important documents. It's all about using the right paperless office software to truly bring your office into the digital era. Going paperless is easier than you might think. Here are 5 practical tips to help you eliminate those piles of paperwork by defining your needs and choosing the right paperless office software.
What is a paperless office?
A paperless office uses digital tools to automate manual processes, digitize documents and data, and make them accessible to employees from any device.
Automating manual processes significantly reduces paper use. For example, if you switch to digital-only invoicing, all invoices can easily be received, processed, and shared between all the relevant departments without anyone having to touch a single piece of paper.
Digitizing documents means scanning your existing files, folders, and paper documents, and then indexing them with paperless document management software, so every member of staff has access to the information they need.
Digital access to documents is a major time-saver. It's also essential if members of your staff work remotely, because it lets them simply view the documents they need on their phone or laptop, wherever they're working. The documents are stored securely in your company's digital archive, so they can never get lost, damaged, or accidentally thrown away.
Tip #1: Identify sweet spots where going paperless makes the biggest impact
If you're thinking of going paperless, start with the processes that will benefit most from getting rid of paper.
Make a list of paper-based processes in your organization, starting with the ones that cost the most time and effort to perform. Often, these will be tasks like:
processing invoices
handling contracts
sending business proposals/quotes
keeping track of receipts/expenses
Instead of trying to go paperless all at once, choose one area to get things started. Gradual changes also make a big difference. And small victories will motivate your company's leadership and staff to keep moving towards more and more paperless workflows.
Tip #2: Follow the paper trail: Identify your documents' paths
Most paper-based processes involve multiple people or departments within your organization. Remember to check which departments use which documents. What does that interchange look like?
For example, an approval for an expenditure or a job requisition needs to pass back and forth, probably between employees, managers, HR, and Finance. You'll need a paperless office solution that lets you link team members from all those departments, so you can keep the digital documents flowing.
Tip #3: Get everyone on board with your paperless office plan
People can be resistant to change, so it's important to create awareness and focus on the benefits. When launching your paperless workflows, be sure to point out how much time and effort they will save everyone. You might also emphasize how saving paper helps make your office more sustainable. The feel-good factor can motivate people to think twice before printing a document. And as long as you choose user-friendly paperless office technology, your staff will quickly embrace the faster, more efficient way of working.
Tip #4: Ensure a smooth implementation for your paperless office software
When introducing new software tools, a smooth implementation is crucial. If the new tools do not work well at first, it will make a bad impression and discourage people from using them. Many paperless office software suppliers offer custom-built solutions, which may require a lengthy implementation. In our experience, a low-code solution that's ready to use "out of the box" greatly simplifies implementation and helps keep everyone on board.
Whichever solution you choose, be sure that it includes features for all the types of documents and departments you want to make paperless, such as HR, Sales, or Finance and Accounting. If staff members are working remotely, a cloud or app solution is very beneficial.
Tip #5: The more paperless, the better
Lastly, remember that going paperless is a gradual process. You probably won't eliminate every sheet of paper from your office workflows overnight. Just remember to keep your eye on the goal and the benefits of working paper-free. And follow the tips above: start small, gain early successes, keep everyone on board, ensure a smooth transition, and before you know it, you'll find yourself working in an increasingly paperless office.