Use Case Example
Digital Contract Management
Why contract management? A digital contract management process supports the entire customer lifecycle because it covers all steps that involve, process, or require contract data.
It brings together information and sources, streamlines intermediate steps, and assigns templates and attachments to all parties. Processes are linked to this, which in turn include the management of suppliers, vendors, partners, customers, or employees. Contract management is therefore not just about contracts, but also about all the interfaces involved. The smooth exchange of information within the automated, digital management process ultimately helps to tangibly and permanently increase the efficiency of your company.
Once contracts have been created, signed, and filed, a contract management process supports transparency. After all, contracts often have end dates on which they must be terminated, renewed or amended - provided they are adhered to. Often, such deadlines pass, and, in the best case, nothing happens. In the worst case, the company incurs unwanted costs. Digital contract management is therefore essential in order to be reminded of obligations in a timely manner.
The JobRouter® digitalization platform offers a wide range of features and modules to help you manage your contracts and achieve operational excellence. You can:
Generate contracts automatically.
Centrally manage and archive contracts.
Capture data automatically.
Monitor important deadlines.
Assign different authorizations.
Search contract content with keywords.
Send reminders or notices automatically.
and much more!
Digital contract management not only improves transparency, but also helps you save real money. Make the most of your paperless office!
Processes in digital contract management - examples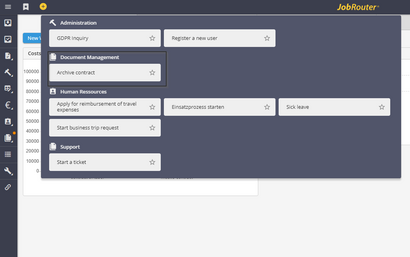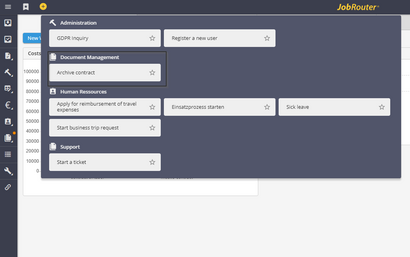 Archiving contracts
The scanned contracts are captured including all-important metadata. This includes for example; contract number, contract type, start date, duration, contract end date, deadlines, reminders, costs, and much more.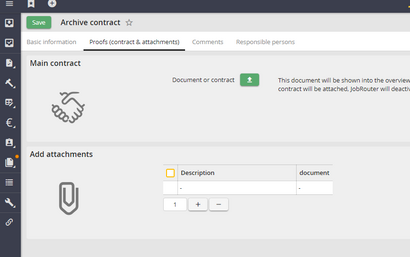 Attachments
Sometimes it is necessary to attach further documents to a contract. It does not matter whether these are contract extensions, e-mail correspondence or, for example, a zip file. All documents can be saved in JobRouter® in an audit-proof manner in the corresponding archive.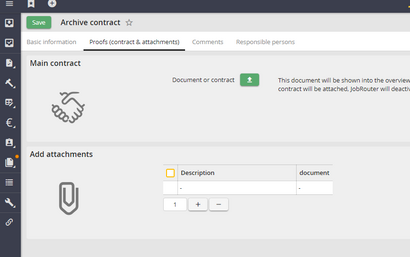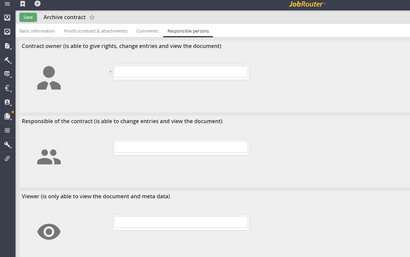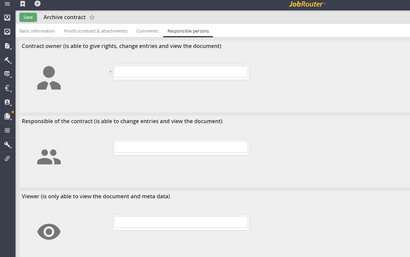 Rights management
You can assign three different authorizations for each contract: Owner, person responsible, and viewer. These have different access rights to the respective contracts.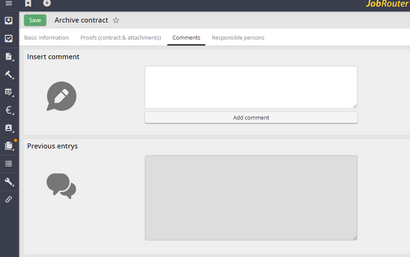 Comments
For each contract, you can store individual comments and provide them with a timestamp as a kind of "memo".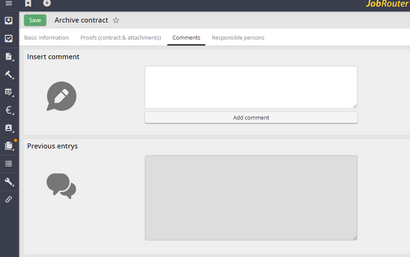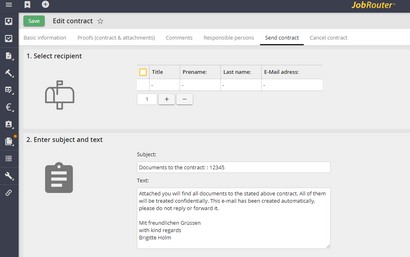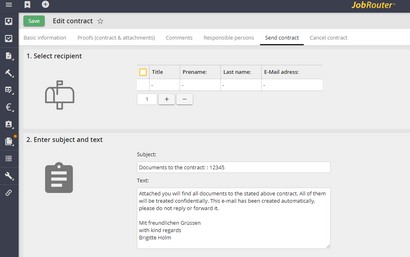 Reminder by e-mail
JobRouter® informs you in good time by e-mail about all contracts for which automatic renewal is imminent. This allows you to keep track of your current contracts and not miss any important deadlines.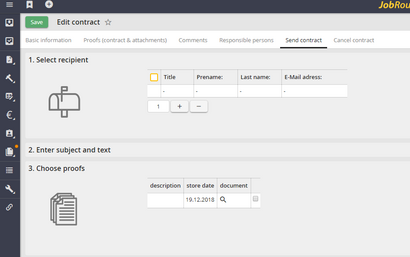 Send contracts
You can optionally send all contracts and attachments by form. No mail client is required for this, sending is done exclusively via JobRouter®. In addition, the digitization platform logs who has received which documents and when.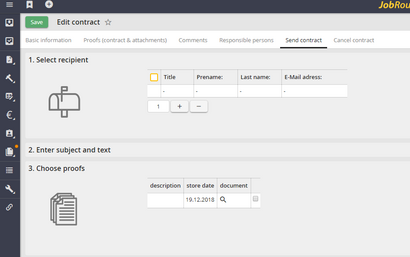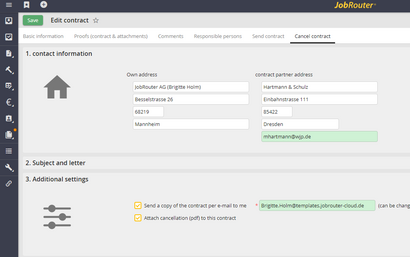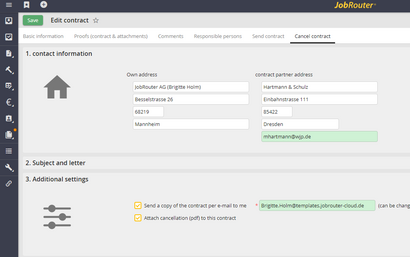 Send notice of termination
The process allows all users with the appropriate rights to create an already deposited notice and send it as a PDF to the contract partner. Optionally, this notice can also be attached to the contract as a PDF.
Benefits
Digital Contract Management
Increased transparency, compliance, security & control
Audit-proof archiving for compliance with legal requirements
No more missed deadlines, easily keep track of important dates
Single point of contact for all documents
Reduced costs through reminders of termination dates