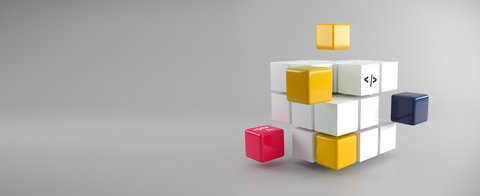 Low-code vs. No-code Development
Low-code and no-code development continue to be in the spotlight as a leading trend topic. If you take a closer look at the market situation, it is easy to see why. Pressures are increasing. Companies are caught between the internal need to optimize their processes and working methods and the external (market) requirements that dictate the speed at which these changes must be implemented. Last but not least, the corona virus crisis has once again tightened the scope of action for companies, increasing the urgency to act. While the majority would like to react, many cannot. Incalculable costs, a lack of resources, a lack of know-how, hardly any time, outdated systems - they all put the brakes on corporate digitization.
Faster, easier, better development with low-code and no-code?
There is a significant shortage of skilled workers in the field of software development. The pool of talented and competent professional programmers has been exhausted, even as most companies are still drafting a plan. That is why there have been efforts for years to find ways to support companies in their digital transformation. In the 1990s, for example, through computer-aided software engineering (CASE) tools, rapid application development (RAD) or model-driven architecture (MDA). Today, the trend towards low-code or no-code solutions is becoming increasingly prevalent.
As digitization advances, so has the demand from enterprises for solutions that can quickly meet their needs. Software has assumed one of the most important roles in the enterprise, along with the human component. When you combine the shortage of professional developers with time pressure from competitors, more and more decision-makers are turning to low-code development platforms. Depending on the requirements, no-code platforms can be used to quickly generate the initial straightforward solutions - even by untrained personnel. While low-code platforms can be used to digitize complex process landscapes, it can also involve more programming effort. This new way of coding gives companies a defined framework in which they can achieve their project goals more quickly.
What are the similarities between low-code and no-code development?
At first glance, low-code development and no-code have a lot in common. Both approaches are intended to enable non-professional developers to write their own applications or programs. The level of competence of the respective developers can nevertheless differ greatly in both approaches. It is therefore not the amount of code that is decisive, but who is involved and what problem needs to be solved.
It is therefore a matter of involving non-technical, but technically skilled users in the development via a visual development approach for RAD. Using abstracted development tools, employees can drag and drop the functional components they need into the process graphic and connect them. A library makes your job easier in that software applications can be configured and developed without writing a line of code. As a result, both approaches reduce the effort required to build software solutions and process landscapes, as well as to maintain the infrastructure.
Low-code vs. no-code development trend
Professional developers
You have a solid career track record. You've got education, studies in the field of computer science, relevant work experience and enjoy writing code. You develop solutions from scratch or configure them to solve complex problems with code or try out creative ideas. You use low-code development to get where you want to go faster, drawing on a toolbox to do so. You are deeply rooted in IT.
Low-Code Developer
They are developers who specialize in low-code programming and often enter the IT industry as career changers. They have mastered the principles of low-code development and know the tools very well. For them, the focus is on the content to be implemented, not so much on the code. The code is a means to an end and should satisfy the requirements of the business users. They act as intermediaries between the business application and the IT department, are in communication with them, and are therefore more agile in their day-to-day business.
Citizen Developer
More and more companies want IT or software to take center stage. According to Gartner, 61 percent of companies are already training business users/technical staff for low-code and transferring responsibility for software projects into the hands of interested business users - the citizen developers. Technically savvy, with little or no programming knowledge, they access all the necessary functions via low-code/no-code development environments to create simple applications or configure them. For them, the technology is a means to an end, the solution to the problem. Know-how in their area of expertise is clearly more important. The IT department still has the overview.
What is behind the no-code approach?
No-Code goes further than Low-Code in its promise to reduce programming effort. The focus is primarily on configuring instead of programming. In this way, employees who have no previous experience in programming can be involved in an integration or digitization project. To do this, they access the graphical configuration interface and select from the defined tools. As a rule, these cannot be adapted further. Consequently, no-code platforms can be used to implement straightforward or simple integration projects and business processes quickly and according to plan, because the developer is working within a predefined framework. They do not have to understand the underlying software technology or write a line of code. However, they know the usage scenario very well and know what a successful process should look like for example, since they are both developers and end users.
No-code platforms can help companies and users to build straightforward solutions and processes for their use case. As a result, many siloed applications are created that are readily available, but can make data governance difficult.
As soon as these applications need to be scaled or additional connectivity and integration options are required, no-code platforms and no-code development reach their limits. The framework is fixed; functionality, extensibility, scalability, and deployment are all largely predefined. In addition, citizen developers usually have little insight into the fundamentals of software architecture and design for their use case. While this approach may be sufficient for that purpose, it cannot be applied to the entire enterprise. But no-code platforms aim to do just that. They increase the efficiency of a company in that solutions are developed quickly and decisively, but they do not involve interconnecting the company, various systems or third-party providers.
What is the definition of low-code development?
The term "low-code" was coined back in 2015 by Forrester Research, a US market research company. It is a way of creating programs and applications with low programming effort using visual development tools. This is supported by a simplified interface development, based on the RAD approach, as well as the holistic software architecture as designed in the MDA. The "low" is therefore not aimed at the quality of the code, but at the effort required by the user. Even if low code is supposed to bring the business departments and the IT department closer together, the majority of professional developers, system integrators and system architects today still work with the so-called Application Platform as a Service (aPaaS) platforms. In addition to the graphical interface, these also provide a library from which users can select by drag and drop. If the tools provided are sufficient, no further code needs to be created to finalize a project.
Low-code projects abstract all steps of an application's lifecycle and automate them fundamentally. They often aim to create integration tasks in such a way that they can be reused, continuously optimized, or simplified for additional participants. However, companies often reach their limits with this, because the individual processes and requirements within their industry mean that applications, processes or mobile applications have to be adapted in greater depth. Here, low-code platforms offer the possibility of adding further configurations through "hard code" or rewriting existing configurations. Citizen developers and low-code developers must then be supported by professional developers. Low-code thus allows the work of several participants to flow together so that they complement each other in the best possible way. The proportion of manual code is comparatively low and is in the ratio of 20:80 to configured code. Nevertheless, the effort required for programming this 20 percent can take up the majority of the project work - but offers companies a great deal of freedom and scope for use.
This clearly shows that low-code platforms have the potential to model even complex scenarios digitally and automatically - throughout the company. Nevertheless, they score points compared to an individual solution in terms of programming effort and also in the areas of openness and agility, time required, collaboration and community.
Advantages of low-code development
The advantages of low-code development result from meeting the different requirements of the respective business area and from the possibilities offered by faster solution development with low programming effort. In each case, these must be evaluated individually. Nevertheless, some overarching advantages of low-code can be defined.
Reduced costs
On the one hand, low-code aims to increase the number of people working on an integration project by distributing the work among more employees and reducing the burden on IT. As a result, there is no need to hire external service providers and the expertise remains within the company. This creates long-term cost-saving potential.
In addition, low-code platforms are designed in such a way that they can complete projects comparatively quickly. Provided no further customization is required, the graphical user interface (GUI) allows processes to be configured from existing functions. This not only saves money during development, but also accelerates digital transformation.
The following advantages of low-code development are strongly related to the cost factor and the increase in efficiency of companies.
Increased time-to-value
By completing projects quickly it is possible to get working applications and apps up and running quickly. Employees can start work much more quickly, the company benefits from this head start over the competition, and the IT department can turn its attention to other issues.
Establish meaningful shadow IT: Because components are predefined or can be provided as templates by professional developers, employees have flexibility in their project work, but they are always working on the safe side. Central IT has less work to do, and departments no longer have to wait for ready-to-use solutions.
Applications can be created in parallel with the requirements analysis, so that the development cycle from start-up to the ready-to-use product is shortened even further.
Increased collaboration
By enabling teams to collaborate across the enterprise and across departments, decisions can be made in a more informed way. Many low-code platforms come with their own tools that optimize collaboration.
Different perspectives enrich and optimize the end product. IT is interested in the underlying architecture, while business users are focused on the execution of their own specific process content and requirements.
Promising scalability
The open structure of low-code platforms allows applications not to be configured for one department alone. Instead the same application concept can be transferred and extended to other departments.
Through interface technology such as API technology, additional systems as well as third-party or external providers can be integrated and the scope-of- use can be expanded.
The applications can usually be deployed as a web application and mobile app, as well as conversational or immersive - as required by the business model.
Processes and Applications can be maintained.
Collaborative development
Low-code platforms break down silos between departments and bring employees together across functions. A new kind of development is emerging that is faster, more agile, and more flexible in responding to changing business needs.
The skills shortage no longer makes as much of an impact as non-developers are integrated as low-code or citizen developers. As a result, the company can make further investments and accelerate the digital transformation.
Low-code or no-code? Which approach is the most suitable, and when?
Whether the low-code approach or a no-code platform best meets the company's requirements depends on numerous factors. In addition to the question of resources, which is admittedly one of the most important, future viability - i.e. scalability, integration capability and cost efficiency - also plays an important role.
While no-code platforms are often criticized for their simplicity, they connect all users more closely to the software and provide solutions that meet employee expectations. This is because these users are involved in both the design and the software-side implementation. As an enterprise-wide solution, however, they are unsuitable. By extension, they run the risk of becoming a modern version of the "one trick pony". As a result, they could open up a range of new problems for the company in the future.
Low-code platforms, on the other hand, are often underestimated in their potential because they are not trusted with complex projects. But precisely because of the open structure of most low-code platforms, in addition to their own built-in functionality, they can also be integrated well and can expand the user's scope of action. However, this ultimately requires the cooperation of professional developers, because such customizations are not possible with drag and drop. In addition, involved business users and IT must work closely together to unleash the full benefits of low-code development. It is not enough to develop applications quickly if the professional programmers need to adapt them to the application lifecycle and business requirements, fix bugs or repair them. This requires detailed planning and task sharing in advance of a project.