JobRouter® Platform
Digital is Change: Be prepared for everything
JobRouter® links your processes, documents and data in one feature-rich platform. Let's dive into digital transformation!
One platform - endless application scenarios: Start digital transformation your way with the JobRouter® Digital Process Automation Platform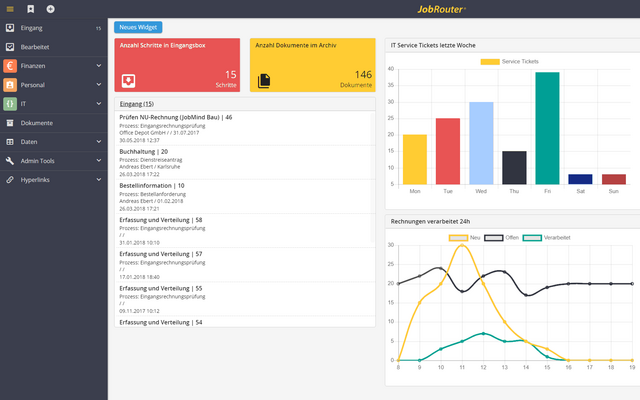 Choose digital freedom - Do more with JobRouter®
The time of stand-alone software solutions and rigid, unadaptable apps is over! The digital future is intelligent and connected. JobRouter® offers a platform that integrates processes, documents and data and thus forms the basis for your individual process applications.
Do more with less: Learn about JobRouter® platform digitalization
Digital Process Automation

JobRouter® offers both strong BPM and fast DPA for digital transformation

More than workflow management, more than classic BPM, ECM or DMS. The JobRouter® platform connects everything. Experience the new way of process digitization: low-code, fast, customized.

Content Services

JobRouter® integrates content management offering more flexibility than ever before

JobRouter® connects low-code process management with agile document management. Immediate access to all relevant documents from your automated business processes - anytime, anywhere, across systems.

Solution Templates

Quickstart digital transformatioin with ready-to-use apps

JobRouter® Solution Templates are standardized process templates and the ideal solution for a quick and individual start into company digitization or to get closer to the goal of the Digital Office efficiently.
Low-code digitization

Forget isolated solutions and rigid apps. Choose a low-code solution that will inspire your way of working! With our process designer, customized digital process automation becomes child's play.

Process automation

Reduce overtime and work-intensive tasks by automating all reoccurring and role-based processes. You will gain more transparency and control than ever before!

Digital Office

Take your day-to-day business to a new level. Connect internal and external process participants, perform previously paper- and labor-intensive tasks such as document creation, approval or signature directly on the screen!

Content management

Paperless is your first priority? Thanks to the outstanding document and content management components within the JobRouter® platform you not only reduce paper in your office, but work becomes seamless and more efficiently.

IT landscape optimization

You don't have to lose your investments in order to achieve greater results with your digital business transformation. JobRouter® connects all systems, apps and users throughout your enterprise – allowing greater work flexibility and ease of use!

Rapid App Deployment

Time matters – and sometimes it matters more. Choose one of our pre-defined JobRouter® Solution Templates, adjust it to your business needs and hit the ground running – digitally!
Bring the company together - anywhere, anytime, as you require.
The JobRouter® Digital Process Digitization and Automation Platform combines efficient workflow management, agile content management and feature-rich data intelligence features in one scalable solution. With JobRouter® you are free to create your Digital Office - low-code, fast, customized.