JobRouter® Platform
Digital is Change: Be prepared for everything
JobRouter® links your processes, documents and data in one feature-rich platform. Let's dive into digital transformation!
One platform - endless application scenarios: Start digital transformation your way with the JobRouter® Digital Process Automation Platform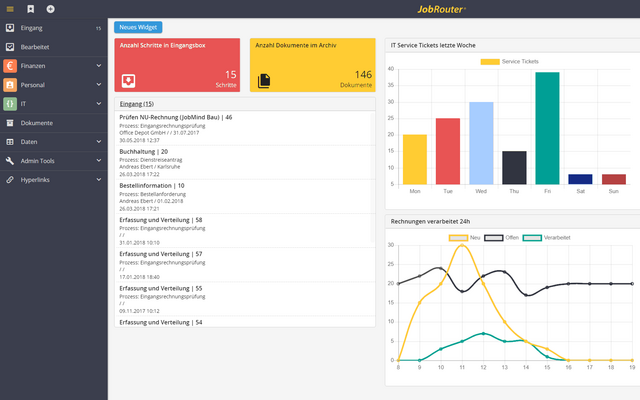 Choose digital freedom - Do more with JobRouter®
The time of stand-alone software solutions and rigid, unadaptable apps is over! The digital future is intelligent and connected. JobRouter® offers a platform that integrates processes, documents and data and thus forms the basis for your individual process applications.
Do more with less: Learn about JobRouter® platform digitalization
Digital Process Automation

JobRouter® offers both strong BPM and fast DPA for digital transformation

More than workflow management, more than classic BPM, ECM or DMS. The JobRouter® platform connects everything. Experience the new way of process digitization: low-code, fast, customized.

Content Services

JobRouter® integrates content management offering more flexibility than ever before

JobRouter® connects low-code process management with agile document management. Immediate access to all relevant documents from your automated business processes - anytime, anywhere, across systems.

Solution Templates

Quickstart digital transformatioin with ready-to-use apps

JobRouter® Solution Templates are standardized process templates and the ideal solution for a quick and individual start into company digitization or to get closer to the goal of the Digital Office efficiently.
Low-code digitization

Forget isolated solutions and rigid apps. Choose a low-code solution that will inspire your way of working! With our process designer, customized digital process automation becomes child's play.

Process automation

Reduce overtime and work-intensive tasks by automating all reoccurring and role-based processes. You will gain more transparency and control than ever before!

Digital Office

Take your day-to-day business to a new level. Connect internal and external process participants, perform previously paper- and labor-intensive tasks such as document creation, approval or signature directly on the screen!

Content management

Paperless is your first priority? Thanks to the outstanding document and content management components within the JobRouter® platform you not only reduce paper in your office, but work becomes seamless and more efficiently.

IT landscape optimization

You don't have to lose your investments in order to achieve greater results with your digital business transformation. JobRouter® connects all systems, apps and users throughout your enterprise – allowing greater work flexibility and ease of use!

Rapid App Deployment

Time matters – and sometimes it matters more. Choose one of our pre-defined JobRouter® Solution Templates, adjust it to your business needs and hit the ground running – digitally!
Bring the company together - anywhere, anytime, as you require.
The JobRouter® Digital Process Digitization and Automation Platform combines efficient workflow management, agile content management and feature-rich data intelligence features in one scalable solution. With JobRouter® you are free to create your Digital Office - low-code, fast, customized.
Clear dashboards with customized widgets
The JobRouter® Dashboard is your stating point for digital work and gives you a clear overview of the information you need. With customizable widgets, JobRouter® retrieves data from various data sources and displays it in your preferred style, as pie charts and diagrams or master data.
Real Workflow Management
The variety of integrated interfaces and modules makes JobRouter® a powerful tool for automating practically any scenario in the field of business processes – whether it's for document-based or data-driven processes.
Low-code Process Design
With JobRouter Designer, JobRouter provides a graphical user interface (GUI) to display and compose complete web-based workflow applications. Due to our low-code approach, anyone can design and edit individual workflows in the Designer's graphical flowchart - in no time, with little or no programming effort!
Agile Document Management
With its agile components, JobRouter® combines business processes and document management to create one integrated solution. Whether you want to fully integrate JobRouter® archives into your Windows file system, archive your emails from Microsoft Exchange and Outlook, or arrange the format of invoices to conform with a special invoicing standard – your documents are always in good hands with JobRouter®.
Intelligent Data Recognition
Whether it's processing invoices at the header level and line item level or the verification and adjustion of invoices according to special requirements – JobRouter® processes document data and intelligently analyses it independently for you.
Process analyses with the Heatmap
Based on the Heatmap you can see which steps or paths of a process are run most frequently and which steps take an especially long time to complete. The data are collected per process version and can be graphically depicted in the Heatmap. This view is often used by process designers and process owners to identification weak points in the process and enables them to optimize or analyze the process more intensely.
Smart File Storage: JobRouter® DocumentHub
The JobRouter® DocumentHub is the intelligent and mobile file storage that is accessible from any JobRouter® instance on any device. You can upload documents, invoices or receipts to your personal clipboard and process it further in a corresponding workflow. All files are automatically synched between your devices and transformed into PDF.
Digitization on the go: JobRouter® App
Capture, edit and cache documents on the move with the JobRouter® Scan App and sync it autoamtically with your desktop application. Start your travel requests, approval requests or sick leave request anytime and upload corresponding receipts via your mobile device.
Comprehensive integrations
Get the most out of your existing IT landscape and enjoy the full digital potential of your business processes! The JobRouter® Platform offers you a flexible REST API for seamless integration to your existing or pre-defined IT landscape or tools.
Countless use cases
JobRouter® is always as simple or complex as you need it to be. Depending on where your challenges lie, the platform offers a different solution. You get a powerful and flexible digitization platform that digitally connects processes, documents and data in such a way that you can digitally map an infinite number of application scenarios - across departments and third-party systems!
Choose from a wide module range
Choose from a wide range of extendable modules and system activities to create your perfect digital transformation platform. Take only what you require now - and stay flexible for future developments. A large number of JobRouter® modules and system activities reduce users' monotonous and recurring activities and reduce the potential for errors. Your processes run error-free, traceable and exactly as you specify them.
Always accessible - on your terms
The JobRouter® Digital Process Automation Platform is entirely web-based so that the user is free to choose their preferred access device. The same goes for our licensing models: JobRouter® is available as an On-Premise, SasS or cloud-based solution.