Use Case Scenario
Edit documents collaboratively
Collaborate with your colleagues on digital documents, contracts or publications and get feedback - instantly & traceably.
Collaboration and communication - these are the cornerstones of efficient teamwork. However, in companies where manual processes continue to dominate and paper-based document work is the norm, these fall behind organizational pressures, queries and long wait times. Although there are more and more companies that use document management systems or tools for enterprise digitization, the average US office worker still goes through about 10,000 sheets of paper each year. For many companies, the paperless office is still a long way off. Yet the advantages of digital document work cannot be dismissed out of hand: More flexibility, better traceability, reduced costs and less filing as well as optimized process flows are only the most obvious advantages.
Last but not least, digital document work optimizes communication and collaboration in companies - and consequently strengthens employee satisfaction. This is particularly successful when digital documents can be made available in company-wide business processes, jointly edited and processed accordingly. In most cases, simple or isolated systems such as document management systems are sufficient for the start of enterprise digitization. However, as more and more employees work digitally and new tools are added, disconnected processes and little or no integration to other applications pose a major hurdle to efficiency.
Document processing 2.0: platform approach instead of isolated solution
With the JobRouter® digitization platform, you get a solution for digital document processing based on powerful process automation. The platform is designed in such a way that it can connect all existing software, thereby driving integration throughout the entire company. In this way, your employees from finance, human resources, administration, and even management work with their familiar digital tools, while JobRouter® expands their range of functions. Processes run through with it - from start to finish. Manual intermediate steps are eliminated, while rights and role management enables flexible access control and security over process flow and process status.
With JobRouter®, you cover all phases of the document lifecycle. You create digital or digitized documents, extract data and information, process them in the appropriate systems, and make them available to the employees involved. You stamp, comment, annotate, approve, ask questions, and delete or archive the document in an audit-proof manner. Everything is digital.
JobRouter® functionality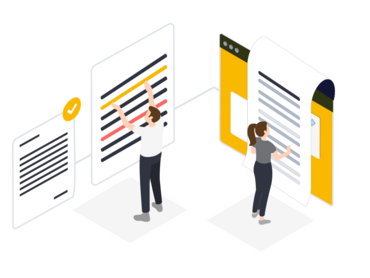 Simultaneous editing of Word documents
Secure project management with integrated approval function
OCR-based data extraction
Integrated rights and role management
Multi-level escalations, parallelization, versioning
Various editing functions (stamp, comment, annotate, query, release)
Chat function for queries and work instructions
Continuous work in one interface
Audit-proof archive
Complete documentation of change history and processes
Integration with other tools required:
Simultaneous editing of Word documents
Differentiated rights management (read, comment, edit or release)
Change history in Word document can be viewed at any time
Electronic signing function also for external partners
Creating and editing digital documents collaboratively with JobRouter® - sample processes
For some processes, it is necessary to extend the JobRouter® digitization platform with tools for collaboration or electronic signatures. We will be happy to advise you.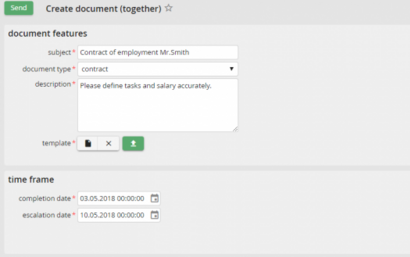 Create documents digitally
If there is integration with a collaboration tool or document creation software, you can launch it directly from your JobRouter® interface to create a digital document. You can also upload existing documents or digitize documents and have them read out using OCR technology. You can also add a project and task description as well as a processing time and assign the document to specific employees. For example, assign roles such as read, comment, edit, or release. Then send the step.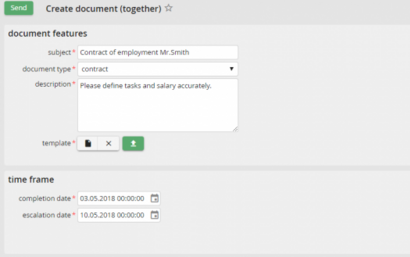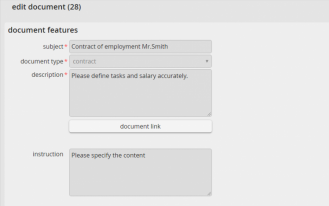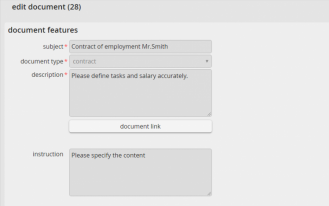 Easier traceability
All people who have been assigned a role will now receive a step in their inbox asking them to view or edit the document. Depending on which integration you use, you can edit the document as you would in Word and track all changes.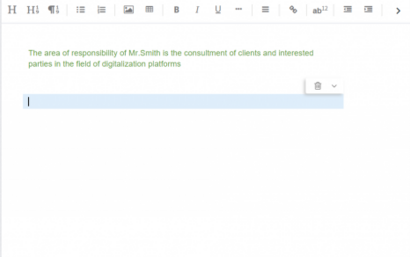 Edit documents digitally
This includes document tracking with personal history, all common text formatting tools, as well as embedding images or tables and sending announcements. In addition, you can insert comments directly in the text or send them using the JobRouter® dialog step. JobRouter® automatically logs your chat progress.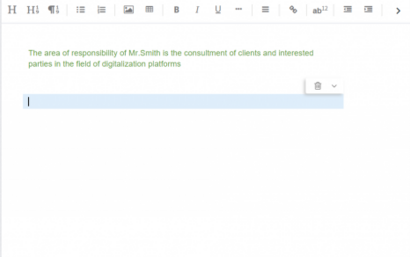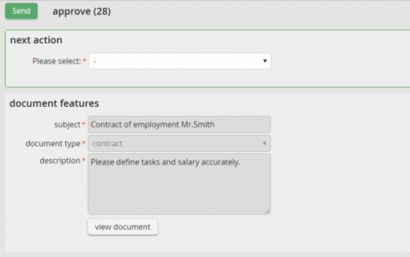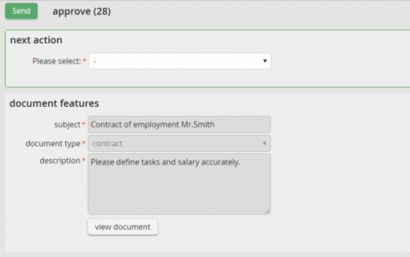 Check documents digitally
Once all tasks have been completed, you can check the document for completeness directly in the JobRouter® interface and forward it for approval. All information is fully documented and noted in the change history.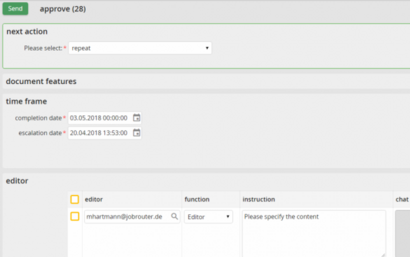 Release document
After the document has been edited, people with the appropriate role can release the document or start a new cycle. You can repeat the cycle as often as you like or include additional people. As soon as the document has been finally released, you can export it according to your corporate design or a stored template and send it (Word, PDF, HTML).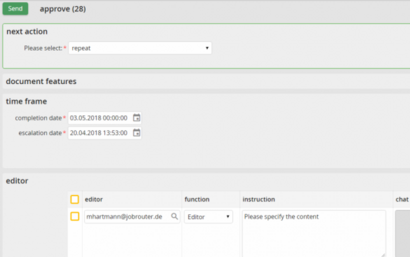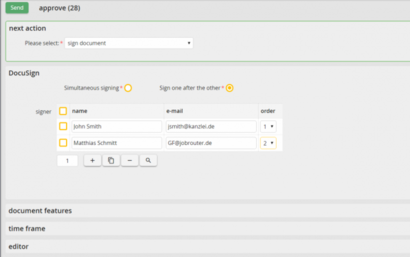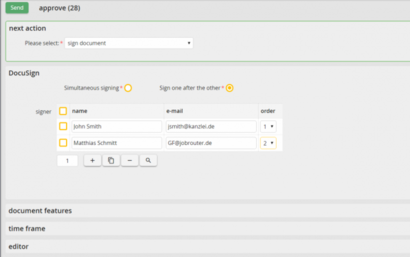 Sign documents electronically
With the electronic signing function, you can now also sign digital and sensitive documents or contracts very conveniently electronically - unambiguously and in compliance with the law. It is possible to have any number of people sign either simultaneously or consecutively.
Archive document in an audit-proof manner
Finally, the final editor or a so-called "document manager" receives an automatically generated PDF. Archive your final documents and completed projects directly and audit-proof in the JobRouter® archive or in an archive of your choice. If you also use digital contract management, you can define retention periods or contract deadlines and store automated deletions.
Benefits
Advantages of digital document work
Consistent digital document work
Reduces paper piles and costs
Creates security about document status and responsibilities
Optimized communication through better information flow
Allows access and editing from any device
Automates reminders, notifications and escalations
Improves collaboration through unique document versions