JobRouter - JobViewer 2 Module
Impressive document capabilities
JobViewer is a document viewer module that enables the display of 300+ different file types in the browser.
JobViewer was added to the JobRouter® platform with the introduction of the JobArchive document management module. The desire for intensive integration of document functionalities into workflows is growing. As a result, demands on the viewer and opportunities for greater interaction are also increasing.
That is why JobViewer 2 was developed and released with JobRouter version 4.2. This new and improved viewer offers even greater integration into JobRouter® and has exciting new functions. The viewer can be used in all places where documents are displayed. JobViewer 2 was designed especially for working with typical business documents and supports all common formats; PDF, image, office and text files.
Drag & Drop – Easy index data recording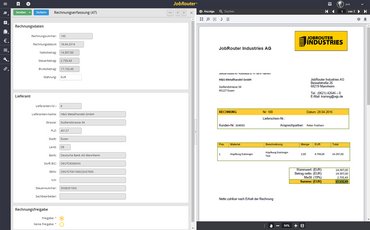 When storing documents in the archive and also when working with documents in a workflow, information must be transferred regularly from the document to the index dialog or the workflow form. JobViewer 2 automatically runs an OCR on the document, extracting text and information and making it available for easy entry. Users can drag and drop the values from the document into form elements. This allows several words to be easily combined or entire lines and sections to be transferred.
The OCR can be used for all languages supported by JobRouter® and has no volume limit. It is also possible to adjust the number of processor cores to be used to enable fast OCR data collection even in systems with high traffic loads.
Stamps with digital added value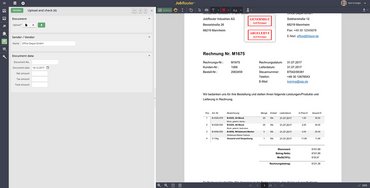 Many users want familiar paperwork elements, such as stamps on documents, even if they are working in a digital environment. That's why we have integrated digital stamps in JobViewer 2. They can be applied by the user within a workflow, though they can't be removed after they have been placed. Unlike the stamps used in many classical ECM systems these JobViewer stamps are managed completely by the workflow. This means that an "Approved" stamp is only available if there is a corresponding approval step in the workflow related to this document. It is not possible to insert the stamp at a later stage. This tight connection between workflow and document function creates a much safer working environment for documents and processes. Process designers can simply create the stamps using the JobRouter API dialog. Any number of stamps with different properties (color, user name, date, ...) can be defined. Thus JobRouter® takes digital stamps to a whole new level.
Of course JobViewer 2 also supports annotations on documents. Thanks to the deep integration of JobViewer 2, both the creator and the time of the capture are saved for each annotation. So it is always clear who added which annotation to the document and the time and date that it was added. In addition to text and graphical elements it is also possible to install colored check marks for faster control. So you can quickly tick off individual items of an invoice, for example.
Optimized user experience
By redesigning the Viewer many functions have been significantly improved and made more attractive for the user. Functions such as scrolling through 'stapled' files within a document are as simple and efficient as possible. Downloading documents is also easier now with the added option to choose between the original document, a PDF with annotations or a PDF without annotations.
API support
It is important that process designers are given as much freedom as possible when working with the viewer. That's why we have integrated interaction functions directly. For example, it is possible to query the form to determine if a certain stamp has been placed and, only if it has, to allow the step to be sent. Of course it can be done the other way around too. For example, when a stamp is set, a function can be executed directly in the form to send the step.
Configuration
The JobViewer license includes both modules JobViewer and JobViewer 2. You decide which viewer you want to use. This setting can also be made dynamically depending on file type or purpose. File types not supported by JobViewer 2 are displayed in JobViewer or offered for direct download.