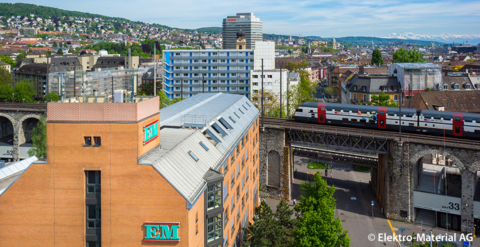 Swiss style retail
Automatic processing of accounts payable using JobOrder Match
For some it reassures them, for others it's unsettling. We are talking about fully automated invoice processing including the payment run - completely without human intervention. For this to succeed, invoices must be captured accurately and compared with orders. The example of Elektro-Material, the leading electrical wholesale company in Switzerland, shows how fully automated invoice processing (dark processing) with JobRouter® contributes to business success.
Elektro-Material has been an institution in the Swiss electrical industry for more than 100 years. Half of its sales are generated by their online shop with more than 250,000 products. Orders are delivered on the same day, or next day at the latest, even directly to the customer's building site on request. White delivery vans with the green and red EM logo are part of everyday life on Swiss roads.
In nine EM branches distributed throughout Switzerland, thousands of products are available for pick-up at any time - around the clock. Customers and installers from small and medium-sized companies appreciate the personal advice, wide range of products and professional exchange with colleagues.
Since the beginning of 2015, invoice processing for EM headquarters and branches in Zurich and locations in Berne and Spreitenbach have been centrally controlled using JobRouter. Elevite, the EM Lighting Competence Center for innovative lighting solutions recently acquired by EM, is also using this solution.
Benefits and Features
The advantages of electronic order reconciliation using JobOrder Match
Ideal for the centralized automated processing of incoming invoices
Processes data from OCR recognition and/or existing enterprise resource planning systems
Analyses the incoming invoice's header data and item data
Compares invoice data with order data and the received good
Can prompt fully automatic booking and payment with 100 percent match (shadow processing)
Automatically filters out deviations and exceptions and passes them on to a responsible employee to resolve
Project details
Client

Elektro-Material (EM)

Industry

Electrical wholesale

Employees

Roughly 700 employees at headquarters, nine branches, and the EM Elevite Lighting Center of Excellence

Instances

In the final version approx. 1,120 processes / day
Database

MS SQL Server

Ongoing processes

Accounts Payable processing //// running modules - JobOrder Match, JobSelect, JobStart

Planned processes

French language interface, overhead cost processes //// Features: Connection to DocProStar, DocuWare, ERP: in-house development on AS/400 (programming language RPG III, database OS 2/400, ODBC-compatible) Accounting: Comarch Schilling, on AS/400 //// Project duration: So far 8 months for 3 branches and the head office //// transactions: In the final version approx. 1,120 processes / day //// database: MS SQL Server
Original objective: basic reconciliation of header data
"Originally it was all about working in a simple and rational way," says Peter Ammann, IT Project Manager at EM's Zurich head office. We were looking for a solution to be able to centrally reconcile material invoices with orders and detect any discrepancies sooner. "Header data reconciliation" was on the list of requirements. The retail specialists would have settled on reconciling just the basics, namely creditor, order and invoice number and total amount including VAT, if a Swiss sales partner had not introduced them to JobRouter® and demonstrated the reconciliation of line item details using the JobOrder Match module. Suddenly the option of fully automated invoice processing was on the table. A dream scenario with the deluge of incoming invoices they receive every year.
New objective: complete processing without any intervention and multilingual
It is well known that the path to your dream destination can sometimes be a rocky one. For the Swiss, whose homeland is dominated by alpine terrain, tackling the challenge pragmatically was second nature. The journey focused on transforming processes from decentralized to centralized, across 10 locations, and in German, French and Italian.
They took stock to prepare for digitizing the invoice verification process with JobRouter®. What are the supplier interfaces? Which employees have which roles? How should orders, and differences, be checked?
Scanning software and an external service provider were selected to scan invoices; the basis for JobRouter® being able to do a good job when processing paper documents. Pilot sites were picked out and milestones set: Step 1: The most important suppliers first. Step 2: Increase volume. Although the project team was in the starting blocks before the end of 2014, it was decided not to make the switch until the beginning of the new fiscal year.


Reconciliation using JobOrder Match
In the pilot locations, the mountains of paper invoices have become smaller because the majority of them are already handled by the scan service provider. The data from the document headers and details are transferred via interface to JobRouter®. What used to require many industrious hands and sharp eyes now runs automatically through JobRouter® and upstream checking rules.
Put in simple terms, the JobRouter system combines the invoice data with the order data from the enterprise resource planning system, carries out the required checks and automatically starts the booking process and payment run if they are a 100 percent match. "Automatic (shadow) processing is the ideal process that would have been inconceivable years ago. At the moment, we're managing 80 percent," says Ammann happily, but immediately adds: "That's still unsatisfactory. We hope to be able to raise this to 90 to 95 percent. For us, the degree of automation is the yardstick for the success of the project".
JobOrder Match ensures that you can concentrate on the incorrect invoices in the time you have gained. The module automatically passes them on to the responsible administrator for clarification. With a difference in the amount, for example, the dialogue clearly indicates the incorrect item, works out the differential amount and displays the original document at the same time.
"Better quality, better quantity"
Success can be measured. IT Project Manager Peter Ammann says: "We have better quality with digitalization. At the same time the throughput times from order reconciliation to booking and payment of invoices can be significantly reduced. " There's not any specific analysis yet on the time and cost savings, be it man hours or archiving costs.
However, it's already clear now how JobRouter® literally brings in the cash: cash discounts can be taken advantage of to a greater extent thanks to the time advantage. Terms of delivery can be controlled better in terms of compliance and also negotiated. "Central purchasing now has access to current prices, discounts and volume and an invoice's status at any time. We can negotiate better now," adds Samuel Neuenschwander, Head of Accounting. Both interview partners are very confident in terms of more advantages, once the remaining EM locations have been switched to the digital process. The French and Italian dialogs are currently being defined and the operating instructions are being translated for colleagues.
Short profile - Elektro-Material (EM)
Elektro-Material AG (EM) was founded in Switzerland in 1913. Approximately 700 employees work at the head office, nine branches and the EM Elevite lighting center of excellence. The core business is in the electrical wholesale sector, where EM offers over 250,000 items and the best overall service package from a single source for the electrical installation industry - for small businesses and up to industrial groups. Half of the business, with around 18,000 customers, is handled through their online store.
The company's service includes its own delivery fleet which delivers orders all over Switzerland on the same or next day. EM has perfectly supplemented its market leadership in the electrical installation material sector by taking over Elevite with its great expertize in the innovative and dynamic light sector. EM has been part of the Rexel Group, a worldwide leading wholesaler for electrical parts and supplies, since 2006.