JobRouter® Release 5.1 is all about Microsoft Office and Zapier!
With the latest release, we have created connections to Microsoft Office and Zapier, which makes your work with Microsoft documents easier and provides you with interfaces to over 2000 apps at a stroke. In addition, JobMind is a cloud- and AI-based add-on module that supports you in the data extraction of your invoices. JobMind Cloud can read out all relevant data of an invoice and make it available in defined workflows.

We have also expanded existing modules such as JobData, JobViewer and JobFerd, extended the integration possibilities of JobRouter® in third-party applications and modernized and improved the encryption procedures within the platform.
Zapier-Integration
Connection to more than 2000 Web Apps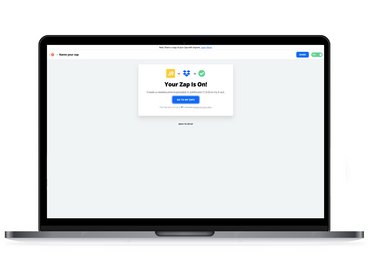 Zapier is an online platform, which enables you to automate tasks and workflows between different Web Apps. Without having to write even one line of code, you can create small workflows (so called "Zaps") simply by linking together two or multiple Apps.

For JobRouter® users, there are interfaces to over 2000 web apps, including Twitter, Facebook, Trello, Slack, various Google services (Forms, Spreadsheet, Drive, ...), Microsoft Office 365, Amazon, Salesforce, LinkedIn and many more.
Office-Integration
Integrate Word, Excel and Powerpoint into your processes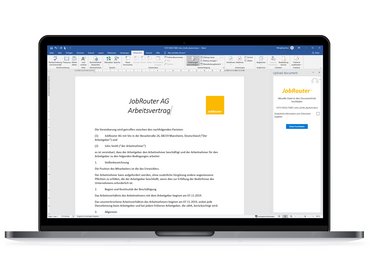 Two modules are available for Office integration: An Office add-in that allows you to upload documents to the Document Hub and an Office viewer that allows you to view and edit Office documents within the process.
JobMind Cloud
AI-based data extraction of your invoices
JobMind Cloud is an AI-based platform for data extraction from your invoices.* All relevant data from the invoice are read and provided to your workflow. JobMind Cloud can be immediately used and integrated into the workflow within minutes. You can combine JobMind Cloud with other JobRouter® offerings (cloud and on-premises systems).
*JobMind Cloud will be released delayed after the release of the other new features.
We are here for you!
Experience JobRouter®

Tell us about your pain points or challenges and experience JobRouter® live!

Learn from experts

A little sample needed? We offer a free-of-charge webinar every Friday. Join us!

Talk to experts

Open questions? We will explain all JobRouter© features online to you.