JobRouter® - JobFerd Module
Easy handling of structured invoice data for ZUFeRD compliance
The ZUGFeRD invoice format allows invoice data to be transmitted in a structured manner in a PDF file and to be read and processed without further steps. With the JobFerd add-on module, the header and item level of ZUGFeRD invoices can be read out as well as created in the basic or standard profile.
The module provides a system activity that can be integrated into any existing JobRouter® process. This completely eliminates the need for manual entry of invoices or OCR-based reading of invoice data.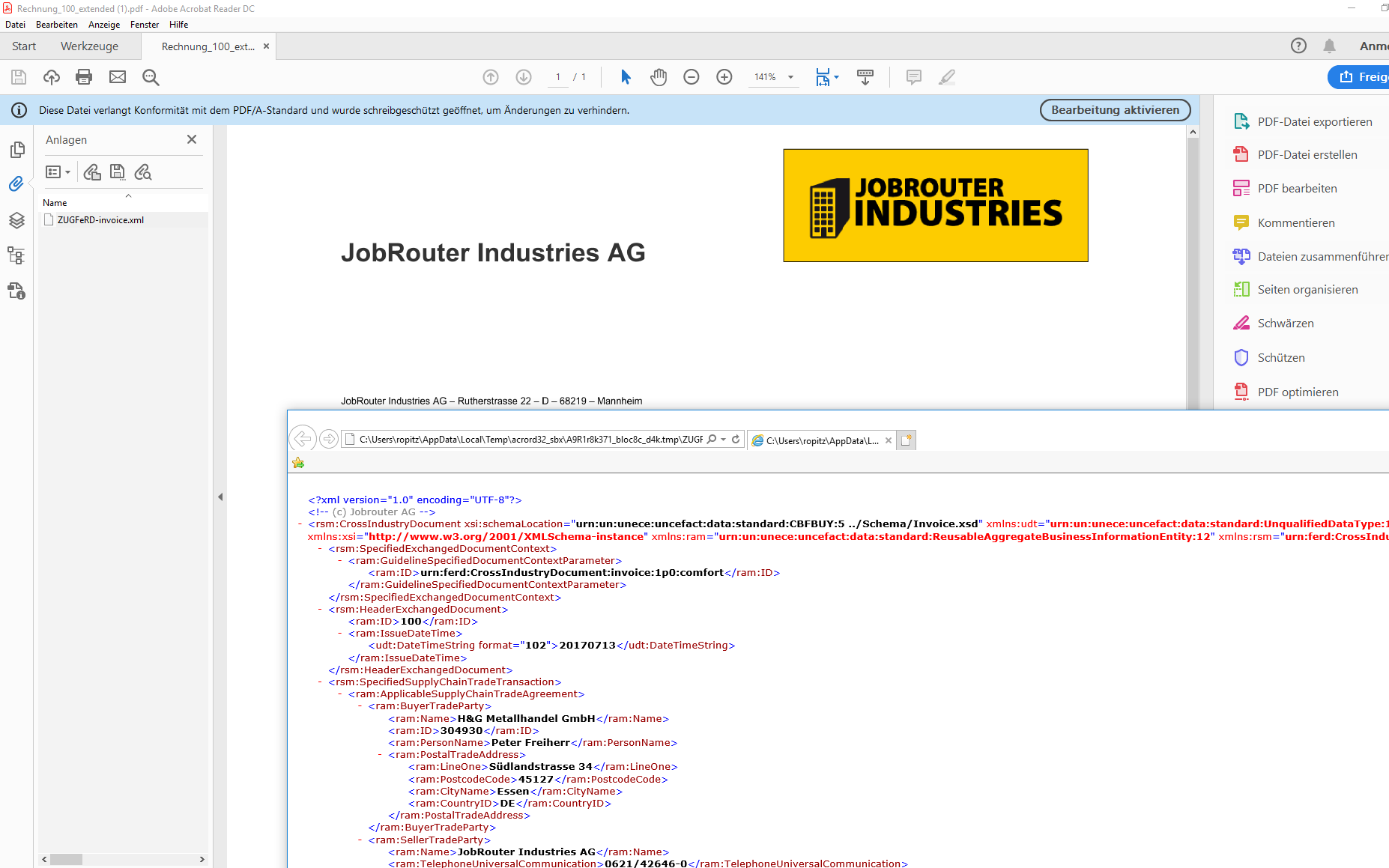 JobFerd offers much more than a simple document reader
While conventional document readers basically only compare OCR data with the data in a database, JobRouter® generates all the necessary components of a ZUGFeRD-compliant invoice itself.
For incoming invoices that comply with the ZUGFeRD standard, JobFerd can simply extract the invoice data and transfer it to a JobRouter® process. The invoice can then be booked from the invoice process and archived with the JobArchive module. All ZUGFeRD fields can be linked to the process fields. It is also possible to transfer the position data to a JobRouter® sub-table.
To create ZUGFeRD-compliant outgoing invoices, the JobFerd module can supplement existing PDF files with ZUGFeRD data. The data of the process and sub-tables of the respective process serve as the basis for this.
In addition, the JobPDF module can be used to generate beautifully formatted ZugFeRD-compliant PDF files, including XML data, from the process data. The data of the process and sub-tables of the respective process also serve as the basis for this. The layout of the output documents can be adapted to the needs of the user. This includes, for example, the selection of the letterhead as the background for the invoice. The generated PDF file can then be sent from JobRouter® as a finished invoice simply by e-mail and permanently archived in the JobArchive module.
JobFerd has the following features
Importing and processing ZUGFeRD-compliant invoices
Creation of ZUGFeRD-compliant invoices
Standard functions for the ZUGFeRD Comfort profile
Use custom layouts for A/R invoices
Use of letter paper as image or PDF file
JobFerd has the following features
Importing and processing ZUGFeRD-compliant invoices
Creation of ZUGFeRD-compliant invoices
Standard functions for the ZUGFeRD Comfort profile
Use custom layouts for A/R invoices
Use of letter paper as image or PDF file