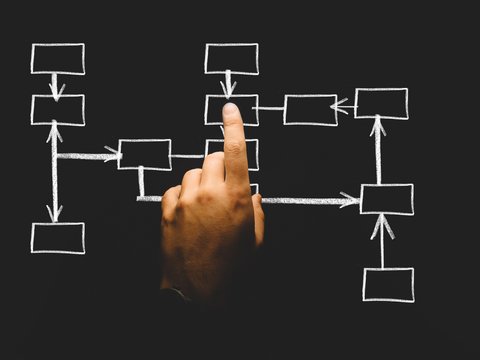 Manage approvals digitally
The approval matrix
Employees repeatedly come across a large number of work processes in which approvals play an important role. From the leave application to the supervidor, through the release of a travel expense report, to complex approval workflows based on the dual-control principle - for example, in the case of a budget release.
In order for such approvals to be issued smoothly, rules and responsibilities must be agreed within a company. This is the only way for employees to obtain the required approval or approvals from the responsible persons with the correct information.
A clearly defined approval workflow covers the following aspects:
Documentation of the process
Forwarding the process
Review of the process
The approval matrix is a decision table in JobRouter®. Here you can define roles that can approve cost changes according to a defined level.
The documentation of the process
The complete documentation of the process flow is a central point for processes in the company that require approval. Similar to a checklist, it must always be clear what information was available at the time of the decision and what exactly was checked in order to issue an approval. JobRouter® creates an overview that documents and summarizes all approval processes.
Forwarding the process
The second central point for a reliable approval process in the company is the mapping of a suitable organizational structure. In an organization chart it can be determined which persons are active in a certain area of the company and which roles they fill in various positions: The JobData Approval Matrix stored in JobRouter® can be used to determine which persons in the company are responsible for which processes and how many approval levels you may need.
Approval according to the dual control principle
The actual approval and release of an operation is carried out by checking the process flow according to defined rules. These rules can vary in complexity depending on the company and type of approval. A typical example is approval according to the dual control principle. This means that approval must be obtained from at least two different actors. For example, in the case of budget releases or security-relevant processes, you can ensure that the approval was only given after a repeated release.
Rule-based approvals
Rule-based approvals are a special case of the dual-control principle. In addition to the calculation of a itinerary, other transaction-specific criteria are also used here. In the business trip request, for example, all requests whose estimated costs are less than $200 are automatically approved. This rule (threshold value) is defined in the approval matrix described above.