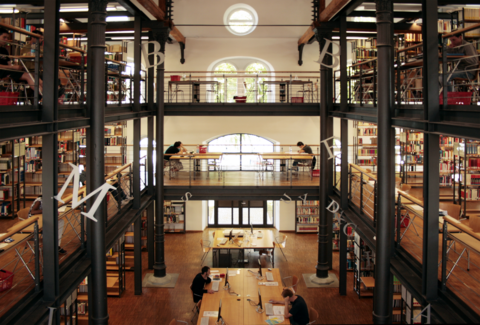 Digital toolbox
University automates workshop order process so student engineers can build their dreams
In the workshops of the Konstanz University of Applied Sciences (HTWG) laboratory experiments, student research projects and ideas for final theses are implemented - and childhood dreams can come true in 1: 1 scale! Until a floating snowmobile is launched or a race car leaves the pits, countless workshop orders have to be processed. The JobRouter® digital process automation platform transforms workshop orders into a digital process.
A progressive institution modernizes tradition
Long before the start of the race, even before the first metal part is machined, a proper workshop order must be submitted. In the more than 100-year history of HTWG this was traditionally done in paper form. This is no longer appropriate for a university that is constantly advancing and is repeatedly recognized for its progressiveness.
Advantages
Digital 'workshop order' process with JobRouter® at a glance
enables a lean, consistent, easy–to-use process
can be individually adapted to public service standards
takes chapter-title-cost center functionality into account
reduces throughput times, paper consumption, administrative expenses
grants parties involved in the process a central access point
allows escalation levels and notifications
Supports controlling through evaluation of each process step
can be integrated seamlessly into existing, heterogeneous system landscapes
allows evaluation reports for benefit analysis
Project details
Client

Konstanz University, Applied Sciences

Industry

Higher Education

Employees

430
Ongoing processes

engineering workshop order process

Planned processes

/// Modules: JobSub, JobSelect, JobTable instances: 500 / year
Turning up the speed
Faster runs and shorter test periods
With the old manual process, each workshop order form traveled through many stations, such as mailboxes, hands and folders until it was filled out correctly and the necessary drawings and data were attached. For years, workshop manager Romer has maintained an Access database for his eight-man mechanical workshop, in which he enters all application data. "The old form, including the material list and time sheet, created more work for the technical manager and workshop managers," says Jürgen Romer.
"For the choice of suitable software to automate this process, we relied on the local JobRouter partner," says Ludger Belke, Head of Information and Communication (ICT). "After a short time we received approval from the University Chancellor indicating that JobRouter met all of our requirements." With Romer's database as a key for the functional specifications, a JobRouter® prototype was developed quickly and after a half-day workshop, the first testing phase was started.

2 x 4 h + 1 Test Run = 100 percent workflow
The results from the first test run are integrated into JobRouter® during a second four-hour workshop day and the typical university financial structure with chapter-title-cost center functionality are added. This ensure better evaluation options for incoming workshop orders. For Romer it is a blessing, because "there was often information missing in the cost center system". ICT manager Belke realized that modifications with JobRouter® "are easy to control and changes can be made independently."
According to Belke, no changes were required after the second trial run. The new workflow worked one hundred percent for all 15 processes. Looking back, Belke compares the development process with an "efficient rapid prototyping, which keeps the service costs commendably low."
A highlight: an electronic query button
This first automated digital workflow simplifies and accelerates numerous processes in the workshops of the University of Konstanz. "The query button is a major highlight. In each processing step, I have visibility," according to Belke. By being able to run evaluations on any data field, in the future reporting and internal management "will have excellent figures."
Workshop manager Romer appreciates how the new process has made it much easier to evaluate current orders. The quality of the application has improved significantly in part because documents can now be attached to the order. CAD drawings can be easily uploaded, attached and viewed by the respective parties.

At the end: everything is really easy
JobRouter® has been used as a new tool in the workshops of the University since the 2015/2016 winder semester. ICT manager Belke had no doubt that the 100 professors and employees would accept the electronic workshop order solution quickly. "The color scheme and the required fields used by the JobRouter® interface are self-explanatory. There is a lot more space for order descriptions and professors can easily name students as a contact persons."
Questions have been reduced to a minimum. The old 'retired' paper form can now be used for crafting paper airplanes, where thermals, aerodynamics and reach can be explored.
Short profile Konstanz University of Applied Sciences
The roots of the Konstanz University of Applied Sciences (HTWG) go back to the Technical University of Konstanz, which was founded in 1906 as a private educational institution. After being nationalized in 1934 and temporarily shut down in 1945, it was converted into the Konstanz University of Applied Sciences in 1971. The Foreigners' College opened in 1983.
The University of Konstanz is a member of the International Lake Constance University of Applied Sciences, which it initiated. This network allows students from the countries bordering Lake Constance to study, research and teach across countries and institutions. In addition, HTWG maintains partnerships with universities around the world. A total of 34 bachelor's degrees and master's degrees can be acquired in the six disciplines of; Architecture and Design, Civil Engineering, Electrical Engineering and Information Technology, Applied Computer Science, Mechanical Engineering, Business Administration and Business Law. The University has been honored many times for its outstanding library and recognized for providing exceptional continuing education, among other things. The number of registered students reached the target level of 5,000 students for the first time in 2016.