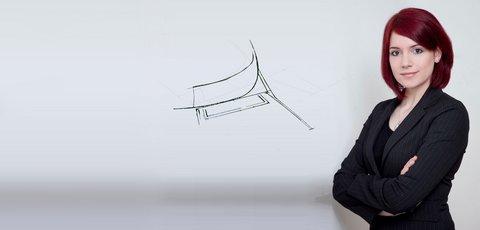 Interview
For Kathrin, JobRouter application consulting is the perfect combination of IT and creativity.
Whether media design or coding - when it comes to technology, the creativity of JobRouter application consultant Kathrin remains as immeasurable as pi squared!
How did you get interested in the world of IT?

I actually have a bachelor's degree in communication design. In the beginning I did a lot with 3D visualization and illustration in the advertising industry - but I never really got along in this profession. When I was on parental leave, I had a lot of freedom to think about what I was interested in and what I really wanted to do. The interest in IT was always there. But now I had the perfect opportunity to jump over my own shadow and go in a completely different direction. I came to the decision to take a course in C++, PHP, Java and Android app programming. Made and skilfully, I passed with 100 out of 100 points in all courses. Shortly afterwards I started at JobRouter. A decision I have never regretted.

What fascinates you most about the technology?

Freedom. Technology sets you no limits in what you can do or create. On the contrary, it offers us a solution for almost all the problems we encounter in everyday life. The speed at which technologies evolve and offer new possibilities in the shortest possible time is both overwhelming and inspiring.

For me, programming is like creative drawing: With simple means like pen and paper you can create something very complex and impressive. With a little code, you can develop complex relationships and automatic processes - that's what fascinates me about IT. That's why I can only advise anyone who is interested in the technology to pursue their dreams and not hesitate for long!

What makes JobRouter® so unique for you?

Many factors play a role here. One is the great fact that as a mother of two children I am given the opportunity to combine family and career, for example by being very flexible in my working hours. The work is also very varied. So it can be that one day I sit in the office and develop a process in peace and quiet and another day I go to the customer and advise him on site. In terms of content, every customer offers new challenges.

But the icing on the cake for us is the atmosphere in the team. The colleagues are simply a bomb! Although we have been growing more and more recently, we have always succeeded in quickly adding new colleagues to our team. People like to help each other. In addition, an unbelievable number of friendships have developed and people meet regularly outside working hours.

How do you think women enrich IT?

Looking at the current development of technology and society, it is actually no longer so much the question of how much a particular gender enriches an industry. The digital evolution and transformation affects all companies and individuals equally and will change the topic of user experience in the long run.

In order to cope with this, competent specialists are needed, a resource that is becoming increasingly scarce these days. We find ourselves in the "battle for talent". No company can afford to differentiate between men and women. Apart from the fact that there is no reason at all for this.

For many women, IT has long been a male-dominated world. But these times are over. At JobRouter, for example, women work in really all areas of the company and thus loosen up the classic 'image of IT'. In addition, women are often more empathetic and may meet certain customer requirements with more patience, vision, understanding and tact. In our case, many a talent for planning and organization has enriched many a project.

Every company should focus on "diversity" and every woman should dare to take up a technical profession if she has the feeling to be able to get involved in it, because she will certainly be welcome!