JobRouter - JobSync Module
Testing according to your whim
JobSync offers a transfer interface allowing you to quickly and easily move processes between the test and production environment. In addition to the processes, individual instances as well as numerous system settings can be transferred.
With the JobSync Module we offer you a complete JobRouter test environment. This test environment can either be installed and run on the same server as your production system or on a different one. Inside the test system you can develop, change and test processes separately from the active environment.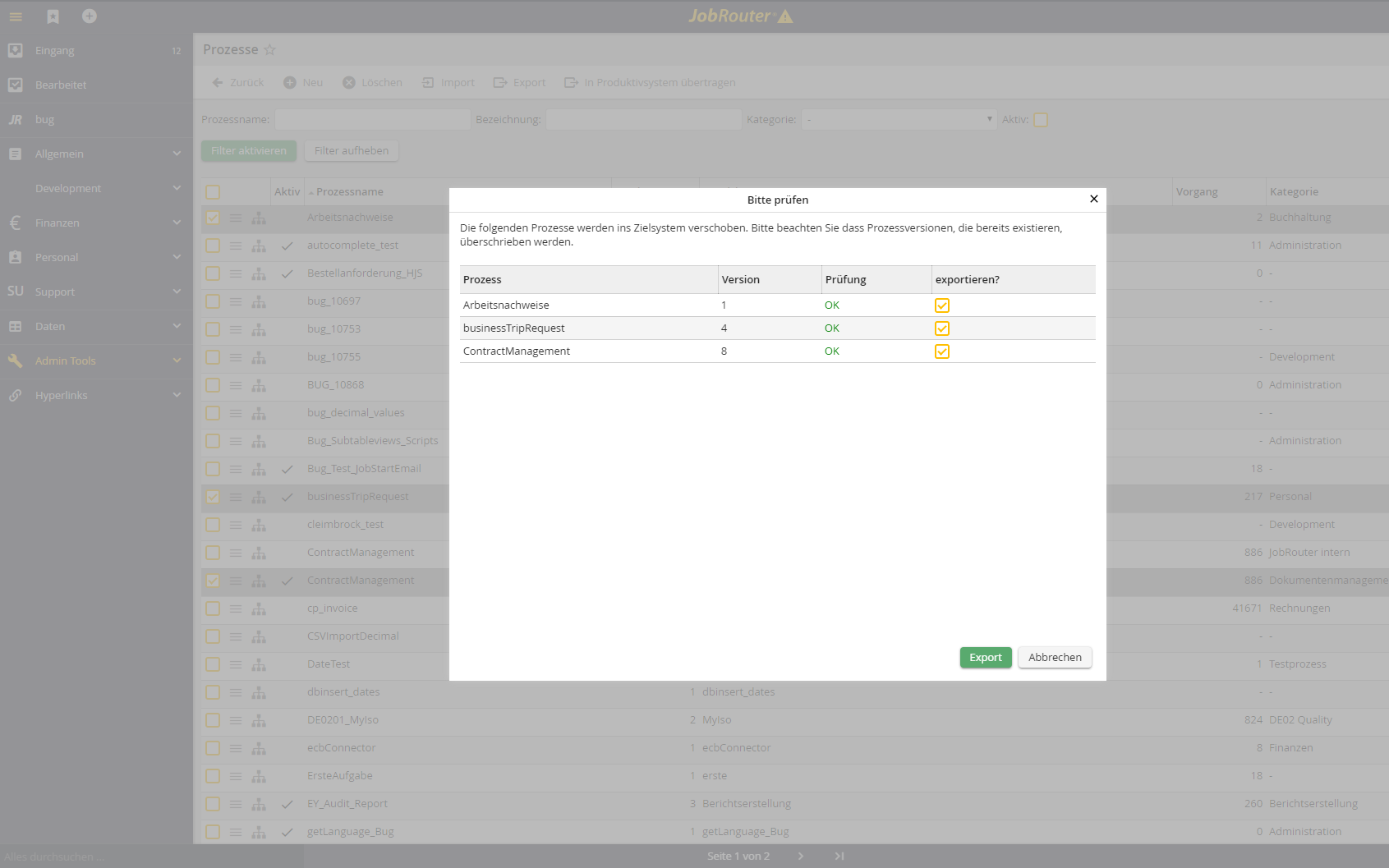 Create and change processes in the test environment
At any time, you can change and expand your existing processes in the JobRouter test system without affecting your production system. For example, you can create a new version of an already existing process, adjust this version, test it and if necessary make it available to other employees for test use.
The process can stay in the test environment until approved and then can be easily applied to the production system using the built-in transfer function. Multiple processes can be transferred at the same time.
JobSync offers the possibility to transfer instances between the production and test system. You can transfer test data into the test environment and you can replicate and analys an already processed instance in the test environment.
Easy synchronization of many elements
In addition to the processes and the instances, you can also transfer numerous elements and settings between the test and production systems. For example, you can easily transfer the JobRouter users and JobFunctions as well as numerous configuration settings for JobRouter or JobRouter modules.
The following elements can be synchronized with JobSync
Processes
Instances
Users
JobFunctions
User-JobFunction assignments
User profiles
Escalation Calendar
Import tasks
JobStart tasks
JobSelect reports
JobRouter styles
JobRouter settings
Easy Process Deployment
Deploying your automated processes as a web application has never been easier.
JobRouter business process management Software (BPMS) supports a joined development/test and production environment to provide a secure and comfortable path from the design and test system into the production system. Once activated on the production system, the business process is available by web browser. No client software is necessary. Users simply login to use the new business process workflow. Process design and process administration are also web browser based. JobRouter makes deployment easy
Moving From Test to Production with Full Version Control
Business Process Management (BPM) change management made easy. JobRouter's optional JobSync module allows you to synchronize processes, instances, and other system data between a test system and a production environment. New and existing processes can be developed, modified, and tested in the test system without affecting the production system. After successful testing, you can easily transfer a process to the production system. Process models are stored with full version control and secure role-based access to process models.
Process elements that can be synced include:
Processes
Instances
Users and User Profiles
JobFunctions and User-JobFunction assignments
Escalation Calendar
Import tasks
JobStart tasks (Process Starts Tasks)
​​​​​Reports
Styles and Settings