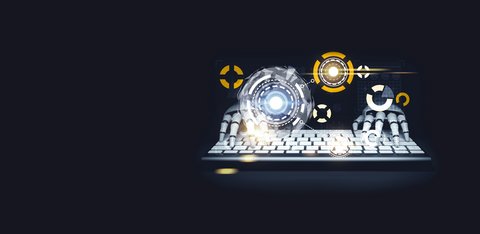 RPA meets HR: How Robotic Process Automation increases the efficency of HR
Printing, hole-punching, and filing documents are part of everyday life in many HR departments. Folder and filing systems, which take up most of the space in the office, are now indispensable. After all, HR personnel are faced with the mammoth task of managing a flood of data from a wide variety of sources. It is not uncommon for information to be incomplete or to require follow-up. This eats up time.
That is why digital technologies such as artificial intelligence, deep learning, intelligent automation, and robotic process automation (RPA) are being used more and more. These technologies reduce monotonous tasks and make processes more efficient. Robotic Process Automation (RPA), in particular, boasts low implementation effort and immediate added value. Digital automation is considered the driving force for optimized work processes with increased employee satisfaction. Let us show you why the use of RPA in Human Resources (HR) is worthwhile and improves performance.
What are the benefits of Robotic Process Automation in HR?
Robotic Process Automation (RPA) has experienced a substantial boost in recent years and has found its way into a large number of companies. The interaction between software robots, also known as bots, and humans promises several benefits in business efficiency and professionalization. Bots take over monotonous, repetitive tasks at the employee or team level by following fixed rules and schemes. They help the company complete tasks faster and more accurately, ultimately delivering financial benefits. This approach creates the basis for a shift in the way employees view their role - and in the human resources department.
As a rule, people find it difficult to concentrate for several hours, especially on monotonous, repetitive, and rule-based tasks. This poses a major risk for careless mistakes and a decline in conscientiousness. Productive employees, on the other hand, are known to achieve goals faster and more conscientiously. As a result, they positively influence business growth, while a lack of productivity leads to financial losses.
A look at the HR department reveals that many activities, such as reporting, salary, expense management, or even the administration of personnel data, are still processed manually. The processing and organization of personnel concerns is time-consuming, forcing those affected to put up with long waiting times. Robotic Process Automation and process flow automation is now often the first-choice for meeting this challenge. The HR processes in question are initially analyzed and optimized for efficiency and effectiveness so that they can then be automated. Countless HR processes can now be automated and require only a minimum of human intervention. Companies primarily need human decision-making competence for complex HR issues. RPA lets them focus on these issues to a greater extent.
Advantages that decision-makers expect to gain from RPA in HR:
Redefine processes,
Reduce errors,
Reduce cycle times,
Improve performance,
Improve motivation and morale,
Ensure compliance,
Minimize employee turnover,
Reduce operating costs.
According to two-thirds of the 100 decision-makers surveyed worldwide by Forrester Research and UiPath in 2018, RPA restructures existing work and frees up employees. They would have more time for interpersonal interaction and more meaningful, strategic tasks (60 percent), and manual errors could be minimized (57 percent). The use of RPA thus encompasses the technological advantages and involves different corporate levels as well as the corporate structure and organization. Know-how is redistributed, and existing conventions are questioned. Those responsible must coordinate these factors in order to implement RPA as a success factor in HR.
Reality check: Expectations of RPA and practical benefits
Decision-makers hope to increase employee satisfaction (92 percent), productivity, and business efficiency through the use of RPA and intelligent automation. This is according to a Forbes survey of 302 high-level executives worldwide. Fifty-two percent of those surveyed also confirmed that employee satisfaction increased by at least 15 percent after implementing RPA. A joint study by Forrester Research and UiPath examined the extent to which these expectations stand up to practice.
Expected benefits of using Robotic Process Automation:
Increased employee efficiency (92%)
Improved customer service (84%)
Increased employee engagement (80%)
Optimized insight into customer behavior (61%)
Reduced manual effort (85%)
Improved data quality (83%)
Cost reduction (67%)
In practice, the use of RPA resulted in the following benefits:
Within the Forbes survey, employees also indicated that automating certain parts of their work made them more efficient. Customer satisfaction across the board would also increase. Overall, this would positively affect company growth, allowing for cost reduction, increase in market share, increase in sales, and expansion of profit margins.
However, RPA is not a universal remedy and, in the worst case, can even have a negative impact on performance. This happens when companies do not open their eyes during implementation and understand RPA as a technology to be introduced globally.
What should companies look for when implementing RPA in HR?
The implementation of robotics in HR and in general must be well planned and intelligently executed. This is because it can become both the hoped-for driving force and the brake on employees' willingness to work. If companies do not introduce RPA projects in a needs-oriented manner, they can reinforce existing fears and ultimately fail. If that happens, employee efficiency and satisfaction will continue to decline, while the largely unfounded fear of job cuts will increase. In addition, there is an increased amount of time and training required to implement the RPA software.
HR staff should therefore be involved and taken seriously from the outset. Everyone involved must pull together and drive the new technology forward together. To do this, managers should communicate the direct benefits of RPA in HR to their employees. In concrete terms, this means showing how the change will affect their daily routine. In addition, it is essential to debunk existing myths about RPA. The operation of the RPA software lies in the HR department and not in the IT department. As a result, future professionals must be competent in the use of RPA software and data protection and compliance issues. Once the software is introduced, this affects the distribution of roles and career paths so that positions have to be created, defined, or adapted. Roles such as process designers and test persons in HR are also relevant for the introduction of RPA.
Ten scenarios for the use of RPA in HR
Here are ten typical HR processes that you can optimize and make more efficient by using RPA.
1. Personnel Recruiting
A fundamental task of every HR department is personnel selection. The process is extensive and time-consuming: HR managers have to perform background checks, analyze applications, and send invitations to interviews.
The process can be simplified and accelerated with the use of Robotic Process Automation. Bots can be used to search and filter multiple sources such as career networks and platforms according to your predefined criteria. Once the data has been collected, it is automatically compared with the qualifications and requirements of the open position. RPA in HR enables transparent and objective headhunting. Chatbots provide support for a large number of applicants using automated prompts. Questions for interviews can also be generated automatically, further freeing up time and resources.
2. Document Management in HR
An application process must comply with both legal and corporate requirements as well as those of the applicant. Manually checking data and documents afterward also involves a great deal of work and harbors the potential for human error.
Using RPA, a large part of the correspondence between applicants and the HR department can be automated, such as contacting them if the documents are incomplete. If necessary, the bot responds and automatically sends an email to request the missing documents.
3. Smooth Onboarding
Once a candidate has successfully gone through the application process and is hired, the work for HR continues, and onboarding begins. User accounts need to be created, an email address and specific rights in the company system need to be assigned, and IT equipment needs to be ordered. In addition, software and licenses need to be set up, and network access needs to be established.
RPA automates this process as far as possible. It can be used to set up new user profiles and then order the necessary hardware. In addition, all relevant access data and system access are requested and automatically sent to the new employee. As a result, the new employee is immediately ready to start work at the beginning of their first working day.
4. Training and Education
Like RPA, e-learning is becoming increasingly relevant, and the two can be excellently combined. Identifying and communicating about shortcomings or gaps is a mammoth task for HR in the daily work routine. Frequently, the need for further training is discovered by chance.
This is where RPA comes into play. With RPA, HR managers can automate regular training for employees. Education about the company, system, or product can be initiated automatically. In addition, RPA in HR can help reduce the extensive organizational effort required to train and educate existing staff. Bots can easily record who has attended training programs and courses and certify an employee's attendance. Bots can automatically suggest further qualifications and training measures by comparing a job's requirements to an employee's skill level.
5. Travel and Expense Management
Allocating bonuses and reimbursing travel expenses can be highly time-consuming. Often, invoices are missing, expenses submitted are too high, and forms are filled out incorrectly or inadequately.
By using RPA, these HR tasks can be quickly and easily reconciled with company policies. The bot identifies the scanned invoices and receipts and sorts them by payment amount and form based on their information. It then automatically calculates the amount to be reimbursed according to the company's internal rules and initiates the transfer process. In case of discrepancies, the bot requests missing receipts and information.
6. Payroll and Monthly Statements
Repetitive, quantitative, preparatory, and checking tasks are ideally suited for automation. This also applies to the preparation of payrolls, where a high level of data transfer between different applications occurs. Missing information on hours worked, incomplete or inconsistent data, compliance requirements, and regional tax regulations can all cause payment delays.
Bots can process employee and contract data stored in the HR system, generating pay slips, and automatically reconciling with the ERP system to transmit the data tothe IRS and finalize the transactions.
7. Personnel Data Management
Personnel data management requires a great deal of work and can be confusing, even for small companies. Changes to HR master data are not unusual over the course of an employee's time at a company. In addition to current employees' data, information regarding applicants and former employees must also be managed in HR.
Since this is rule-based and structured data processing, a bot can regularly evaluate the categorized personnel data file. New data is automatically merged, stored, and assigned to the correct employees while obsolete data records are archived. RPA guarantees consistency across systems, which minimizes both the potential for errors and the workload.
8. Reports and Analyzing Employee Surveys
In HR, creating reports is a labor-intensive and time-consuming process that often requires the attention of several employees at the same time. Despite this, reporting is crucial as it serves as an essential basis for decision-making.
This is where RPA in HR comes in: The bot collects and copies the required data and automatically creates new reports regularly. In addition, RPA updates reports based on current data. Eliminating the drudgery of creating reports maximizes savings in effort and time and increases employee motivation and morale.
9. Recording Time and Attendance
Another unpleasant issue for many companies is recording the time and attendance of their employees. Documenting working hours and vacation days is usually inconsistent. Manually processing the data not only reduces accuracy but also creates the risk of incorrectly reporting overtime. This task robs HR of valuable time and, in extreme cases, can become costly for the entire company.
Using RPA, a bot records the times of the employees and validates them automatically. Should there be any gaps in the data or incorrect information, the bot automatically reports this. Thanks to robotic automation robotics in HR, manual rework and human error can be reduced.
10. Employee Offboarding
When employees leave the company, the time and effort required to organize their departure falls to the HR department. All the processes involved usually require manual processing steps, which opens this critical transition phase up to errors.
Here, RPA organizes individual processes and relieves the HR department. Documents, closing entries, and job references can be requested or created automatically; company property can be reclaimed; and system rights can be reset. By automating these sub-processes, RPA can consolidate HR inputs, save labor, and reduce errors.
Is RPA worth it in HR? We say: Yes!
HR departments and their work processes are unpopular with many employees. The waiting time for personnel requests to be processed is long, and many HR processes are not transparent. Robotic Process Automation can change this. RPA supports your HR management, saving valuable time and costs, and allowing you to respond more efficiently and precisely to requests within your organization.