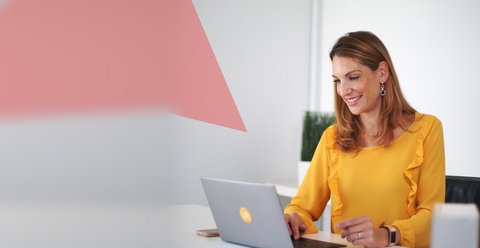 Interview
Stephanie's motivation for a career in IT? Steady development!
One coffee is not enough: At the pace Stephanie sets as Country Manager & Mama, one or the other can get dizzy!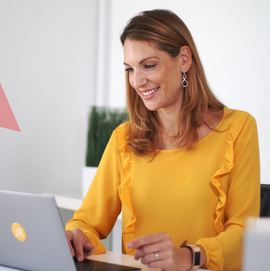 What exactly do you do at JobRouter AG?

I work in several functions at JobRouter: On the one hand I am an authorized signatory, on the other hand I am responsible for the entire channel in the DACH business sector (Germany, Austria, Switzerland). This means that my operational focus is on the German-speaking region, where, together with my team, I am building up - and expanding - the relationship with our sales partners!

What's special about my job is that it doesn't have the typical working day. I have diversity in my job due to the constantly changing tasks. These start with the organisation of events for our partners and interested parties, through many product presentations for our partners, their interested parties and customers, to accompanying partner events and even supporting their presentations. However, the most exciting thing about my work in sales is the insight I get into the different companies. To see how different the structures and how different the people are, which problems and hurdles they have in everyday life and what we can ultimately offer them as a solution.

How do you think women enrich the IT world?

It's no secret that women were among the first pioneers of information technology, but unfortunately now the proportion of women in the IT industry is still a minority. The female gender could be a great opportunity for the IT world. Because women don't have better perspectives, but often completely different perspectives, which you may not have thought of before.

In IT, it is not only a question of technical understanding, but also farsightedness and the ability to work in a team. These are qualities that women can naturally score well with! Especially since I keep hearing that men are totally grateful when they can talk to women in a "testosterone domain".

I even remember a very concrete event. A gentleman once said to me: "Oh, it is so nice that you are there! Because as soon as a woman is here, the men behave much better! I found that so funny that I really wondered how men would behave in such a pure male circle. My resonance: Women not only ensure balance, but also promote other ideas and points of view.

What brought you into IT?

After successfully completing my studies at the Mannheim University of Cooperative Education in 2004 with a degree in business administration with a focus on marketing, I was initially responsible for the market entry of a mail order company in England and Slovakia. It was always clear to me that I wanted to develop further. If not in a constantly growing industry, then where?

In my search for new challenges, my father introduced me to JobRouter, a platform that has totally swept me along right from the start. The idea behind this software is revolutionary and accordingly our product is also driven by many positive factors, such as new beginnings and growth - and of course the team is pragmatically directed forward. To put it in a nutshell, I belong to the IT department, which actually has nothing to do with technology, but was nevertheless able to find its own niche.

What do you like most about the technology?

The increase in efficiency through digitization. I've always been a person who was driven mad by long processes and paper-based work. That's why I see myself as the optimal user of the JobRouter® platform and am, of course, called upon to carry the message to the outside world. But what I find particularly exciting is the rapid development: eight years ago I still had to explain to the customer why they should deal with workflow at all, why it makes sense and what it means at all. Today, the topic of digitization is so present everywhere that you only have to be there when people are looking.