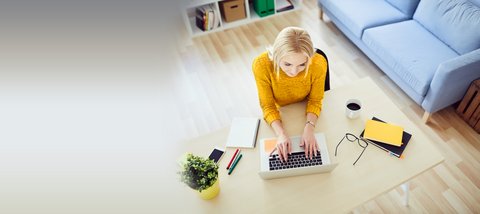 Be digital!
This is why digitalisation is so important in times of crisis
It is early morning on one of these days. Instead of heavy traffic, honking cars, and running people, you see deserted streets. What sounds totally inconceivable is now reality. Employees work from home, almost no one can be found in the office. The Corona pandemic has a tight grip on us.
Those who are now lagging behind in digitization are having a hard time: aside from schools and authorities, companies especially are trying to handle everyday life digitally during the 2020 crisis. We will show you three reasons, why digitization is so important for your company right now.
First reason
Digitization enables home office and mobile working
Companies providing digital work places win on several levels: not only is home office required by employees and can be a valuable advantage in times of leadership shortage, but on days like this, working from home can be a mandatory prerequisite for companies to keep their operation going.
In purchasing, for example, all orders and invoicing processes can still be booked and checked by employees, while HR staff can recruit valuable personnel. Hiring new employees is also no problem thanks to digital possibilities - employee onboarding processes can be automated and carried out digitally. With electronic signatures you can now even sign employment contracts online - with legal effect. All other contracts and the respective data can also be managed centrally and may help employees to perform their working procedures as mobile as usual.
Second reason
Digitization ensures regulated processes
The digitization of work places and workflows additionally ensures regulated and traceable processes. Even more – they ensure stability in times of instability, as the processes are performed automatically and required information can be gathered at any time through the archiving of data and documents.
If employees are absent due to illness, a digital substitution regulation ensures that normal working procedures are maintained. Sickness notifications can be easily submitted from home. A well-functioning ticket process can also help to prioritize customer requests, assign them correctly and ensure more transparency over the course of the process. This increases internal and external satisfaction.
Third reason
Digitization cushions the effects of the crisis
It is in situations like these, at the very latest, that the full potential of investments already made in digital projects becomes apparent. A study by the Center for European Economic Research (ZEW) in Mannheim uses the financial crisis of 2008 and 2009 as an example to show that companies with a high digitization density are less susceptible to the effects of crisis. The reason: companies with good digital conditions were able to work more productively, implement process innovations better and even save costs. It is evident that companies should focus on innovative technologies.
We hope you are well equipped digitally. If not: it's best you start today. With our Kickstarters you get smart solutions at hand for a quick implementation of your processes at any time, so you can start your digital transformation step by step. As you can see, you not only create good working conditions for your employees. With a moderate investment, you can also ensure that your business continues to operate as unimpaired as possible during the crisis. Caution is better than indulgence; this applies especially to digitization in times of crisis.