JobRouter® & Dynamics
Integrate JobRouter® process digitization with Microsoft Dynamics Applications
The connection of the JobRouter® platform to Microsoft Dynamics AX, NAV or GP gives finance and accounting the opportunity to accelerate transaction processing, record discounts, eliminate bottlenecks and exceptions, reduce administrative costs and thus reduce the workload. JobRouter combines low-code ease-of-use with advanced BPM capabilities for quick deployment and a speedy ROI.
JobRouter® Digital Process Automation & Dynamics AX Integration
JobRouter® Digital Process Automation & Dynamics NAV Integration
JobRouter® Digital Process Automation & Dynamics GP Integration
Microsoft Dynamics AX, NAV and GP are software systems for financial management and Enterprise Resource Planning (ERP), which are well suited for medium-sized companies from a wide variety of industries such as sales, manufacturing, retail and the public sector.
JobRouter® Digital Process Automation works with Dynamics to speed approvals, lower costs and reduce workloads.
JobRouter® & MS Dynamics
Higher ROI through automation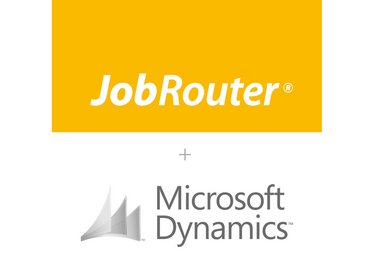 The JobRouter® digitization platform provides all the power and flexibility to quickly and easily create custom business process flows. JobRouter® combines ease of use with advanced Digital Process Automation capabilities for rapid process deployment and a fast ROI.
Our industry standard connections allow you to seamlessly integrate your existing Microsoft Dynamics applications and other enterprise systems with JobRouter®. The optimized automation and rationalization ensures that finance and accounting can make decisions faster, have greater visibility and control over all work steps and spend a lot less time complying with audit obligations and creating reports.
Your value
Product features & benefits
Easily build complex processes and workflows using a visual design editor
Speed exception handling and create dynamic approval workflows
Automate ECM and the creation, storage and retrieval of documents
Enhance auditing, monitoring, governance and reporting
Connect legacy and disparate systems and databases
Automatically kick off processes by monitoring emails, faxes, scanners, file systems, and connected ERP activities
Easily build complex parallel and sequential routing based on business rules
Success Story

Speeding purchasing decisions

Food Services Supply company connects regional offices and ensure fast and consistent processing of purchasing requests with JobRouter.

Success Story

Lighting the way

Industrial Lighting manufacturer uses JobRouter to streamline order processing and connect plants and teams that are 3,000 miles apart.

JobTable Module

Flexible data collection!

The JobTable module extends JobRouter forms with sub-tables for line item level data. Add and fill in as many table rows as needed when processing invoices or purchase orders for example.