JobRouter® & JD Edwards
Connect JD Edwards & JobRouter® to extend powerful digital business processes across the organization
Integrating JobRouter with JD Edwards EnterpriseOne streamlines the flow of information between business systems for greater business agility and optimized processes. The JobRouter Digital Process Automation platform can be easily adapted and integrated into a heterogeneous software landscape - provding the user with a single platform and timely access to all the necessary information.
Automate A/P and so much more
Automate A/P and so much more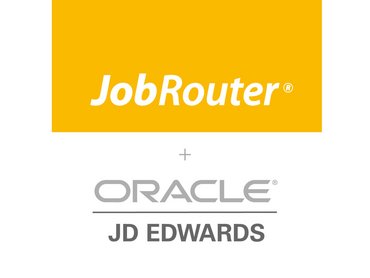 Oracle's JD Edwards EnterpriseOne is an enterprise resource planning (ERP) suite of highly integrated applications for financial, HR, asset, supply chain, and manufacturing management. JobRouter integrates with JD Edwards EnterpriseOne to streamline and automate Accounts Payable workflows and other financial, HR, and manufacturing management workflows.
Benefits from JobRouter and JDE intergation:
Greater business agility
Lower costs
Higher productivity
Greater visibility and business intelligence
Improved compliance and risk management
Typical use cases:
Manufacturing Management
Supply Chain Management
Customer Relationship Management
Human Capital Management
Asset Lifecycle Management
JobRouter integration with your ERP system improves productivity by connecting business systems with optimized and efficient workflows and processes.