JobRouter® & Microsoft Outlook
Revision-proof e-mail archiving with JobRouter® and Microsoft Outlook
Modern office communication has evolved rapidly with technology. But in spite of chat tools like Slack and RocketChat and collaboration platforms like Trello or Google Docs, 90 percent of employees still use e-mails for internal and external communications. The more e-mails are sent and received, the more complex it becomes. There can be a lack of clarity and just as often a lack of storage capacity.
With the JobRouter® components for agile document management - coordination, development, revision, control and distribution of digitized documents and data can be managed and controlled. The JobRouter® platform adapts to company requirements, existing systems and working methods. With the add-in JobMail Connect module, JobRouter® connects directly to the Microsoft Outlook Client, for example, where e-mails can be managed, attached to processes and stored in a revision-proof digital archive.
Automatically archive emails from the mailbox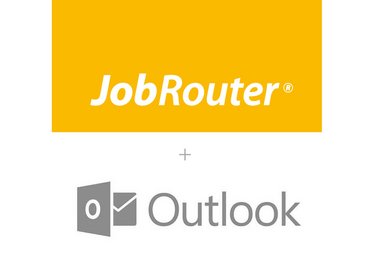 The JobMail Connect module integrates JobRouter® archives into Microsoft Exchange and all Outlook versions from 2010 onwards to ease the load on e-mail systems and create a central repository in the document pool.
As a result, all e-mails available in Outlook can be indexed using a storage dialog and archived in long-term format (PDF) or in the original Outlook format (MSG). Your archived documents are stored in a revision-proof long-term archive and can be retrieved at any time. In addition, already archived e-mails can be recognized and e-mail attachments can be automatically deleted from Outlook - this saves an enormous amount of space in your mailbox.
Features and benefits:
Complete integration into the Outlook mail client
Archive and open directly from Outlook
Archiving in PDF or original MSG format
Addition of fixed values and index data
Integrated online update and automatic configuration distribution by e-mail
Optional SQL queries for index extension
Identification and cleansing of e-mails
Full support of Outlook 2010, 2013 & 2016
Module

JobMail Connect - Archive emails directly from Outlook

With the JobMail Connect module, you can Integrate JobRouter archives with Microsoft Exchange and Outlook for e-mail storage and retrieval. Archived documents are available for revision.

Success Story

Biotech quality control and assurance

Life sciences company provides scientists and researchers with rare compounds and uses JobRouter to manage quality assurance and their goods receipt process.

Success Story

Clearing away mountains of paper

Construction company eliminates 80,000 paper documents a year and streamlines end-to-end home-building project management and customer approvals with JobRouter.